We've reported on some research being done to help humans and robots work together by helping robots recognize human gestures. Researchers at the Massachusetts Institute of Technology have developed a different algorithm to help robots adapt to humans in factory settings by predicting what they will do next.
The researchers envision robots and humans working side by side, instead of walling off robots in metal cages while humans work on fine-tuned tasks in less dangerous areas. Robots that work in isolation perform repetitive tasks by following a set of preprogrammed instructions. Working with people is much more complicated -- it requires robots to predict each individual's actions.
The MIT team, headed by Julie Shah, Boeing Career Development assistant professor of aeronautics and astronautics, devised an algorithm that lets robots adapt quickly to individual styles and preferences for completing a certain task.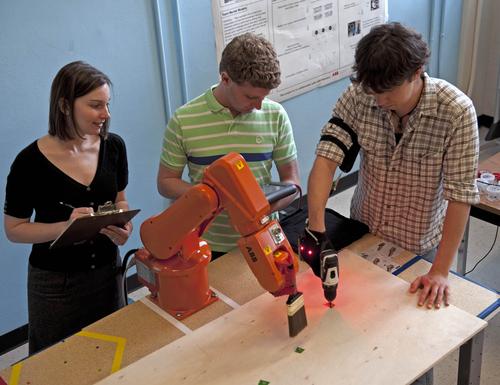 In aircraft manufacturing, human workers do a lot of walking around and picking up parts to carry to the plane. That may be good exercise, but from an efficiency standpoint, it's idle time. If robots could deliver the parts to the humans, that idle time would be reduced considerably. "It's really hard to make robots do careful refinishing tasks that people do really well," Shah said in an MIT press release. "But providing robotic assistants to do the non-value-added work can actually increase the productivity of the overall factory."
Shah leads the Interactive Robotics Group in MIT's Computer Science and Artificial Intelligence Laboratory. She chose spar assembly (building the main structural element of an aircraft's wing) as a test case. The steps involved in this process seem predictable. Two pieces of the wing are aligned. A mechanic applies sealant to predrilled holes, hammers bolts into the holes, and wipes off any excess sealant.



Are they robots or androids? We're not exactly sure. Each talking, gesturing Geminoid looks exactly like a real individual, starting with their creator, professor Hiroshi Ishiguro of Osaka University in Japan.
NASA is developing Project Morpheus, a vehicle that can lift off and set itself down on planetary surfaces.

11
Google is developing robots for manufacturing, assembly, and warehouse tasks.

40
Microsoft will quit supporting – and patching – Windows XP in April. This may be a cruel development for plants.
Truchard will be presented the award at the 2014 Golden Mousetrap Awards ceremony during the co-located events Pacific Design & Manufacturing, MD&M West, WestPack, PLASTEC West, Electronics West, ATX West, and AeroCon.


LATEST ARCHIVED BROADCAST
For industrial control applications, or even a simple assembly line, that machine can go almost 24/7 without a break. But what happens when the task is a little more complex? That's where the "smart" machine would come in. The smart machine is one that has some simple (or complex in some cases) processing capability to be able to adapt to changing conditions. Such machines are suited for a host of applications, including automotive, aerospace, defense, medical, computers and electronics, telecommunications, consumer goods, and so on. This discussion will examine what's possible with smart machines, and what tradeoffs need to be made to implement such a solution.



Datasheets.com Parts Search
185 million searchable parts
(please enter a part number or hit search to begin)