Virgin Galactic's SpaceShipTwo prototype, made primarily of carbon composites, has been given the green light from the Federal Aviation Administration (FAA) for powered test flights. The company's vehicle developer, Scaled Composites, has been granted an experimental launch permit for both the suborbital commercial spaceship and its high-altitude launch vehicle, the WhiteKnightTwo carrier aircraft.
Virgin Galactic has been working on perfecting its second-generation prototype for more than two years. SpaceShipTwo is the first rocket-powered vehicle designed to carry people that has received such a launch permit, although a few experimental launch permits have been granted to other, mostly unmanned rockets. SpaceShipTwo's predecessor, SpaceShipOne, also designed for manned space flight, was successfully flown to space in 2004, before the FAA established the Experimental Permit regulatory regime.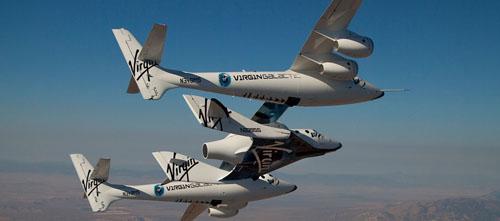 Scaled Composites built and tested SpaceShipOne and WhiteKnightOne. The Spaceship Company, a joint venture between the Virgin Group and Scaled Composites, is building and testing SpaceShipTwo under Scaled Composites' direction.
WhiteKnightTwo has completed most of its test plan, with 80 test flights under its belt. SpaceShipTwo has completed fewer tests to date, only 16, since it was constructed more recently. (You can access the latest test summaries here). Ten test firings of a full-scale SpaceShipTwo rocket motor have also been successfully completed, including full duration burns.
In preparation for rocket-powered test flights, Scaled Composites will begin testing SpaceShipTwo's aerodynamic performance while carrying the full weight of the rocket motor system onboard. Integration of the rocket motor's key components was begun during a recently finished period of downtime for routine maintenance. That integration will continue into the fall. Toward the end of the year, Scaled Composites expects to begin supersonic, rocket-powered, heavyweight glide test flights under the newly granted experimental permit, according to a press release.
Related posts:




4
Are they robots or androids? We're not exactly sure. Each talking, gesturing Geminoid looks exactly like a real individual, starting with their creator, professor Hiroshi Ishiguro of Osaka University in Japan.

8
NASA is developing Project Morpheus, a vehicle that can lift off and set itself down on planetary surfaces.

11
Google is developing robots for manufacturing, assembly, and warehouse tasks.

40
Microsoft will quit supporting – and patching – Windows XP in April. This may be a cruel development for plants.

8
Truchard will be presented the award at the 2014 Golden Mousetrap Awards ceremony during the co-located events Pacific Design & Manufacturing, MD&M West, WestPack, PLASTEC West, Electronics West, ATX West, and AeroCon.


LATEST ARCHIVED BROADCAST
For industrial control applications, or even a simple assembly line, that machine can go almost 24/7 without a break. But what happens when the task is a little more complex? That's where the "smart" machine would come in. The smart machine is one that has some simple (or complex in some cases) processing capability to be able to adapt to changing conditions. Such machines are suited for a host of applications, including automotive, aerospace, defense, medical, computers and electronics, telecommunications, consumer goods, and so on. This discussion will examine what's possible with smart machines, and what tradeoffs need to be made to implement such a solution.



Datasheets.com Parts Search
185 million searchable parts
(please enter a part number or hit search to begin)