Give a child on a swing a push, and it takes time for the "system" to return to equilibrium. The same effect occurs when a sensor signal changes quickly and passes through an anti-alias filter or a multiplexer to an analog-to-digital converter (ADC) input. It takes time for the signal to settle within an error band -- usually the value represented by the ADC's least significant bit. The figure illustrates an instantaneous change and voltage presented to an ADC's conversion circuits. This settling time varies according to the characteristics of the data-acquisition components.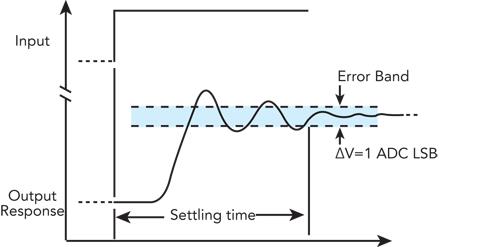 To get accurate results, your equipment must digitize a signal only when it remains within the error band. If long settling times cause problems, you can overcome them in several ways. First, you can reduce the ADC sample rate to take into account the settling time. That might prove impractical, though.
Second, manufacturers of successive-approximation ADCs often recommend using an RC filter at an ADC input to improve converter performance. According to Linear Technology Application note LTC6360:
The sampling process of ADCs creates a charge transient at the ADC input caused by the switching of the ADC sampling capacitor. This momentarily disturbs the output of the amplifier as charge is transferred between amplifier and ADC. The amplifier must recover and settle from this load transient.
The external capacitor stores charge and reduces the amount of current drawn from the filter or multiplexer output and thus reduces transients that affect the settling time. Likewise, the resistor decreases capacitor discharge transients and decreases loading on the amplifier's output. The voltage drop across the resistor can slightly distort the measured signal, though. You can measure settling time as described in a reference noted at the end of this column.
Third, you can use a low-impedance output amplifier to drive the ADC with sufficient current to minimize disturbances as the circuit charges the ADC sampling capacitor. A device such as the Texas Instruments LMP7732 low-noise, rail-to-rail op-amp can directly drive an ADC input, as can many other types of op-amps. For example, the data sheet for the Analog Devices AD7982 ADC describes in part how to select a drive amplifier and the specs the amplifier must meet.
Fourth, you can find an ADC that connects its sampling capacitor or capacitors to the input signal without performing a conversion. An ADC such as the 16-bit ADC161S626 from National Semiconductor (now Texas Instruments) performs this type of continuous "back-end sampling" that tracks the input signal.
Do you have a measurement question you'd like answered, or a topic this column should cover? Contact me at: tituslabs@comcast.net
Related posts: