On the IndyCar circuit, rules determine strategy. Engines, gearboxes, and chassis must be acquired through prescribed suppliers and are strictly governed. Innovations involving electronics and aerodynamics are also tightly controlled.
Still, engineering matters. Even while operating within the tight constraints of the rules, race teams can make the difference between victory and defeat. By designing and building reliable vehicles with the right electronic, aerodynamic, and mechanical features, engineers can customize the car to the course and driver and provide a competitive edge.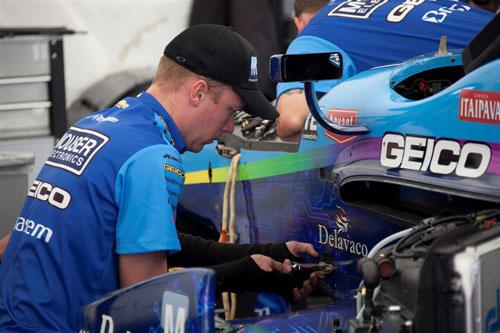 Here, the race team at KV Racing Technology offers a look at its top five ways to build a more competitive car.
1. Design for reliability. When it comes to IndyCar, race aficionados like to talk about raw power, but engineers identify vehicle reliability as the most important way to get a winning edge. They point out that IndyCar history is rife with examples of vehicles that roared around the speedway until some minor component failed. (In 1967, Parnelli Jones' famed Turbocar served as a prime example of the importance of reliability. The vehicle led with three laps to go but had to drop out after a transmission bearing broke.) That's why race teams need to ensure that every component -- from engines and gearboxes to sensors and microcontrollers -- are ready on race day. "Assembly and preparation has to be top flight," Mark Johnson, general manager of KV Racing, told us. "First and foremost, you have to have a reliable car."
2. Employ a sophisticated damper program. On a road course, such as the Long Beach Grand Prix, shock absorbers may be the single most important component on a race team's list. Unlike engines and gearboxes, which are tightly controlled by IndyCar, shocks can be adjusted to fit the geometries of the course and the proclivities of the driver. As a result, race teams spend countless hours on shaker rigs that can simulate turns, G-loads, and even little undulations of the road. By running their vehicles on the rigs, engineering teams can optimize the damper settings, making them softer or harder as needed.




4
Are they robots or androids? We're not exactly sure. Each talking, gesturing Geminoid looks exactly like a real individual, starting with their creator, professor Hiroshi Ishiguro of Osaka University in Japan.

4
NASA is developing Project Morpheus, a vehicle that can lift off and set itself down on planetary surfaces.

9
Google is developing robots for manufacturing, assembly, and warehouse tasks.

35
Microsoft will quit supporting – and patching – Windows XP in April. This may be a cruel development for plants.

8
Truchard will be presented the award at the 2014 Golden Mousetrap Awards ceremony during the co-located events Pacific Design & Manufacturing, MD&M West, WestPack, PLASTEC West, Electronics West, ATX West, and AeroCon.


LATEST ARCHIVED BROADCAST
For industrial control applications, or even a simple assembly line, that machine can go almost 24/7 without a break. But what happens when the task is a little more complex? That's where the "smart" machine would come in. The smart machine is one that has some simple (or complex in some cases) processing capability to be able to adapt to changing conditions. Such machines are suited for a host of applications, including automotive, aerospace, defense, medical, computers and electronics, telecommunications, consumer goods, and so on. This discussion will examine what's possible with smart machines, and what tradeoffs need to be made to implement such a solution.



Datasheets.com Parts Search
185 million searchable parts
(please enter a part number or hit search to begin)