Rare earth elements (REEs) like neodymium and dysprosium can produce high-flux permanent magnets that can tolerate extreme temperatures without the threat of demagnetization. For decades, their performance provided the key to ultra-compact, robust, and efficient permanent magnet (PM) motors.
Over the last several years, however, limited sourcing, coupled with a speculation bubble, drove REE prices sky high (see part 1 of our five-part series on rare earth elements). In response, designers begin seeking alternatives such as minimizing the number of magnets in their motor designs (see part 2), minimizing the number of REE magnets (part 3), and using alternative designs that made other magnet materials viable (part 4).
Of course, there's another alternative -- avoiding the use of magnets entirely.
When REEs were cheap, it was easy to choose PM motors, even when the application didn't require synchronous performance. Today, designers are taking a closer look at a range of alternatives, including AC induction motors, AC inverter drives, and switched-reluctance (SR) systems. For the right application, these alternatives can provide a cost-effective alternative to specifying PM machines.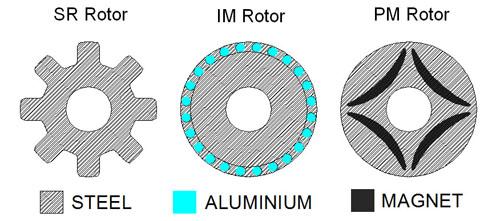 An induction motor consists of a stator with windings that are energized in the same way as for a PM motor. Instead of permanent magnets, however, they feature a rotor with closed-loop windings or rotor bars. Inductive coupling between the magnetic field generated by the stator winding and the field induced in the rotor conductors creates a varying electomagnetic field whose frequency is defined by the difference in the stator field frequency and the rotor speed. This difference is known as "slip" and increases with load -- a motor rated for 1,800 RPM may actually run at 1,740 RPM or 1,750 RPM under rated load, for example. AC induction motors can operate directly from 60Hz mains supply where they offer a variety of fixed "pole" speeds up to 3,600 RPM depending upon their construction.
"The strength of the induction motor is that it can run direct online to support applications which are required to run at fixed pole speeds," says Steve Cummins, business development manager at Nidec SR Drives Ltd.