One of the most obvious ways to mitigate the effect of the high cost of REEs is to eliminate rare earth magnets and return to conventional materials. With conventional radial designs, however, that means going back to the bad old days of large, heavy motors. This is because conventional materials simply cannot produce the same field strength as rare earth alloys.
Neodymium iron boron (NdFeB), for example, features an energy product -- essentially, a measure of field strength -- of around 55 MGOe, compared to roughly 4.5 MGOe for ferrite. That bump in energy product is what makes it possible for radial rare earth motors to deliver lots of muscle in a tiny package compared to their ferrite counterparts. The solution required taking a different approach to the problem.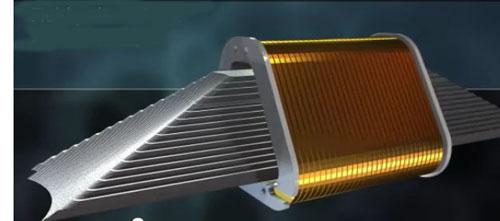 The design starts with a stator assembly formed of six laminated field poles of oriented steel, each threaded through a bobbin-wound coil (see figure 2). The rotor consists of two separate conical ferromagnet assemblies designed to match the cavities on the ends of the stator, leaving a conical air gap. Now, instead of the interaction taking place in two dimensions, it takes place in three dimensions.
If we compare the cross-sectional area of the stator at the coils with the surface area of the laminated pole structure, the ratio is roughly 2:1. This leads to a correspondingly large increase in flux density for the same motor diameter. What that means is that even with ferrite magnet material, the axial design can deliver similar torque density compared to a radial designs based on REE magnets.
"By concentrating flux in three dimensions, we can use quite a bit of low-cost ferrite material and concentrate flux to get a flux density in the stator that is comparable to what you would have in a rare earth magnet motor," says Alan Crapo, vice president of engineering at NovaTorque Inc. Essentially, the approach flips the conventional model of moderate Φs and very high ΦR to moderate ΦR and very high Φs. The result is better performance from conventional materials. "We can get the same kind of efficiency as rare earth magnet motors and we can operate the steel at similar flux density levels that rare earth magnets will operate at," says Crapo.
There are tradeoffs, of course. Even with the flux focusing, the axial designs need more of the conventional magnet material to get the desired performance. The NovaTorque team added more magnet material without significantly increasing frame size by narrowing the air gap between rotor and stator. In addition, the team potted the stator to enhance heat transfer. The result is a motor that may maintain a competitive frame size but more of the overall volume is filled with motor materials, giving it more mass and inertia than its rare earth counterparts.