We experience it every morning as we struggle to find the right water temperature in the shower. Time delays are everywhere -- they arise in engineering, biology, physics, economics, and the environment.
As engineering systems become more complex, multiple sensors, actuators, and controllers introduce multiple delays, particularly in interconnected and distributed systems. In a dynamical system, changes cannot be effected instantaneously, and so an otherwise correct control decision applied at the wrong time could result in catastrophe. From our first exposure to feedback control systems, we are taught always to conserve phase. What is the relationship between time delay and phase? How are they related to the stability of a feedback control system? Does time delay always degrade the performance of a feedback control system?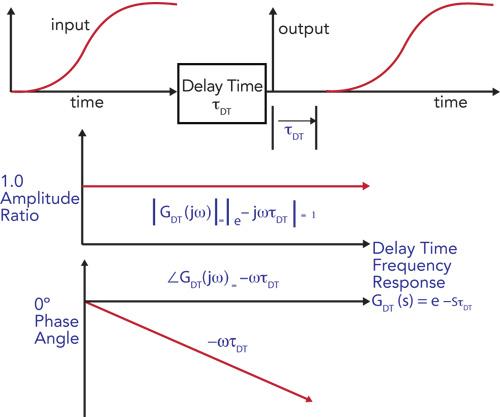 Time delays arise in control systems from delays in the process itself (represented by time constants τ and natural frequencies ωn in transfer functions), from delays in the processing of sensed signals, and from delays in the implementation of a digital control system as a result of sample-and-hold, calculation, and velocity estimation, where the total time delay can be between one and two times the sample period.
The input-output time delay shifts the signal in time and is shown in the figure above. The frequency response of a time delay is exact with a magnitude of one and a phase angle that decreases linearly with frequency. A greater time delay corresponds to a more rapid increase of phase lag with frequency.




4
Microsoft will quit supporting – and patching – Windows XP in April. This may be a cruel development for plants.

3
Truchard will be presented the award at the 2014 Golden Mousetrap Awards ceremony during the co-located events Pacific Design & Manufacturing, MD&M West, WestPack, PLASTEC West, Electronics West, ATX West, and AeroCon.

22
Robots that walk have come a long way from simple barebones walking machines or pairs of legs without an upper body and head. Much of the research these days focuses on making more humanoid robots. But they are not all created equal.

6
The IEEE Computer Society has named the top 10 trends for 2014. You can expect the convergence of cloud computing and mobile devices, advances in health care data and devices, as well as privacy issues in social media to make the headlines. And 3D printing came out of nowhere to make a big splash.

13
Easy home automation comes with a new Kickstarter project, the smart power strip. It controls various AC outlets with a wireless controller and a smartphone app.


LATEST ARCHIVED BROADCAST
For industrial control applications, or even a simple assembly line, that machine can go almost 24/7 without a break. But what happens when the task is a little more complex? That's where the "smart" machine would come in. The smart machine is one that has some simple (or complex in some cases) processing capability to be able to adapt to changing conditions. Such machines are suited for a host of applications, including automotive, aerospace, defense, medical, computers and electronics, telecommunications, consumer goods, and so on. This discussion will examine what's possible with smart machines, and what tradeoffs need to be made to implement such a solution.



Datasheets.com Parts Search
185 million searchable parts
(please enter a part number or hit search to begin)