Over the past several years, speculators and supply-chain instabilities have forced up the price of rare-earth elements (REEs) such as neodymium and dysprosium, and the strong, thermally stable magnets they produce. In the months since last summer's price peak, the speculation bubble may have deflated somewhat, but the cost of REEs remains elevated compared to what it was even five years ago, and looks to remain that way for the foreseeable future. That will have a continuing impact on the cost of permanent magnet motors, which affects a range of applications in the industrial automation space, as well as transportation and renewable energy.
In part three of this five-part Design News series on rare earth materials, we'll look at research underway to develop REE-sparing and REE-free magnets. (Read part 1 here. Read part 2 here.)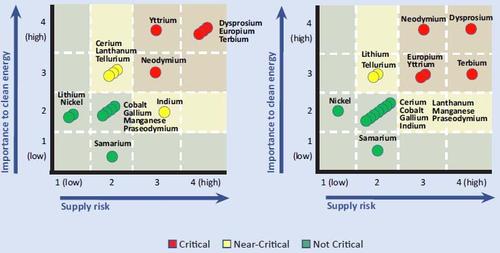 When neodymium magnets emerged, they offered mixed performance -- high flux, but only modest resistance to demagnetization and limited thermal range. The price of REEs kept dropping, though, encouraging the research community to focus on optimizing the magnets and motor designs. "It was consistent," says Alan Crapo, VP of engineering at NovaTorque Inc. "(The magnets) just kept getting better and the price just kept going down every year and we thought wow, this is really cool." But then the price of neodymium began to shoot up. Suddenly, seeking alternatives became more appealing.
In the US, the Department of Energy has identified REEs critical to a range of application areas like renewable energy and electric vehicles. In response, the Advanced Research Projects Agency -- Energy (ARPA-E) has launched the Rare Earth Alternatives in Critical Technologies (REACT) program, which currently funds 14 different projects to develop REE-sparing and REE free-magnets. At the University of Delaware, for example, seminal neodymium magnet developer George Hadjipanayis is hard at work on the synthesis of nanoparticles that could yield nanostructured rare earth magnets with 30 percent or 40 percent lower neodymium content than their macro counterparts.
The group is using a "bottom-up" approach to produce an anisotropic exchange-coupled magnet. Exchange-coupled magnets feature a mixture of magnetically "soft" (low coercive force) materials like iron and magnetically "hard" (high coercive force) materials like samarium cobalt or neodymium iron boron. Existing exchange-coupled magnets may consist of as much as 50 percent of magnetically soft material, which means less of the expensive REEs.
That's the good news. The bad news is that current versions tend to be isotropic. That is, the magnetic domains of the individual grains/particles tend to be randomly aligned, which limits their energy products to, at best, on the order of 20 MGOe (for comparison, neodymium magnets have energy products on the order of 55 MGOe).