When it comes to motors, rare earth elements changed the game. However, unchecked shortages and price hikes over the last two years have left designers wondering what to do and where to go to secure supplies.
In this post, the first in a five-part Design News series on rare earth materials, we'll examine the market forces behind the pricing instabilities, and we'll review four approaches to mitigating the effects.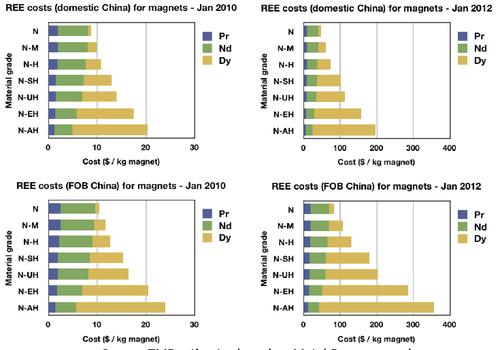 First, some background: In the 1960s, neodymium enabled the development of permanent magnets many times stronger than ferrite versions. The addition of dysprosium also allowed magnets to survive high temperatures without demagnetization. This yielded smaller, lighter motors that were available at reasonable prices and capable of surviving extended high-temperature operation.
Rare earth motors rapidly became the go-to technology for OEMs everywhere.
Then, in 2010, the price of rare earth elements began to soar, altering the cost basis for a wide range of products seemingly overnight and sending tremors throughout the industry. Prices have dropped from their August 2011 peak, when they were changing on a weekly or even daily basis, but several factors indicate that they will remain elevated from previous numbers. Let's take a closer look at the market and some design approaches that can minimize the effect of rare earth pricing on your system.