The Chevy Volt cross-country Drive for Innovation is rolling south toward our next stop in Raleigh, N.C., and we've been catching up on news surrounding the Volt, its lithium ion (LiOn) battery, and charging stations -- specifically, whether the Volt is a fire hazard.
Some sites have seized on the news to push LiOn technology as a killer in the wings; others offered a tempered view, suggesting that, at least for now, it's a tempest in a teapot.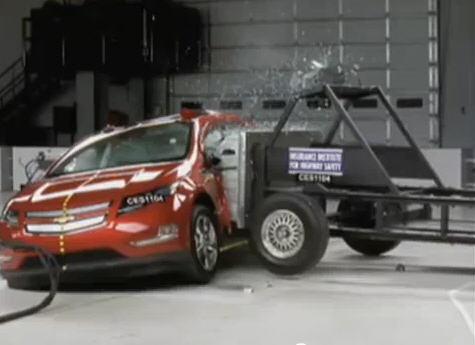 To recap, we know of three fires in which Chevy Volts were involved or nearby:
A fire destroyed a garage in northwestern Connecticut. The owner -- a volunteer firefighter named Storm -- had a Volt and a home-converted Suzuku Samurai EV. Here's a link to his blog on the fire, where he writes that the cause was "definitely not the Volt." (Here's a link to local TV coverage.) No cause has been determined.
In Mooresville, N.C., a fire in a three-car garage that housed a Volt spread to and destroyed a luxury home. Initial suggestions identified the 240V charging station as the possible cause. That's since been rejected, as fire officials have said the blaze started away from the vehicles and charging station. But no cause has been determined.
The National Highway Transportation Safety Board crash-tested a Volt, pushing it into a pole at 20 miles an hour. The car performed well and was stored outside in the cold. Weeks later, the car caught fire. The fire apparently was caused by a short when the punctured coolant system leaked into the LiOn cells.
The LiOn challenge
We've known about LiOn benefits and hazards since the technology's introduction. Studies and observations have been unceasing. Last decade, the FAA looked into the matter after shipments of LiOn batteries caught fire aboard or near two planes.
Small fire sources can cause big problems, as LiOn cells quickly fuse together and propagate the fire. Some traditional suppressants like Halon 1301 bromotrifluoromethane) might be ineffective; water is increasingly seen as the most effective way to put out such fires, according to a report published this spring by the Fire Protection Research Council.
Last year, a cargo plane caught fire and crashed in Dubai, carrying goods that included LiOn batteries. No cause has been identified.
Given the billions of LiOn batteries in the world, one could argue that failure incidents are marginal (how many lead-acid battery failures go unreported?).
But it's not a subject to be taken lightly. GM certainly isn't. It reported last week that it's been sending SWAT-like teams to crash events to de-energize the batteries. GM EV global chief engineer Jim Federico stands by the company's EV innovation.
Given what you know, how would you design a LiOn-powered EV to be safer? Or is it safe enough?
Story courtesy of Drive For Innovation. Design News will have additional coverage of the Volt battery issue upcoming.
For further reading