Ease of repair is reportedly one of the main reasons the Canadian airplane maker Bombardier Aerospace has chosen not to use carbon- or glass-fiber composites in the main fuselage of its composite-heavy CSeries aircraft. The high-cycle aircraft, due to enter service in 2013, is expected to sustain a lot of impact damage from ground support equipment. Since repair and maintenance standards are often based on the performance of metal-based planes, damage is easier to identify and repair in metal portions of aircraft using current techniques.
Unlike the Boeing 787 Dreamliner and the Airbus A350 XWB, the fuselage of the two CSeries models is constructed primarily of aluminum-lithium. Composites are used in the empennage, rear fuselage, nacelle, and wings. Altogether, the advanced materials give the plane a 2,000-pound weight savings.
Problems surrounding the repair and maintenance of composite aircraft have become much more visible since a GAO report questioned the safety of repair and maintenance procedures for Boeing 787 Dreamliner composites. That report said impact damage to composite structures may be difficult to detect, since that type of damage isn't as easy to see as impact damage to metals.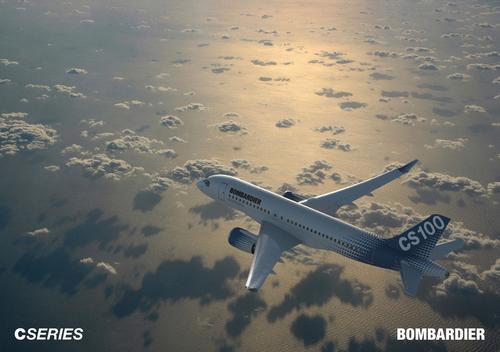 In addition, the nondestructive inspection techniques commonly used on in-service aircraft for detecting and characterizing composite damage vary with each composite's construction methods and with the particular type of damage done. For example, the 787 uses at least two different types of carbon-fiber composites: carbon laminate and carbon sandwich. So repair and maintenance technicians aren't as likely to find damage in the first place if they don't use the correct technique for finding it in a given material.
Compounding that problem is the fact that composite repair itself deploys up to 60 unique materials, while traditional metal repairs require only a dozen or so, according to one study cited by the GAO report. In addition, technicians are less likely to repair a composite correctly, since the quality of repairs depends primarily on which process they use. The scale of knowledge and supplies that must be kept on hand is thus multiplied several times. Though there's a certain degree of standardization for the repair and maintenance of metals in aircraft, the same is not yet true for composites.




1
Are they robots or androids? We're not exactly sure. Each talking, gesturing Geminoid looks exactly like a real individual, starting with their creator, professor Hiroshi Ishiguro of Osaka University in Japan.

0
NASA is developing Project Morpheus, a vehicle that can lift off and set itself down on planetary surfaces.

6
Google is developing robots for manufacturing, assembly, and warehouse tasks.

31
Microsoft will quit supporting – and patching – Windows XP in April. This may be a cruel development for plants.

6
Truchard will be presented the award at the 2014 Golden Mousetrap Awards ceremony during the co-located events Pacific Design & Manufacturing, MD&M West, WestPack, PLASTEC West, Electronics West, ATX West, and AeroCon.


LATEST ARCHIVED BROADCAST
For industrial control applications, or even a simple assembly line, that machine can go almost 24/7 without a break. But what happens when the task is a little more complex? That's where the "smart" machine would come in. The smart machine is one that has some simple (or complex in some cases) processing capability to be able to adapt to changing conditions. Such machines are suited for a host of applications, including automotive, aerospace, defense, medical, computers and electronics, telecommunications, consumer goods, and so on. This discussion will examine what's possible with smart machines, and what tradeoffs need to be made to implement such a solution.



Datasheets.com Parts Search
185 million searchable parts
(please enter a part number or hit search to begin)