Today, it's hard to imagine an automobile without electronic control. Microcontrollers for engines, transmissions, airbags, brakes, and stability control systems are taken for granted. We expect them to be down there, communicating across databases with such names as CAN, LIN, and FlexRay.
But automotive electronic controls haven't remained stagnant. Today's intelligent navigation systems can watch traffic. Vehicles can parallel-park themselves. Manufacturers are incorporating adaptive cruise control, lane-keeping, and camera-based collision avoidance.
Engineers are keeping an eye on the distant future, too. In the agricultural world, tractors can now drive themselves. Experimental street vehicles have done the same in DARPA's Grand Challenge.
In this slideshow, we've corralled developments in automotive electronics, from the advances in collision avoidance to the far-reaching technologies of autonomous vehicles.
Click on the image below to begin the slideshow: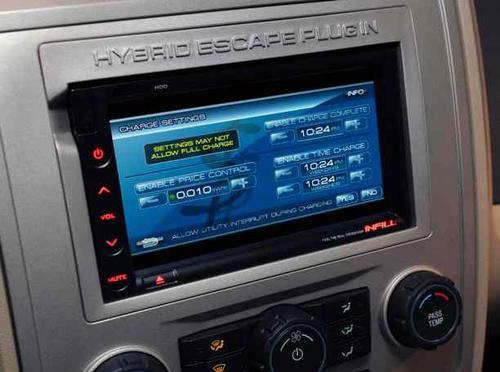 Using a vehicle-to-grid strategy in the future, electric car batteries will be able to dump energy back onto the grid when utilities need help. A grid interface on a prototype Ford Escape plug-in hybrid allows users to control the time of re-charging and check the costs of electricity on the grid at any given moment.
(Photo courtesy of Ford Motor Co.)
Related content

To keep up with our Chevy Volt coverage, go to Drive for Innovation and follow the cross-country journey of EE Life editorial director, Brian Fuller. On his trip, sponsored by Avnet Express, Fuller is driving a Volt across America to interview engineers.




7
As energy efficiency becomes more and more a concern for makers of electronics devices, researchers are coming up with new ways to harvest energy from sound vibration, footsteps, and even electromagnetic fields in the air.

2
Watch IBM's atomic scale stop motion film about, you guessed it, a boy and his atom.

2
The government wants to study your brain, and DARPA wants to use similar information to give robots true autonomy beyond any artificial intelligence developed to date. Sound like science fiction? It's not.

5
By refining topologies and using new fluid technology, Moog's new peak sine drive controller increases available power without increasing controller volume.

8
Researchers from MIT and Harvard have designed a 3D printed robot that crawls like an inchworm and can self-assemble with an electric jolt.


A quick look into the merger of two powerhouse 3D printing OEMs and the new leader in rapid prototyping solutions, Stratasys. The industrial revolution is now led by 3D printing and engineers are given the opportunity to fully maximize their design capabilities, reduce their time-to-market and functionally test prototypes cheaper, faster and easier. Bruce Bradshaw, Director of Marketing in North America, will explore the large product offering and variety of materials that will help CAD designers articulate their product design with actual, physical prototypes. This broadcast will dive deep into technical information including application specific stories from real world customers and their experiences with 3D printing. 3D Printing is




Datasheets.com Parts Search
185 million searchable parts
(please enter a part number or hit search to begin)