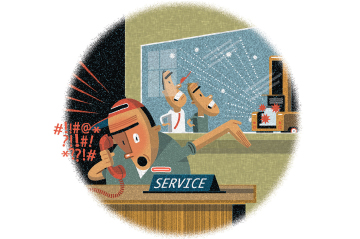 Product improvements come from curious, even strange sources. A forklift manufacturer debuted a new electric forklift. A new transistor speed control varied drive motor speed with unheard-of efficiency. Compared to a standard forklift, the new machine ran two to three times longer on one battery charge. Of course, the secret was transistors that switched battery current on and off at a high repetition rate, parsing out only the power needed to propel the truck and not wasting energy in voltage dropping resistors.
The Scene of the Crime
Having captured 20 percent of its market segment, early units of this forklift had control problems. A pulse-width modulator rapidly switched a bank of 16 paralleled PNP germanium power transistors, each with a driver transistor and ballast resistor. Efficient, due to a low-voltage drop when conducting, the transistors exhibited electrical leakage aggravated by elevated temperatures. Positive bias voltage from a dc-to-dc converter fed a control board and then the base (controlling electrode) of each power transistor to assure all transistors remained off when switched off.
Mismatched transistors or loss of bias voltage sometimes resulted in spectacular failures. A transistor shorted internally, hogging load current, then burned open, increasing loading on the remaining devices. Such a cascading failure resulted in a grand explosion of the control as a race developed between melting splashes of 16 ballast resistors versus the emitter pin of each transistor blowing through the top of each power transistor. A company wag suggested the power transistors protected the forklift's power fuse from damage.
The Investigation
At the time, I often instructed dealer personnel on control function and repair. The challenge was to convince mechanics to use a methodical step-by-step troubleshooting method because problem "A" did not always require solution "B." As more new trucks came into use, service questions came in from veteran mechanics. Otherwise sharp lads when servicing engine-powered trucks, many were puzzled by the new-fangled control.
Our service group, at times, referred troubleshooting requests to me. Service and design personnel were informed when a problem was solved. A mechanic called me to complain that after each of two repairs, the control burned out. To avoid a third failure, he called for help. After I patiently explained service procedures, the mechanic confidently exclaimed he could correctly finish the repair.
That mechanic called the next day, venting frustration, embarrassment and anger, explaining how the third control went up in a shower of sparks while his customer ducked for cover. The truck was immediately pulled and replaced by a loaner.
With the truck at the dealer, I walked the mechanic through the checkout. He found no bias voltage at the power transistors, assuring fireworks. We isolated each circuit functional module by removing interconnecting wires. We then confirmed proper dc-to-dc converter operation and correct bias voltage.
The Smoking Gun
Voltages were checked as each wire was reconnected, but somehow bias voltage was still not getting to the control board. When the mechanic protested that he had indeed connected the dark blue wire to the L-1 pin on the control board, I had an "Omigosh" moment. I asked the exasperated mechanic to tell me the colors of the wires connecting the inverter power supply to the control board
As he read off, "light blue," "medium blue," I interrupted him to ask if he was color-blind. He said yes, but exclaimed that it didn't affect his work and certainly didn't affect his ability to see a traffic signal! I explained the wiring had a rainbow of colored wires he wasn't seeing and helped him sort the correct connection for each wire. Finally, the truck ran faultlessly. I alerted design engineering and service, recommending that each wire be identified with a termination number, as well as its color. Although about 10 percent of males are color-blind, all agreed a wrong connection could be disastrous. The change was made effective at once and later extended to all product lines.