Not only are wind turbines potentially moving into urban areas, they're also moving into the sea. The first floating wind turbine was recently deployed offshore in Brewer, Maine, developed by a team at the University of Maine and supported by the Energy Department, which is ardently backing the future use of offshore wind turbine installations.
Made of a combination of concrete and composites, the floating wind turbine -- a VolturnUS prototype -- is 65 feet tall and a 1:8th scale model of 6-megawatt turbines the University of Maine's Advanced Structures and Composites Center and development partner DeepCWind Consortium hope to one day deploy, according to the university. The turbine was connected to the energy grid off the coast near the town of Castine.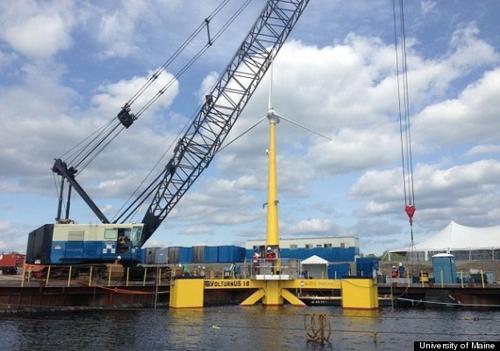 The project is an early attempt to harness some of the strong offshore winds and paves the way for wind farms to be set up 50 miles off the coast where the winds are strong and consistent, researchers said. In fact, backers of offshore wind turbines believe they can harvest 5 gigawatts of power by 2030.
"The Castine offshore wind project represents a critical investment to ensure America leads in this fast-growing global industry, helping to bring tremendous untapped energy resources to market and create new jobs across the country," said Jose Zayas, director of the Energy Department's Wind and Water Power Technologies Office, in a press release issued by the department, which is providing $12 million in funds for this particular project over five years.
The University of Maine team used advanced materials to design the wind turbine in an effort to lower the cost and also make it viable for an offshore deployment. The floating turbine uses a semi-submersible platform made of lower-cost concrete and a tower that's lighter in weight than conventional turbines due to its use of composites, according to the Energy Department.
Related posts: