When people think of additive manufacturing (AM), they usually think of 3D printing. Of course, 3D printing is an extremely innovative technology and is at one of its most exciting stages of evolution right now. However, it does have its limitations -- in size and the applications for which it can be used.
GE is working on an AM method to address those limitations. It is using a spray paint technique known as cold spray (or sometimes 3D painting) that builds upon metal surfaces. Metal powders are sprayed from a nozzle at extremely high velocities to add material to metal objects. During the process, a strong bond is created, and only a minimal amount of heat is transferred. As a result, the process is safer than welding and still results in a durable end product.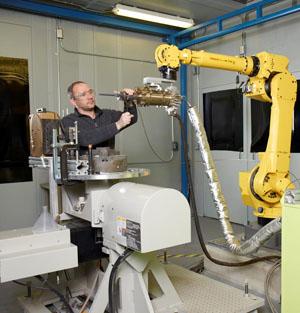 Anteneh Kebbede, manager of the Coating and Surface Technologies Lab at the GE Research Center, said in a press release:
In addition to being able to build new parts without welding or machining, what's particularly exciting about cold spray as an innovative, 3D process is that it affords us the opportunity to restore parts using materials that blend in and mirror the properties of the original part itself. This extends the lifespan of parts by years, or possibly decades, ultimately providing improved customer value.
Cold spray, a method invented in the 1980s, has been used mostly in military applications. Until now, there was no commercially available method for utilizing this technique. GE's process makes it possible for companies to use this technology to extend the lifetime and quality of their products. In the future, this may be a common method of repair for many different facilities.
Related posts:




0
NASA's Robonauts are being developed for inter-planetary travel, and to take over for astronauts when the work becomes too dirty or dangerous.

11
An industrial robot known for its safety around humans has been programmed to work a checkout lane and choose how it accomplishes certain tasks.

7
Trends in motion control all converge toward greater efficiency in movement, energy, control, and wiring.

21
Are they robots or androids? We're not exactly sure. Each talking, gesturing Geminoid looks exactly like a real individual, starting with their creator, professor Hiroshi Ishiguro of Osaka University in Japan.


LATEST ARCHIVED BROADCAST
For industrial control applications, or even a simple assembly line, that machine can go almost 24/7 without a break. But what happens when the task is a little more complex? That's where the "smart" machine would come in. The smart machine is one that has some simple (or complex in some cases) processing capability to be able to adapt to changing conditions. Such machines are suited for a host of applications, including automotive, aerospace, defense, medical, computers and electronics, telecommunications, consumer goods, and so on. This discussion will examine what's possible with smart machines, and what tradeoffs need to be made to implement such a solution.



Datasheets.com Parts Search
185 million searchable parts
(please enter a part number or hit search to begin)