Robots that walk have come a long way from simple barebones walking machines or pairs of legs without an upper body and head. These were built to try out mechanical methods for reproducing the uniquely human bipedal gait. Much of that earlier theoretical research is now done, and research these days usually focuses on making more humanoid robots. But they are not all created equal.
Although some humanoid robots are built as standalone proofs-of-concept, many are being designed to interact with people. Some of these are very sophisticated and do a lot more than walk. They climb stairs and ladders, drive vehicles, and even play soccer, but they don't look particularly friendly. A few make me think of the rather intimidating Gort in the classic 50s sci-fi movie, The Day The Earth Stood Still.
For example, some of the humanoid rescue robots entered in the DARPA Robotics Challenge are not creatures I would want to meet after a disaster. Others are designed to be smaller and cuter for interacting with children and the elderly. These tend to have more fluid, natural movements. Some can anticipate human behavior and even speak.
Click on the photo of the DARwIn-OP bots below to start the slideshow.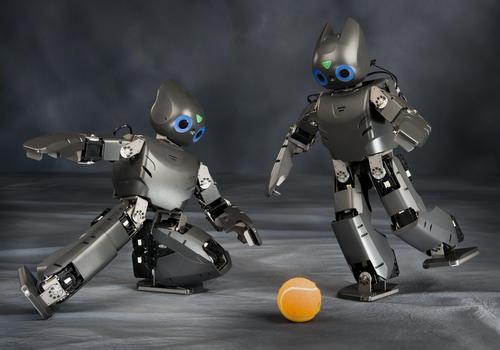 Related posts:




1
The IEEE Computer Society has named the top 10 trends for 2014. You can expect the convergence of cloud computing and mobile devices, advances in health care data and devices, as well as privacy issues in social media to make the headlines. And 3D printing came out of nowhere to make a big splash.

1
Easy home automation comes with a new Kickstarter project, the smart power strip. It controls various AC outlets with a wireless controller and a smartphone app.

4
Czech Republic-based Keen Software House recently released a game with a new twist on game play and learning. The game is Space Engineers. People play as engineers in space, as the title implies.

4
The idea of having everything connected to everything is quite intriguing and opens up a wealth of opportunities.


LATEST ARCHIVED BROADCAST
For industrial control applications, or even a simple assembly line, that machine can go almost 24/7 without a break. But what happens when the task is a little more complex? That's where the "smart" machine would come in. The smart machine is one that has some simple (or complex in some cases) processing capability to be able to adapt to changing conditions. Such machines are suited for a host of applications, including automotive, aerospace, defense, medical, computers and electronics, telecommunications, consumer goods, and so on. This discussion will examine what's possible with smart machines, and what tradeoffs need to be made to implement such a solution.



Datasheets.com Parts Search
185 million searchable parts
(please enter a part number or hit search to begin)