Two researchers from Cornell University are working on an energy-harvesting eel-like robot for NASA that the space agency aims to use to explore oceans on one of the moons of Jupiter.
Cornell engineers Mason Peck and Robert Shepherd have won a $100,000 grant from NASA to develop a soft robot inspired by a lamprey eel that will run on power harvested from magnetic fields.
The robot brings together several areas of research Peck and Shepherd have been working on for the last few years, combining the former's background in space exploration technology and the latter's expertise in soft robotics, they told Design News.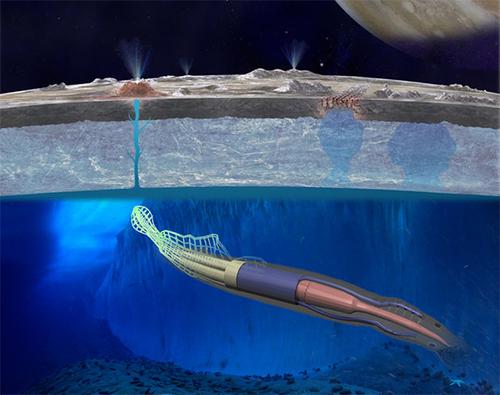 The way the eel is powered is a "key point" of its design, as it depends on the magnetic field of the planet Jupiter for its energy, Peck told us, in an e-mail.
"The rover has a long tether, basically a wire, that trails behind it," he wrote. "As Europa travels through Jupiter's magnetic field, that tether collects the electrical current induced by Jupiter's moving magnetic field. So, the rover generates power on its own without the need for nuclear energy or solar panels. It stores that energy in batteries, but mostly it uses that power to propel itself."
MORE FROM DESIGN NEWS: Collaborative Robots Are Helping Fuel a Robotics Boom
Specifically, the power transforms water inside the rover into oxygen and hydrogen gas, which resides in small cavities or bubbles within the soft structure, Peck wrote. When the rover needs to move, that gas explodes, changing the shape of the rover and making it swim.
Making this type of power source work is a key challenge to their research, Peck told us. "It's a technology that's in its infancy, so we're trying to understand its feasibility and ultimately mature the technology," he wrote.
Another challenge to the research is communication. The research team is looking into using very low-frequency radio much like submarines do, paired with new satellite-on-chip technology developed at NASA that can send data across thousands of miles using only a few milliwatts of power.
Peck and Shepherd will use the NASA funding for an initial nine-month study into feasibility of the design and to understand the technology-development needs of the project, according to Peck.
We'll brainstorm, model the behavior in software, and conduct some proof-of-concept experiments," he told us. "If this phase is successful, NASA may fund a two-year follow-on study that will allow us to design the specifics in greater detail and to evolve the concept to a prototype."
MORE FROM DESIGN NEWS: Meet Festo's Biomimicry-Inspired, 3D-Printed Robots
Researchers were inspired to model the design on a lamprey eel because of the simplicity of design and its role as an "ancient example of a soft swimmer," Shepherd told Design News, in an email.
"It has cartilaginous vertebrae that we think can mimic synthetically along with its muscle using soft materials," he wrote. "This swimmer has relatively simple physiology that we will try to approximate using soft actuators and sensors."
If the two are successful in achieving a viable design for the robot, they said it will have significant implications for what NASA and other agencies can one day do not just in terms of space exploration but in other technology areas, as well.
NASA is in the business of changing the world," Peck wrote. "The technology they develop and the science they conduct benefits all of us. This exotic concept may seem far from everyday experience, but the basic ideas -- safe, versatile robotics and renewable use of energy resources -- are relevant to us here on Earth, as well."
Elizabeth Montalbano is a freelance writer who has written about technology and culture for more than 15 years. She has lived and worked as a professional journalist in Phoenix, San Francisco, and New York City. In her free time she enjoys surfing, traveling, music, yoga, and cooking. She currently resides in a village on the southwest coast of Portugal.
Atlantic Design & Manufacturing, the largest advanced design and manufacturing trade show serving the Northeastern US, will take place in New York, June 9-11, 2015. It's your chance to meet qualified suppliers, get hands-on with the latest technologies, and expand your network. Learn more here.