As the engineer in a small company, I do more than design and debug my own circuits. I also troubleshoot customer's problems with devices that they've purchased from us.
Most of the time when a customer calls to make arrangements to return a device that they say doesn't work, I try to resolve the issue over the phone, possibly saving wasted time and money. This often results in the discovery that the batteries are dead or inserted improperly.
After installing fresh batteries, and observing the expected behavior, a common response from the customer is, "Now it's working," to which I would like to respond, "It's always been working. It works as expected now, and it worked as expected when the batteries were dead." Now, had the device in question continued with complete and full operation despite dead batteries, that's a "problem" that I have no idea how to address.
One such customer was having a problem with one of our products that is compatible with the X10 line of products that are used for security and in-home control of appliances. This product is paired with X10's Transceiver module that is used to turn AC appliances on or off.
We went through all the usual suite of questions, "Are the batteries good? Are the house and unit codes set consistently? How is the transmitter oriented?" And so on. The questions were easy -- or so I thought -- and the answers should have been easy. Either the customer was especially inarticulate in expressing the failure mode or I was not receptive enough in understanding his explanation.
The customer kept talking about some kind of perceived deficit with the transceiver and how it didn't work with the wall outlet. His explanation didn't fit any symptoms I have ever dealt with before, and I couldn't pair his description of the problem with any new possibilities. Finally in resignation, I asked him to send in everything so I could test them in the shop. After removing the transceiver from the packaging, it took only a few seconds for me to identify the problem. See if you can spot the problem in the photo below, and tell us what it is in the comment section below.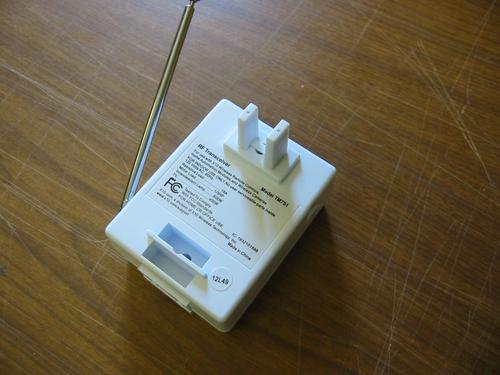 This entry was submitted by Jonathan Eckrich and edited by Rob Spiegel.
Jonathan Eckrich has been president of Adaptivation since 1998. Much of his job experience is with designing industrial (VME-based) computer systems. He holds a Master of Computer Engineering (1985) and a Bachelor of Computer Science (1982) from Iowa State University.
Tell us your experience in solving a knotty engineering problem. Send stories to Rob Spiegel for Sherlock Ohms.
Related posts: