The description of the car trouble in the Sherlock Ohms blog "Mystery of the Failing Ignition" was exactly how my 1961 Ford Fairlane acted. I was given the Fairlane to use as my winter "beater" so I could keep my 1971 Hemicuda muscle car stored during the northeast Ohio snow season.
The Fairlane's engine would simply stop running at random. Quite often, I could shift into neutral and turn the key to restart the engine while still rolling. I'd pop it back into drive and keep going. The ignition failure might occur within the next half mile or maybe not for days.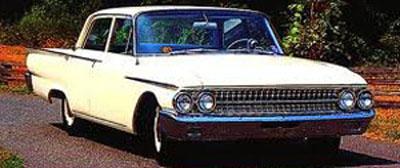 I tried to remedy the situation by replacing all the ignition components -- coil, distributor cap, rotor, condenser, points, plugs, plug and coil wires, even the dashboard-mounted ignition switch. Then I checked for any loose connections or broken wires, all to no avail. The troubleshooting and ignition part replacement simply did not solve the problem.
About a year later, I gave the Fairlane to my brother-in-law. He had hopes of solving the problem himself but ended up having the car towed to the junkyard.
Many years later, I described the problem to an uncle, and he knew immediately what the problem was and how to fix it. Down on the steering column, under the dashboard, was a switch mounted with a movable contact attached to the shift rod. The purpose of the switch was to prevent cranking the starter motor when the shift lever was in any position except park or neutral.
The switch was about two to three inches long and curved to conform around the surface of the steering column. The switch was mounted with two screws, one on each end of the switch housing. The holes were elongated to allow adjustment of the switch position to match the shift lever indicator.
If the screws came loose, the switch could rotate out of position while driving. That would cut the ignition off. By moving the shift lever to neutral (or park if stopped), the switch could be pushed back into correct alignment, and away you'd go.
The engine on that Fairlane was the venerable 232-cubic-inch inline six with auto tranny. It was one of the most reliable engines on the road back in the day.
This entry was submitted by C. Doug Palinkas and edited by Rob Spiegel.
C. Doug Palinkas, 64, is a graduate of the Chandler Technical Institute in Willoughby, Ohio, coming out as an electrical engineering technician, AA equivalent. His jobs have included plant maintenance electrician, US Air Force air traffic control radar repairman, radiation measurement equipment technician, Westinghouse electrical engineer of 20 years, and other various technical positions.
Tell us your experience in solving a knotty engineering problem. Send stories to Rob Spiegel for Sherlock Ohms.