I was going out to get the morning paper, when I slipped on some ice on the porch while holding on to the latch of my Andersen storm door. The latch broke and cut a nasty gash in my hand.
After the fall, I set out to fix the latch. The latch handle has a hole punched or drilled through the handle casting, and a rivet passes through the holes, forming the hinge. This would be OK, except that the hole on the casting is too close to the edge of the casting, and the cast aluminum is too thin around the outside edge of the hole.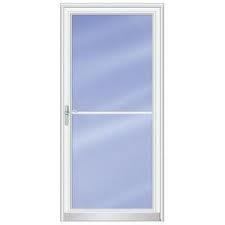 The casting eventually breaks at the hole due to metal fatigue, causing the handle to separate from the latch assembly, rendering the latch useless. I went to several local hardware stores and home centers looking for a generic replacement assembly. I bought one, but I had to return it, because it wouldn't fit.
Several store clerks told me that the Andersen latch assembly is a proprietary design, so generic replacements won't fit the door without major modifications. That would involve drilling new holes in the door. They suggested I order a replacement directly from Andersen. When I called Andersen to order the first replacement assembly, the clerk admitted that it had been having a problem with them. He said it had been getting a lot of calls for replacement latches.
The latch has since failed on two more occasions, under far less stress than the initial failure. The same failure mode occurs each time, cracking at the same hole. It doesn't appear that the design has ever been changed, even though Andersen appears to be aware that the units are failing in the field.
The new parts have a one-year warranty, but they seem, for me, to fail after about 13 months. Replacement latches cost about $17, including shipping.
This entry was submitted by Robert Atkinson Jr. and edited by Rob Spiegel.
Tell us your experiences with Monkey-designed products. Send stories to Rob Spiegel for Made by Monkeys.
Related posts: