I've been working on developing my soft-boiled egg culinary skills and complained to my wife recently that the stove's timer needed better precision (seconds). She went out and bought me an electronic timer. This is an ordinary electronic timer with an LCD display and three buttons: minutes, seconds, and start/stop. The timer is designed to be mounted (by clip or magnet) onto the stove's vent hood.
On one side of the back of the timer is the opening for the alarm, and on the other side there is nothing. Pressing the buttons for the minutes and seconds presents no problem as they are on either side of the vertical centerline of the timer, and the magnet has no problem supporting their activation. However, the start/stop button is on the side of the timer opposite the alarm where there is no support. Pressing the start/stop switch causes the timer to tip every time and fall from the vent hood. This is because there is no support behind the timer on that side, and the magnet is not strong enough to resist the action of the user pressing the start/stop switch.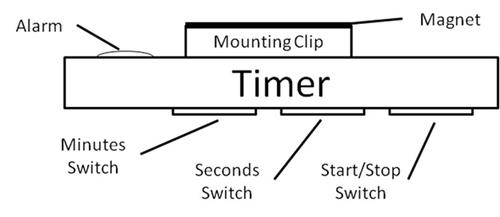 The problem could be easily solved in one of two ways: a stronger magnet that can withstand the action of the user pressing the start/stop switch or a vertical ridge of plastic on the back side of the timer under the start/stop switch.
It's such an easy product to design that there obviously was no need for prototyping -- what could go wrong?
Tell us your experiences with Monkey-designed products. Send stories to Jennifer Campbell for Made by Monkeys.
Related posts: