I have a bone to pick with Cookie Monster.
My daughter, a giant Cookie Monster fan, received the Count 'N Crunch Cookie Monster for Christmas. I was very excited to see this gift, as it will be fun for her to play with, as well as educational.
For those of you who aren't familiar with this particular version of Cookie Monster, I'll explain. It's a basic plush Cookie Monster -- not too big, which is nice. He's in a sitting position and wearing a plastic backpack. His mouth hinges open and he talks when you press his foot.
The idea is that he asks you to feed him cookies, and he counts them as you do. As you insert them into his mouth, they trigger a small plastic switch before falling into the backpack. This is great, but he ONLY counts to three. Three! Seems to me an educational toy -- made by Hasbro and branded as Sesame Street -- should at least count to 10. I'd even be happy if he counted to five.
One thing I did notice, however, is that Cookie Monster is polite. At one point, he burped and then said "excuse me." At least he is teaching my daughter manners -- he's got that going for him.
While it's a cute idea, I don't think it was executed very well. And, I'm sad to say, I think grandma wasted about $30.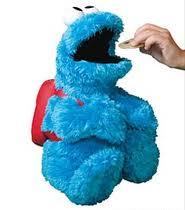 Tell us your experiences with Monkey-designed products. Send stories to Jennifer Campbell for Made by Monkeys.
Click here to view the Made by Monkeys archives.