My new house came with a Honeywell TrueDRY DR65 whole house dehumidifier that is designed for installation in ductwork. It failed after a year and a half due to a leaking coil, which was replaced under warranty.
The old dehumidifier had built-in provision for an air filter. Pop off the access panel on the side of the unit, pull out the old air filter, slide in the new one, replace the panel, and you were done. The total replacement time took less than one minute.
The new dehumidifier also has a pop-off panel. It's the whole end of the unit. A piece of ductwork must be removed to make room to get the panel off, which requires tools. The panel is on the left side as you can see in the photo.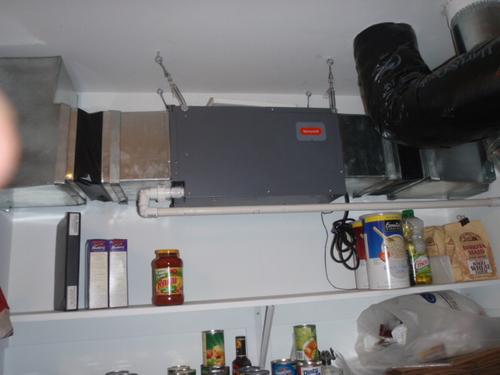 Filter replacement would have been much easier if the original installer had used all flex duct instead of sheet metal. My fix was to replace the intake air grille (not shown, it's on the other side of the wall) with a filter grille.
Tell us your experiences with Monkey-designed products. Send stories to Lauren Muskett for Made by Monkeys.
Related posts: