One day while washing the dishes, I hit the disposal switch and suddenly felt a light drip-stream hitting my bare foot along the cabinet baseboard. Fearing the worst, I quickly turned the disposal off, plugged the drain, and looked under the sink. The entire cabinet was flooded, holding about a quarter-inch of dirty water, soaking everything.
Looking at the garbage disposal (an In-Sink-Erator Badger5), I could see that hundreds of tiny bubbled-up, corroded holes were evident in a full perimeter band around the Badger's mid-section. I turned the disposal on again, and this time a beautiful spraying fountain effect was present under my sink.
Removing the Badger was not difficult, and only took about 15 minutes. I then went to the local Home Depot with the leaky Badger as a reference model. I was soon back home with an identical replacement, and had it installed and working perfectly before dinner.
Removal, replacement, and installation, including leak testing, was fairly straightforward and took only a couple hours total -- not a difficult home repair for Design News followers. But why did this this unit fail catastrophically in the first place?
Click on the photo below to see a classic example of Galvanic Corrosion at work.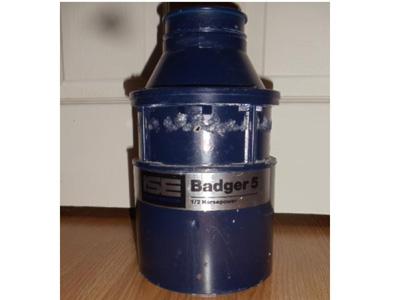 Tell us your experiences with Monkey-designed products. Send stories to Rob Spiegel for Made by Monkeys.
Related posts: