I recently came home from a trip to a broken ice maker in my Jenn-Air refrigerator. It was making ice but would not dispense it.
Earlier that day, according to my wife, everything was working and sounding as expected when suddenly there was a loud cracking sound and the ice stopped flowing. She was able to reach in and get ice, which continued to be made, but the ice dispenser was inoperative.
I opened the side-by-side freezer door, removed the ice bin, and saw the dispenser drive motor (DDM) pushed back out of position and sitting in a hole in a large piece of plastic. I soon learned the plastic piece is named the ice enclosure (IE). It is essentially the main support frame for the whole collecting, storing, and dispensing assembly. The IE supported the ice bin and several other small pieces. Prior to the breakage, it also held the DDM, which broke away completely. With the bin and ice safely stored in our deep freeze in the garage, I got online to see how to remove the IE and find a source for the replacement part.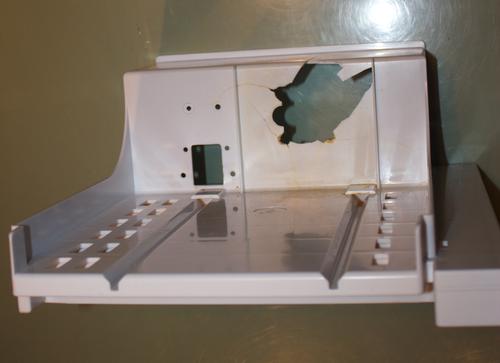 At this point, I correctly assumed that the DDM would still be functional if again properly restrained. The fridge was way out of warranty, but I was surprised the IE failed before the DDM with all its moving parts. A simple test to failure or finite element analysis on the IE should have identified this weakness. (When was the last time you replaced a main support frame on any device?)
I started on Jenn-Air's website and quickly found the IE nomenclature, but all removal videos dealt with just the ice maker portion of the assembly. I guess these are more frequently replaced, yet I am still using my original going on 15-plus years. I was on my own for the remove and replace process. Clueless, I dove in and was pleased to find that the IE removal was intuitive with no hidden fasteners.
Part in hand -- with the freezer running with the door closed -- I got the part number. After starting the web search for a good price, I could only find parts with a different number, claiming to be an approved replacement. My wife and I both work in the auto industry and we know that part numbers are not changed without reason. I started hoping that the new part would correct the existing condition that contributed to the failure.
After some online checks and phone calls, I actually found the best price and availability at my local Maytag appliance supply shop, and I ordered it for next-day pick up. I took the original with me to assure that it was the same part and was surprised to find that apparently, it was identical in dimensions and material thickness. I can only hope that the new part number resulted from using a new, stronger material, otherwise I will probably be replacing it again since we use it to dispense a lot of crushed ice, which is harder on the frame since it involves more torque resistance and impact shocks.
Truth be told, this was an easy repair. (I wonder what it would have cost to have it done professionally?) The only monkey business I found was in the use of a costly structural part that did not hold up as well as all the pieces it supported.
This entry was submitted by Bernard Smith and edited by Rob Spiegel.
Tell us your experiences with Monkey-designed products. Send stories to Rob Spiegel for Made by Monkeys.
Related posts: