My son's car contains a fair amount of "Made by Monkeys" logic. One good example (or not so good, in my case) of this logic has to do with the transmission. It's a 2001 Pontiac Grand Am, with more than 100,000 miles on it.
He came home from college last week and said that the car wasn't running right, so I hopped in and took it for a spin. Sure enough, when you stepped on the accelerator, the transmission would spin far too freely.
Being a weekend mechanic, my first reference source is usually the Internet, preferably a source with a video. Unfortunately, there was no video available to help solve our problem, but there was a lot of advice in the user forums.
The first thing the forums had me check was the transmission fluid level. That seemed simple enough, so I went out to the car to look for the dipstick. It's always at the back of the engine, near the firewall, right? And yes, I know the car has to be running, warm, and on flat ground (my dad taught me that way back when I got my first car). After more than a few minutes of searching for that dipstick, I came back to the Internet to find out where that bugger was hidden.
It turns out that this model (and most cars these days) has no dipstick due to the transmission being pressurized. The only way to check the level is to get under the car, find and remove some tiny screw, and see if any fluid spills out. While doing this, all I could think of is, "there has to be a better way."
We did that, and sure enough, nothing came out, so we knew more fluid was needed. After searching for the filler cap for a while, I finally discovered it buried down in the engine compartment. When I reached in to remove it, I burned my hand. It's nearly impossible to remove the cover -- and even harder to put it back on -- without removing a significant amount of skin from your hand.
But we did it, and the car now runs a lot better than it did before. I assume the skin on my hand will grow back in no time.
Tell us your experiences with Monkey-designed products. Send stories to Jennifer Campbell for Made by Monkeys.
Click here to view the Made by Monkeys archives.
Transmission fluid and oil dipsticks are right out front, visible, and easy to access on the Grand Caravans we've purchased.




Re: One thing Dodge got right

richnass
1/9/2013 10:19:00 AM
On every car I've owned, the dipstick was at the backside of the engine. Certainly not hidden (or non-existent).


Wow, this beats even my previous experience. In the Japanese cars I buy, the tranny fluid dipstick/filler cap has never been in the same place from one make and model to the next. My previous car's dipstick was buried deeply in the center of several other engine components a few inches below the surface and had a black tip. You could only find it with a powerful flashlight even in bright daylight. And yeah, I burned my hand too a few times. But--no dipstick? A tiny screw under the car? Ouch.


Re: One thing Dodge got right

lcormier
1/14/2013 8:31:56 AM
Transmissions have become the weak link in car reliability. Engines typically last >200K, so now the trannmissions have to last longer, but they do not. There are numerous models wiht transmission problems. Honda Odessy,2000-2003; MDX, 2001-2004; Ford/Mazda- lots. GM in particular has been mentioned here- I find their engines are faily good, but all the ancillaries, especiall electicals, do not last. Even their "solid" 3.8 engine had faulty intake manifolds, 1998-2005 why could they not fix the design in 10 years?! Car manufacturers simply do not care about the consumer. "Build 'em fast, build 'em cheap, to heck with the consumer" seems to be their mottos.


Re: One thing Dodge got right

Amclaussen
1/28/2013 6:00:03 PM
You have it right lcormier! I fully agree with you.

Let's now theorize on WHY this happens.

A large part of the problem could well lie in the design of the transmissions, since too many times the vehicle manufacturer pretends to use tha same transmission model in too many car models (they elegantly mention the word "commonality"...) but the fact is that a given transmission that was originally meant for a 2,800 pound car, ends up being used in a later model car or minivan, that weights 25 or 30% more... destroying whatever durability it had in the original application.

The second (probably more important) reason, is that the average owner believes that automatic transmissions or transaxles "don't need any service ever". This complete neglect is of little consequence when the vehicle is not used heavily, as most owners respect legal speed limits and never put the pedal-to-the-metal. But any one can see/smell the difference between new and heavily abused transmission fluid. It is a fact that ATF does suffer degradation in the form of oxidation, light ends evaporation, some polymerization and additive depletion. IT is commonly (and wrongly) defined as "burning". But for those adventurous DIY's, a complete ATF change with flush is the way to go. To perform this task, you need to get about 133% of new ATF of the proper brand and type, a new ATF filter that goes inside the trans pan, sometimes a couple of o-rings, depending on the transmission model, ATF-resistant silicon sealer or pan gasket, some cans of brake parts cleaner in spray cans, funnels, two yards of transparent vinyl hose and clamps. To perform the complete flush, you start removing the transmission pan, this will ONLY remove about 40-50% of the total of circulating ATF, because the rest will stay inside the Torque-Converter, which seldom has any means to empty it... therefore, you replace the filter inside the transmission, clean the pan and the magnet (it should have less than one teaspoon of metallic mudlike residue), reinstall the pan and seal it (which requires a perfect cleaning of the sealing surfaces -use plenty of brake cleaner!- and once sealed, put back just enough ATF to reach the proper level (you need to know where it should be when trans is not warm), and install a transparent vinyl hose from the ATF outlet that goes to the ATF cooler in the radiator or cooler itself, and use it to discharge the used ATF into a large container (about 10 quarts or more), previously marked in quarts numbered, in order to see how fast you'll need to add the rest of the new ATF. With everything ready (you'll need to place a small table at hand, to put all the remaining ATF bottles open and ready to go, visibly numbered), you start the engine in either PARK or NEUTRAL. As soon as the transmission input shaft is turned by the engine, it will immediately start to pump out the old ATF inside the Torque converter and valve body, so you will need to REPLACE the pumped out ATF with new one, WITHOUT altering the proper level of the transmission fluid (plus or minus one quart, no more); a helper comes in handy, as he/she can tell you how fast is the trans filling the large container saying "six quarts out, six ans a half, seven...etc. The reason for this is that you need to maintain the proper level: too much and the transmission will start churning out the excess, too little and the ATF will become aereated and foamed all over; but with the precaution of adding the quarts at the same approximate speed the trans is pumping out the old fluid, (which can be easily seen because you previously marked the receiving container), it won't be too difficult to do. There is some new-old ATF intermixing, that is the reason to buy about 33% more than the trans capacity, to FLUSH it out. Placing the transparent discharge hose against a brightly lit white cardboard piece will tell you perfectly when the old fluid will be completely removed fron the vehicle. You could place a 4" lenght of transparent hose filled with new ATF next to the illuminated discharge hose, which will give an instant color comparison. In my case, the Trans holds about 9.5 quarts, and I started seeing a very notable color change at quart number 7 after replacing the 4 quarts held by the pan; three additional quarts later, the color didn't change anymore. Too see/smell how degraded is yout ATF, you can use a white paper napkin; it will quickly show any discoloration, and your nose can easily tell you how different is the odor of worn and too used vs new ATF. I do this service routinely to my three cars every 30,000 miles or so. Good luck, it is not really difficult to do, and will reward you with a lot more miles of trouble free transmission performance and a lot more money saved in repair/rebuild costs. Amclaussen.


Easy way to avoid the issue, buy a vehicle with a clutch. ;)


Be careful using the Internet

naperlou
1/9/2013 11:05:29 AM
Rich, you mention using the Internet to get information and, if there is a video, to see how it is done. Seems like a good idea. A little while ago my wife's minivan needed new automatic door actuators in both sliding doors. We bought one unit. I looked on the Internet and there was a video for that. It was for the driver side door. My wife wanted to do the passenger side door first becuase she could not reach that. Makes sense. The video indicated that the other side would be thes same. WRONG! It was not even close to being the same. We figured it out by ourselves (I had lots of experience with cars and she is a Mechanical Engineer). Fortunately we had the tools as well. It was a lot harder, though.

We decided to do the other side that day. Ironically, a few weeks later the transmission gave out. She got a new car and we ended up getting a couple of hundred dollars for the minivan (it was ten years old). That just about covered the parts.


Glad to hear that the sale of the car at least covered the cost of the parts, Naperlou. That's not always the case, which is why so many people (me included) have thrown good money after bad to justify the previous repair of car that probably should be sitting at the salvage yard.


Re: Be careful using the Internet

Amclaussen
1/28/2013 6:25:53 PM
"...should be sitting at the salvage yard"

In our economy, in some cases, a just-ten-year-old car could be still a desirable one. Personally, I learned from my late father how to conserve a car for many years. He gave my his 1967 model car to become my second one in 1977, and I kept it as a daily driver for another 27 years... of almost daily use. He had an older Ford ('58 Fairlane) for nine years when he bought new the '67 Falcon-GT that I discarded around 2004. I now have two turbocharged Dodges R/T (1991 and 2002) and plan to keep them alive and running fast for as long as I can. With some improvement on emissions system, the older one still meets local limits with easy. My father always said that it was foolish to change a car every year or two, just to have a "recent model car", and in this way of thinking, I was able to learn automechanics by myself, and now do perform almost 99% of repair and maintenance at home.

Don't even start me on opining on later models design please! (I'll just tell you that the same maintenance or repair task on my 1991, takes usually less than 25% of the time than my 2002 requires, and gives me proportionately less knukle-skinning or flesh burning than my older model, but compared to later model designs, at least I don't have to drop the entire engine-transaxle assembly to change some sparkplugs, as some of the later, "very advanced" designs require! (Do anyone still believe that Monkey auto designers don't exist? Amclaussen, Mexico City.




Tranny fill port

John
1/9/2013 12:47:39 PM
My 96 caddy has the dipstick/fill port located on top, but you do have to move the air intake horn out of the way to get to it. Not the most ideal thing to do, but I take it Cadillac doesn't really expect the car to ever need any fluid added to it and thank fully it doesn't. But it is a pain to check the fluid level during maintenance. I tend to check fluid levels when the engine is cold. If I spill a little, it is a lot easier to clean up, but sometimes that can't be done and heavy cotton gloves are my tool of choice when around hot engines.


Re: Tranny fill port

ASmith
1/9/2013 1:51:12 PM
I think it has become fairly common for manufacturers to omit dipsticks on automatic transmissions because it keeps warranty costs down by preventing less than knowledgeable owners from installing incorrect fluids. Having helped some people flush misplaced engine oil out of a power steering system at one time, it's easy to imagine that quarts of engine oil or any other fluid might get put into the transmission as well. When operating correctly the transmission should not consume or lose any fluid. A transmission being pressurized sounds unlikely.

I completely agree that it can be frustrating. I had an '06 Cadillac STS with no way to fill or check the fluid other than a bolt on the side of the transmission that was nearly inaccessible in the center tunnel and way close to the exhaust. Needless to say, a fluid change was a job for the flushing machine and not suitable to do at home.


Re: Tranny fill port

Amclaussen
1/28/2013 4:22:20 PM
While the "it keeps warranty costs down by preventing less than knowledgeable owners from installing incorrect fluids" explanation has some truth, it is much more likely that it is done simply because it lowers the manufacturing costs a few pennies, which, by auto industry standards, "has to be the way"...

This made me remember that on a pair of Dodge models, the REQUIRED ATF fluid is their own "ATF+3" and "ATF+4" MOPAR brand one, because their transmissions need a slightly different fluid characteristic (related to slip-stick friction) that causes those transmissions to misbehave if any other fluid (like the ever present Dexron or Mercon) is put onto them (a couple of quarts will do that). But interestingly enough, in one of them the dipstick is wrongly marked saying those improper fluids! Only the Owner's manual and the fluid sticker specified the correct fluid...

Fortunately, the dipstick is well located and far enough from rotating or hot parts that cheking level is very straightforward, even for a novice. Add that one to "another one thing Dodge got right", which is much welcomed when you decide to change and flush the old fluid out, because you will have to add about 55% of the fluid volume with the engine running in Neutral or Park in order to completely flush out any old fluid. (Pls see my comment on "the proper way to service an Auto Trans above). Amclaussen.


Re: Tranny fill port

nyeng
2/12/2013 9:15:19 PM
I worked as a gearbox engineer for a Tier one supplier to GM, Chrysler, and Ford among others. In my professional opinion this had everything to do with money. That plug is there because it cost less than having a dipstick. First, you have part proliferation. A dipstick system includes a dipstick tube, a screw or clip to hold it up, a dipstick, and a grommet or o-ring at the bottom. That's four part numbers. The plug is one. You also have to have a bulge in the aluminum case to accomodate the diptstick. Somebody somewhere calculated that by eliminating the dipstick boss from the trans housing you saved 14 grams of aluminum. You also eliminated a core from the mold tool making the tooling for the housing a little cheaper and/or you eliminated the machining op to bore that hole. Sure you added some cost by adding that threaded hold but probably it's the same size as another hole allowing the use of an existing tool on a machining center. It's still probably a few coins ahead moneywise compared to having a dipstick assy. It all sounds a little crazy from the outside but I worked on this stuff. We'd do crazy things like that to save a quarter. When you make 300,000 of something a year it adds up.

As for being difficult for the consumer or shop to work on, I don't think GM gives a crap. They know that most customers (engineers such as myself and the other technical people reading this being and exception) really don't care if it's easy to service and maintain. GM knows that most people care more about the bluetooth capability or the compartment for sunglasses than they do about servicability.

Some people in the industry took this concept to extremes to save money. I remember a discussion about welding the gearbox halves together. The idea was it would save the money spent on case bolts and silicone gasket maker and the machined surface finish for the gasket maker. You could also weld with a robot rather than having a union employee start the bolts for the nut-runner.

How would you service it? You can't-and that was part of the idea. If there was a problem you would just sell a whole gearbox instead of a bearing or other part. This would increase the number or gearboxes sold and save money associated with carrying service parts, service manuals, etc. Ultimately this idea was deemed a little too extreme and scrapped. I was glad to hear it. But my point is that these kinds of extremes are considered in the interest of profit.

I also agree with ASmith. Eliminating the dipstick eliminates trouble for them. They don't have to worry about trivial warranty claims where the customer takes the new car back to the dealer the next day because the trans fluid is 'low' because they checked it cold or other similar things. The same goes for gauges. Newer cars runs hot. If you put numbers on the gauges (GM usually does, Ford usually doesn't) then you'll have a person taking their 2013 car in for a warranty claim because it runs at 200F. That was too hot for your '62 impala but for your 2013 Impala it probably isn't. Having a numberless temp gauge, or no temp gauge, eliminates that.


Of course cheap design is the reason why I will never purchase another GM car, and over the years I know I have discourage at least a half dozen friends from buying one as well - and I don't miss an opportunity to tell anyone who will listen that my Blazer came apart in less than 60k, whereas my Jeep and Falcon still run fine and are both over 300K miles. So lost sales I am hoping more than overcomes the few cents/part saved.




What a pain (literally!)

Elizabeth M
1/9/2013 1:51:17 PM
I'm not an auto geek by any stretch of the imagination but that has to be one of the most poorly designed ways to check a car's transmission fluid level if I've ever heard one! I guess modern transmissions are pretty reliable generally, and it's a tricky thing for someone to play with at home. But still, it shouldn't require practically taking the engine apart to check something so simple and critical to the car's health. Hope your hand fully heals.


Re: What a pain (literally!)

Cabe Atwell
1/9/2013 3:42:43 PM
I used to use mechanics gloves in these situations. Then again, I usually work on cars when they were off, don't want my gloved hand to be ripped off.

I am surprised that a 2001 car did not have some sort of indication for low transmission fluid. That right there might be the worst offense in the car's design. If it was there, a simple stop at the jiffy lube would have sufficed.

I remember the day I stopped working on cars, it was a good day.

C


Re: What a pain (literally!)

Larry M
1/28/2013 3:28:16 PM
Elizabeth M wrote: I'm not an auto geek by any stretch of the imagination but that has to be one of the most poorly designed ways to check a car's transmission fluid level if I've ever heard one!"

The differentials on all cars are checked this way--you fill lubricant through the port on the side until it runs back out. And surely, Elizabeth, you check this level every time you change your oil. Why is is surprising that you might check the transmission lubricant the same way, and at the same interval?

Yes, it's a nuisance, but it's not anything new.


Re: What a pain (literally!)

Elizabeth M
1/28/2013 3:46:10 PM
Again, Larry, I am not a mechanic-type person and don't change my own oil! I leave that to the experts...so of course I wouldn't really understand this method for checking transmission fluid. I still think it's sounds a bit complicated and from the comments I've read it seems like there is.


Re: What a pain (literally!)

Amclaussen
1/28/2013 6:43:13 PM
Larry: There is a difference... Checking differential oil level is done at quite long intervals, since, unless the vehycle is leaving a puddle of thick oil on the floor, it should be OK and usually is. On the other side, even when automatic transmissions do perform aparently fine, a too-degraded ATF will damage the transmission badly and soon. Having the dipstick at a convenient place and height eases the task of replacing the ATF and performing a complete flush. But needing to go under the (usually) low vehycle to perform that task either requires a) lifting the entire vehycle, b) having a pit built at home, or c) having to depend on a transmission shop... those being inconvenient or too expensive. I'll take sides with Elizabeth. Additionally, the viscosity of differential gear oil makes it much more easy to seal properly than the thin ATF. A hole with a theaded plug will require an extra O-ring... that was the reason for eliminating the hole in the transmission pan, now you have to remove the entire pan to drain or change the ATF. Amclaussen.


Re: What a pain (literally!)

Larry M
1/29/2013 9:15:18 AM
AM, These days there's really no reason to check transmission fluid any more frequently than the differential. A reasonable interval corresponds to each oil change. Seals are better. Fluid is designated for the life of the car. Owner's manuals even tell you that you can ignore the darkening which takes place over time. (Quickie oil-change places are notorious for preying on owners who don't read their manuals.)


Re: What a pain (literally!)

Amclaussen
1/29/2013 4:29:47 PM
Pardon me, but I respectfully disagree with the idea of "lifetime", "everlasting", "long duration", or "permanent" fluids. A given car "designer" can of course, decide a newer fluid could have an "extended" life... but another one with higher worries about warranty claims will include some kind of exceptions to the owner's manual... that usually take the form of: "In severe conditions..." or "in fleet service...", or "In hot and dusty conditions..." or anything similar phrase to cover himself and conserve his employment.

I kindly invite you to get your hands dirty and do a transmission service yourself. Independently of what says the ATF bottle sticker, the shop manual or the owner's manual, what you will see is more or less the same picture of the image I'm attaching: the magnet inside the pan will have a "Sea Orchid" appearance. Those 'spines'are metallic dust or very fine "shavings" suspended in thick mud, aligned like spines by the magnetic field. This photo was taken after 50,000 miles of driving, well before any transmission symtoms appear, and the metallic contents (3/4 teaspoon) are considered "normal" for a properly working transmission with this much use. Wear particles come from clutch packs, sliding bands and a very little part, from actual gear wear. Now, NO known transmission filter has a 100% efficiency in filtering small size particles, as size and pressure loss constraints product of the limited available space effectively limit the area/volume of the replaceable filter inside the pan. After such mileage, ATF appearance has changed from light Cherry-Red transparent looks, to very dark reddish brown opaque color. Smell is quite different. Now, viscosity is appreciably changed, but Viscosity Index is way down, surface tension is up, solid contents are way-way up. The ATF has lost its "light ends", and has much more heavier hydrocarbons, hard carbon and long chain residues. It simply DOES NOT lubricate as well as new fluid, its heat transfer properties limit this task and the fluid is no longer able to remove and transfer the heat load anymore, so that the operating temperature goes up in a vicious cycle. If you believe that "modern" ATF's can take the abuse and still perform like new after 40,000 miles or so, be forewarned your transmission is prone to fail and needing a complete rebuild. Fine if you want to trash the vehycle after 4-5 years or so. It only takes one severe overheating episode to start the degradation, and it wouldn't need to be when hauling a heavy trailer, as a very hot day in stalled traffic for longer than a couple of hours will get the ATF very hot, owing to ever reducing frontal air intake openings, heavier cars that still have a transmission designed years ago for lighter vehicles. I very much prefer the tried and true dipstick than any optimistic claim that the new marvelous fluid is permanent. (I just remembered the thousands of damaged engines because of too optimistic "DEXCOOL" claimed advantages!). AND while newer "synthetic formulations" of ATF's can have better hi-temp properties, they have their limits too, and cannot perform well after an additional 20-30% more miles, because they will become contaminated by metallic wear products (clutch pack wear IS an unavoidable fact of life, independently of what overly confident product advertisers wish to convey). I have two old MOPAR vehicles that are the envy of the local dealer (where I only go to buy the original ATF and/or Coolant, as I have done some tests at my workplace and found them to be high-quality when compared to commercial aftermarket offerings). I believe that the statements in several places on typical Owner's Manuals are deliberately written to prevent overly worried novice owners from becoming too concerned and taking too much time from dealers with over exaggerated concerns. In reality, ATF color and smell is still very valuable and a practical means to quickly distinguish if an ATF is too degraded without having to run expensive specialized laboratory tests. The fast rule is: New ATF shoud be transparent, light Cherry Red color, and has a characteristic odor (you can open a bottle to get an idea). Still good but used ATF will appear as brick-red to light brown or reddish brown color when not accompanied by a foul strong-burnt odor. Overheated and degraded ATF will not have any of the reddish tinge, being totally dark brown to black color. Amclaussen.


Re: What a pain (literally!)

Larry M
1/29/2013 4:58:51 PM
AMClaussen wrote: "I kindly invite you to get your hands dirty and do a transmission service yourself. Independently of what says the ATF bottle sticker, the shop manual or the owner's manual, what you will see is more or less the same picture of the image I'm attaching: the magnet inside the pan will have a "Sea Orchid" appearance."

AM, I have done this several time. In fact. my son had the same Pontiac referred to in the original post, with a side plug and no dipstick or filler tube, and I helped him with that.

I sold the 1969 Dodge Custom Sportvan at 21 years, in 1990. The transmission never needed service. I got rid of the Chevy Lumina APV with 185,000 miles. The transmission never needed service. I have had a couple of other high mileage cars but they were manual transmission units.

I don't see how to access the image you referred to.


Re: What a pain (literally!)

Amclaussen
1/29/2013 5:17:38 PM
Sorry, I can't figure how to upload the image tof the pan taken with my cellphone and stored in my PC... I'll try to send it attached to an email message, but then I would need to show your email address, and that is not a good idea cause anybody would have it... sorry, I've never put an image here!


Re: What a pain (literally!)

Tool_maker
1/29/2013 12:48:39 PM
To Am... I was told by an engineer from Caterpillar that the plug was removed from the transmission because too many DYI got confused and were draining the transmission when they wanted to change the oil.

As far as the dipstick, I will add that to my things to look for when purchasing a different vehicle. I was totally unaware that such a vehicle was produced and for me that would be a reason not to buy.


Common theme here? Cadillac... Pontiac... both GM vehicles. I used to be a strong GM buyer but have moved away because of poor engineering of their products. Over the years I have seen on my vehicles:
Problems with noisy lifters on most of their engines.
Problems with oil leaking from the valve cover gaskets because the oil drains were too small and clogged easily (yes, I religiously changed the oil at the recommended intervals).
The spot welds that fastened the door closure mechanisms broke on both driver and passenger doors (which I repaired with pop-rivets that held much longer).
The metal used for the water pump pulley for the 302 Vortec engine cracked around the mounting bolts and ultimately fell off.
An oil filter that should be replaced every 3K miles on a Buick Skyhawk that you had to remove a wheel well panel to get to, but yet the thermostat was easily accessible under a pressure cap at the top of the engine.
Given more time, I could come up with more, but I'll just say that I now own Chrysler and Subaru products and have been much happier with the maintenance.


Not supposed to maintain...

kf2qd
1/10/2013 9:46:28 AM
Many cars don't seem to be designed for maintenance. I (or my kids) have had several GM cars where the oil filter is placed up behind the engine or covers that make it impossible to remove the filte and not dump oil all over the engine, your are and the ground. Why would you place the oil filter on the back of the engine with the rotation axis horizontal? Or on the right side of the engine(front wheel drive) where you WILL spill oil on the belts when removing the filter.(you had to turn the wheel hard to the right and remove a plastic flap to get at the filter) It was a throw away car.

Its not too hard to put the filter in a more accessable location - my Dodge and Fords cars have the filter behind, and slightly above the back of the oil pan and the axis of rotation is vertical so there is very little spillage and one can actually see the filter without mirrors.




Re: Not supposed to maintain...

GTOlover
1/10/2013 10:05:10 AM
The filter location problem and dipstick location is not a new issue. Having owned a 1955 Desoto Fireflite with the 265 Firedome hemi, this was a disaster to change the oil. It was a canister that faced up. You would remove the center bolt (convientently pointed up so you did not have to go under the car) and the oil in the canister would spill all over the side of the engine and exhaust manifolds. I suppose the idea is you do not care and just change out the cartridge filter and let the warm engine 'burn' off the oil. However, you still had to go under the car to drain the oil pan. So the order of operation was important if you wanted to stay somewhat clean!

The transmission was OK but it was impossible to change the fluid or flush it without some crossmember disassembly. The point is, even in the 50's maintenance was not an engineered feature.


Interesting observation, GTOlover. I always assumed that the "hard-to-work-on" phenomenon started in the 1970s. I had a '62 Impala that was pretty straightforward.


Re: Not supposed to maintain...

Amclaussen
1/28/2013 6:52:09 PM
I have the impression that design for straigtforward maintenance was slowly but more or less constantly improving from the 50's (I was born in 54, so I never knew the older designs), to the 90's, with many examples either better or worse. But, later-on, it has been a Monkeyish nightmare! I'll leave on you to explain how have things go so bad!!! ( I don't want to loose my temper right now!). Amclaussen.


Re: Not supposed to maintain...

richnass
1/12/2013 12:34:13 PM
GTOlover, there's actually a very simple solution to your problem. Just turn the car upside down.


As some readers have pointed out, are not designed for maintenance, which can be infuriating at times.



I was told by a car buf once that the car companies aren't interested in designing cars that are easy to work on because they make MORE money when you bring the car to the dealership for repairs. Anyone who has taken their car to a dealer for a repair knows that the experience is more like being taken to the cleaners!



It's a shame that a country that put men on the moon, can't (or won't design cars that are easier to repair.


Re: Cars not designed for maintenance

BillFZ1
1/10/2013 1:10:03 PM
Don't consider this a purely domestic situation. Many of the Daimler Benz transmissions are sealed. In fact at Chrysler corp the transmissions first were sealed, no dipstick and filler, while Daimler owned them. I don't know if this was to prevent medling or simply that they expected the transmission to go high miles without maintance.

Bill


Re: Cars not designed for maintenance

bob from maine
1/21/2013 10:25:29 AM
Now that cars can go 100K miles without anything more than oil changes it doesn't make much sense to design maintenance access for a system that is not servicable. The economics makes sense; Save $3 per car by not installing access to a system that should never need attention outside of a garage. Now multiply this mind-set by 4 or 5 systems in a car (brakes, cooling system, spare tire) and spread that over 2 or 3 million cars and pretty soon you have saved enough to buy your way out of bankrupcy.


Re: Cars not designed for maintenance

OldEngineer
1/28/2013 3:30:41 PM
The reason the dipstick was eliminated on this model is that most people do not relaize the extent to which ATF density changes with temperature. If the dipstick were checked cold, and the ATF level topped up cold, the fluid would grow in volume (lose density) to the point that rotating elements would be immersed, leading to foaming and the potential for slippage as a result.

Even a substantial number of dealer technicians were not checking the dipstick with engine running at full operating temperature, as specified.

Warranty claims went DOWN with dipstick elimination.

The ATF recommendation at release was "fill for life" except for towing or extreme high temperature service.


Re: Cars not designed for maintenance

Larry M
1/29/2013 5:06:41 PM
I can vouch for that. A divorced friend who calls from time to time called--quite worried--one day after a long hard drive. Colored fluid was running from beneath her car. I asked whether it was coolant or transmission fluid. She didn't know. I asked whether it was green or red. She couldn't tell. I told her to put a tiny dab on her finger and report whether it smelled/tasted sweet or oily. She replied "oily."

"Aha," I said. "You had an oil change yesterday, just before you left on your trip, didn't you? And you used that filling station near your house, right?"

"How did you know?" she asked.

I explained about expansion of transmission fluid and how to check it. Her car was still warm and she checked it on the spot. The level was right on. It had blown off the excess on the highway.

She asked how the transmission could have gotten overfilled and I explained the facts of life--expensive mechanics don't change oil or fix flats; high school dropouts do. She was stunned to learm about the "highly-qualified technicians" working on her car. Don't you hate to disillusion someone like this?


Re: Cars not designed for maintenance

fire-iron.biz
1/30/2013 7:42:57 PM
Larry M. said, "I explained the facts of life--expensive mechanics don't change oil or fix flats; high school dropouts do."


Please clarify that statement being applied only to the quickie lube & service places. Professional shops and fleet service specialists do a lot of oil changes and tire patching - only a fool turns down easy money and any company not willing to pay for professional level "service" usually isn't in business very long and at best they're not very profitable.


Re: Cars not designed for maintenance

Larry M
1/30/2013 8:17:35 PM
Clarify? Sure. I was referring to filling stations with a lube bay or two on the side, but I will concede that my statement also applies to quickie oil change places.


Re: Cars not designed for maintenance

fire-iron.biz
1/30/2013 9:08:15 PM
Larry, That works for me. Hard to see in the avatar but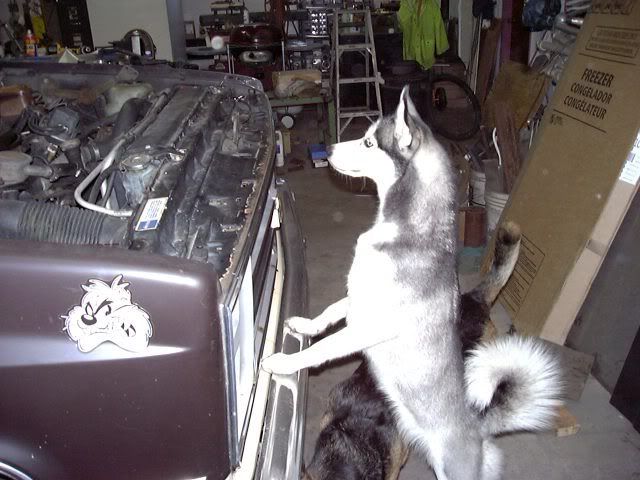 note the boss doing a QC check...










Re: Cars not designed for maintenance

Amclaussen
1/29/2013 5:34:20 PM
Well, my dipstick clearly shows both the COLD and HOT zones, aided by small holes that help a lot in showing where is the edge of the wetted zone in low light... Also the Owner's manual shows a drawing of the dipstick end which is so clear I can hardly imagine a dumb enough person unable to understand it (pardon me, I was forgetting the Monkey-type of individual!

Now, on the "fill for life" recommendation, it is as vague as to be useless, as how hard is hard use? Some hill climbing is as hard or harder than towing, but most people I know feel that any car would perfectly climb those. (The typical 'sunday ride' where every one on board is completely distracted and not paying the least bit of attention on the temp dash indicator... if the car ever had it!!!)

My guess is more toward the classic recently graduated "genius engineer" that dreams of receiving a company congratulation for proposing a reduction of the fabrication cost a couple of cents, multiplied by the many thousands of vehicles... as so on.


Re: Cars not designed for maintenance

fire-iron.biz
1/30/2013 7:24:30 PM
I trust the "lifetime" tranny fluid as much as the "lifetime" tie rod ends that never seem to last more than a year or two ... unless one is smart enough to put a zerk in them just like the old ones that lasted a long, long time as long as they got a little grease every so often. Problem is, the automotive industry consistently gets away with nonsense that no other industry could ever survive.


Re: Cars not designed for maintenance

Tool_maker
1/31/2013 1:01:18 PM
I get just as angry as anyone about stupid designs that prevent, or at the very least, make normal maintenance more difficult, but I do not think it is a conspiracy by the various car companies. Sometimes "GOOD IDEAS" are fraught with unintended or unforeseen consequences. I would be willing to wager that not one engineer/designer reading these posts has not had a mistake or two the someone down the line has blasted as stupid. Early in my career, my first foreman told me, " The only guy who never makes a mistake, is the guy who never does anything, but if you keep making the same mistakes, you will be looking for a new job."

In short, all I know is that with very few exceptions, my new cars/trucks are better than the ones they replaced. I get better mileage and more consistant service. I have never had any vehicle that could accelerate like my 71 Buick Skylark, nor ride as smooth on the highway as my 67 Olds Delmont 88, but both of those vehcles were finished well before 100,000 miles, but I have not had a vehicle since that hasn't crossed that threshold.


Well. what's new

Cadman-LT
1/12/2013 11:19:05 AM
I guess they just want to make everything harder for the user. What's next? under the car to check every fluid so you don't do it, but take it in to get checked!? Crazy...no..BS!





More Blogs from Made by Monkeys

22
Made By Monkeys highlights products that somehow slipped by the QC cops.

30
One reader had to dismantle the Mazda Tribute for the sake of changing the alternator and some spark plugs.

28
Made By Monkeys highlights products that somehow slipped by the QC cops.

28
Made By Monkeys highlights products that somehow slipped by the QC cops.

11
Made By Monkeys highlights products that somehow slipped by the QC cops.
Design News Webinar Series
10/27/2016 11:00 AM PDT | 2:00 PM EDT
10/4/2016 11:00 AM PDT | 2:00 PM EDT
9/29/2016 11:00 AM PDT | 2:00 PM EDT
9/27/2016 8:00 AM PDT | 11:00 AM EDT

The Continuing Education Center offers engineers an entirely new way to get the education they need to formulate next-generation solutions.


Oct 10 - 14, Embedded System Design Techniques™: Getting Started Developing Professional Embedded Software

Focus on Fundamentals consists of 45-minute on-line classes that cover a host of technologies. You learn without leaving the comfort of your desk. All classes are taught by subject-matter experts and all are archived. So if you can't attend live, attend at your convenience.
Next Course September 27-29: