In the photo below you'll see the interior of my 1998 Oldsmobile Eighty-Eight. I inherited it from my late mother-in-law with only 20k miles. I use it to commute, and today it still only has 85k. But as with all things, it's not always the mileage that counts, but the age. One day, as I climbed into the car to head to the office, I noticed some green fluid on the passenger side floor mat and assumed there was a problem with the heater core.
Most vehicles I've worked on have the core accessible from the firewall or under the dash. Usually it's not too hard to get to. But not on this car. I first started with the under-dash covers, then the glove box, and next some of the dash components. I could not get to it. Everything was connected to something else and a lot of it was one large assembly.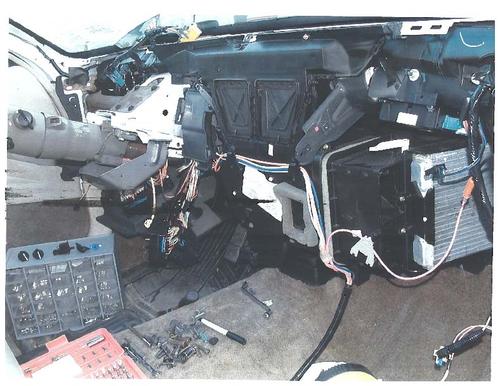 I turned to the Internet for help and read some real horror stories. As you can see from the photo, I had to remove all kinds of parts and assemblies to get to the darn thing. Even the steering wheel had to come out. You name it: instrument cluster, air bags, dash, air vents and ducts, HVAC controls, radio, and so on. What should have been an hour job took a full day. And, thanks to considerable effort, I did get it all back together.
Who designed this? They certainly had no plans for how the car would be serviced. And now, I have little pieces of sticky deteriorated foam from the duct-work dampers/diverters blowing out the vents. Why don't things get built to last anymore? In all my years of engineering, I have always done a life-expectancy analysis on every job. The objective was to get the most bang for the buck (return on investment).
This entry was submitted by Bradley Miller and edited by Rob Spiegel.
Tell us your experiences with Monkey-designed products. Send stories to Rob Spiegel for Made by Monkeys.
Related posts: