A three-way socket on my bedside lamp gave out recently, but not without first overheating and causing a burned-phenolic-like odor.
When I disassembled the lamp socket, I noticed black material around the point of contact between the aluminum socket shell and a hollow brass tube that was press fit, or swaged, into place. This fitting connects the shell to power-line neutral. Perhaps a loose fit or differences in thermal expansion of materials caused a slow increase in resistance between the brass and aluminum. That resistance led to a hot spot. (This socket, shown below, did not have UL or CSA logos.)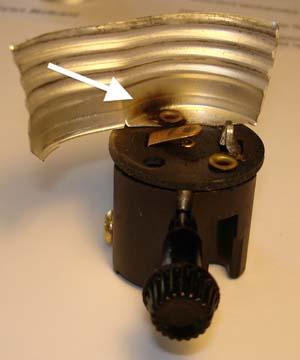 This type of three-way socket has a third contact, which remains rigid and touches a conductive ring on the bottom of a bulb. It makes contact by digging into a contact ring on three-way bulbs, but it lacks resilience. After a while, the resistance between this off-center contact and the ring on a lamp base increases. That resistance can lead to arcing, overheating, and a bad odor, if not a smoldering socket. I have replaced many sockets because of this design shortcoming.
It's a shame that the move to LED lights hasn't sparked ideas for new types of lamp sockets and a new lamp-base style that overcomes design problems. Automotive lamps provide good examples of simple sockets that make bulbs easy to install and extract and ensure good connections. Manufacturers mold the wire contacts into the glass base, and the socket comprises simple contacts. Some automotive lamps use a molded plastic base instead. Contact-on-contact wiping action and resilient metals help ensure low-resistance paths.
Perhaps someone could design a practical and safe push-in/pull-out socket for LED bulbs. This type of socket would simplify changing bulbs, too. Vaulted ceilings require an extension pole with either a wire basket for globular bulbs or a suction cup for flood lamps. If you use a helical CFL bulb in high places, you might have to fashion your own tool to insert and extract them. And if the glass bulb separates from the socket, you must haul out a ladder.
Mismatched materials, cheap manufacturing techniques, and inattention to quality could lead to disasters. For lamp sockets, at least, it's time for a new approach to design, materials, and manufacturing quality. Also, look for UL and CSA markings before you buy electrical products.
Related posts: