After Hurricane Irene passed by my Pennsylvania home in August, we lost power. I rolled out my Troy-Bilt generator and plugged it into the house distribution box after switching off most of the breakers and the main incoming feed.
I had used the generator on just two other occasions. Both times it worked fine, so I was confident we had our electricity problem solved. This time, however, I was in for a surprise.
I started the generator and threw the breakers for different areas of the house. Almost immediately, my sons started to yell that smoke was filling the house. I turned off the generator, ran into the house, and found, to my dismay, that numerous electrical items had been fried.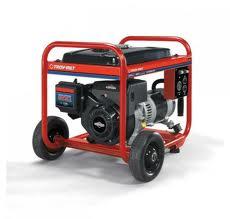 What went wrong? I thought I had done everything right. I unplugged the generator and restarted it in order to measure the output voltage. I was shocked when it measured 310V at the 220 outlet and 155V at the 110 outlet. No wonder everything was fried. It was obvious that the manufacturer's "automatic voltage regulator" feature had failed.
I find it hard to believe that, in the case of a voltage regulator failure, the output would not drop to zero. That's only logical. A decent voltage regulator with a fail-safe taking the generator to zero voltage during malfunction can't be an expensive addition. Briggs and Stratton, the company that manufactured the generator for Troy-Bilt, took responsibility. It repaired the generator and acknowledged the faulty voltage regulator.
Between Briggs and Stratton and my insurance company, the nearly $4,000 of damage to my home was covered. I was lucky my house did not catch fire. It certainly came close.
This entry was submitted by Peter Kahora and edited by Rob Spiegel.
Tell us your experiences with Monkey-designed products. Send stories to Rob Spiegel for Made by Monkeys.