Our seven-year-old midrange Sears front-loading washer started to shake. Long story short, the bearing or support spider was starting to fail. Couldnít figure that out until after it was disassembled in repair -- it turned out the spider had indeed cracked.
The repair required replacing the tub, drum, and spider. Thatís $1,000 in parts alone. It took two guys and two hours -- wow. Luckily, the unit was still within the 10-year warranty, so all I had to pay was $130 in labor. Thatís OK, since the washer cost $1,000 -- the same cost as the repair parts.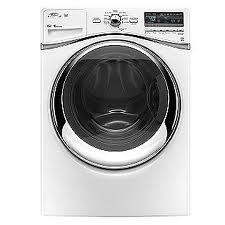 The repairman -- who has 20 years of experience -- told me these front loaders are much less reliable than top loaders. So my question is -- one: is the reliability difference inherent in the mechanics of a front-loader design? Or two: is it just due to inadequate design and shortcuts? Perhaps three: no design margins, or incorrect choice of materials, or material quality control, or poor assembly. Iím betting on points one, two, and maybe three.
Or, are manufacturers taking the opportunity of the trend towards supposedly efficient front-loaders to design-down their machines? Are they trying to cut manufacturing costs while making it up in service calls?
Hereís why I wonder about that last point: my machine has a 10-year warranty. But the more recent ones come with a one-year warranty. A one-year warranty is pretty much useless in the real world. I guess Iím one of the very lucky ones with the longer warranty of an older machine.
This washer has not had a hard life. Itís just the two of us. Our previous unit, the revered and venerable Maytag A608 top-loader, is well known as one of the most reliable washers ever made. That judgment call came from Consumer Reports, other sources, and user groups. We had it for 25 years, through two kids. All it ever needed was two belt replacements at just $100 a pop. Finally, the main bearing failed. But hey, after kids and 25 years, thatís darn good.
With the new ones, you can get a service contract for $140 per year. Thatís more than 10 percent of the cost of the machine. And thatís each year. What a deal.
Front loaders also have another issue: the repeated on/off hard cycling of the fill valve procures tremendous water hammer, which is both very loud and can cause pipes (both new and old) to develop micro-cracks due to repeated motion. Those micro-cracks can grow into big cracks. The solution is a $15 water-hammer arrestor on each fill line -- if you know to do it. If not, youíll have leaking pipes and joints, or else a major leak in a few years.
So, Iím wondering if the question of front vs. top-loader mechanics has become a matter of product down-designing.
This entry was submitted by Bill Schweber and edited by Rob Spiegel.
Tell us your experiences with Monkey-designed products. Send to Rob Spiegel for Made by Monkeys.