Back when my oldest child was 5, I purchased a swing set that had a frame made of pressure-treated wood, with ladder rungs made of cedar. I thought it would be reasonably durable, since the wood seemed beefy enough. The hardware was cadmium-plated and clear chromate treated. It wasn't stainless steel, but then again, this play set would not be living in a marine environment.
I put the play set together, added some extra helical anchors for stability, and gave it the acid test -- I actually climbed, shook, and swung on it myself. I figured that if it could hold up to me, it would be no problem for the kids.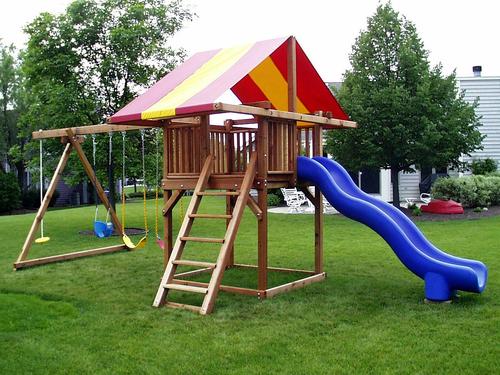 After about two years, I became concerned that the frame was flexing too much when the kids were swinging on it. I removed a bolt or two and was shocked to discover that the bolts had been eaten away by corrosion to half of their original diameter. Some even broke in two when I tried to remove them. I headed off to the hardware store for some new bolts and screws (hot-dip galvanized, this time). Over the five years that I had that swing set, I replaced the hardware twice. When it was ready to be retired, the bolts again needed replacing.
The typical "green" pressure-treated wood is preserved with Chromated Copper Arsenate (CCA). Although we've had plenty of experience with this product over the years, there is some concern about its toxicity. That issue aside, CCA is a metallic salt. Anyone who has ever seen what happens to steel in salt water -- no matter how it is coated -- could have guessed the outcome of this story.
The next swing set I purchased used plastic-coated CCA-treated wood. After 18 months, the manufacturer sent me new framing members to replace the plastic-coated wood, due to a recall. Those bolts were also heavily eroded when I removed them. Some were seized to the wood so strongly that they broke off without turning -- and these were 3/8" bolts!
This reminded me of an issue that started about 40 years ago. I have been involved with boats since I was very young. Back then, pilings were treated with Creosote. It was sticky, messy, and it didn't preserve the wood very well. When CCA-treated pilings came out, it was a godsend. They lasted so long that people used them for bulkheads, foundations, and even boat lifts.
Over the years, people would replace the deck planks, but they never worried about the pilings unless something drastic happened. Since the boat lifts were bolted to the pilings with 3/4" to 7/8" galvanized bolts, they were deemed sturdy enough for the marine insurance inspectors. After about 10 years or so, the bolts would corrode and could abruptly fail, unceremoniously dropping the $100,000+ boat into the water on its side, or even, in one case, impaling it on a piling. (See Seaworthy magazine for the particulars of boat lift failures.)
Since discretion is the better part of valor, it would be a good idea for any boat lift or swing set owner to inspect these bolts every few years.
This entry was submitted by Dwight Bues and edited by Rob Spiegel.
Tell us your experiences with Monkey-designed products. Send to Rob Spiegel for Made by Monkeys.