The price (after a $7,500 federal tax credit) for the vehicles will be $49,900 for the 40kWh vehicle, $59,900 for the 60kWh vehicle, and $69,900 for the 85kWh. A performance version of the car, which accelerates from 0 to 60mph in 4.4 seconds, will be available for $79,900. Two other luxury versions will be available for $87,900 and $97,900.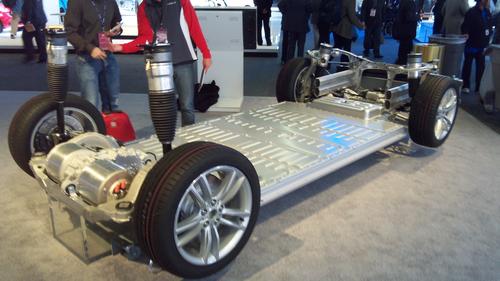 Tesla's new batteries are far bigger than those appearing on other pure electric vehicles and plug-in hybrids. The Nissan Leaf, for example, employs a 24kWh battery, while the Chevy Volt uses 16kWh. The Prius PHV plug-in hybrid incorporates a battery of just 5.2kWh capacity. That would mean the Model S's largest battery offers about 16 times more energy than the Prius PHV battery.
Tesla's $10,000 price increment between battery sizes is also significant, because its suggests that the company is building and selling battery packs for lower than the costs often quoted by experts, or is taking a financial loss on the batteries. (Tesla representatives at NAIAS would not comment on battery prices.) The 20kWh difference between the two smaller batteries, for example, represents a $500/kWh price difference. Most automakers are currently estimating prices of almost twice that for lithium-ion battery packs. Toyota said last week that it still estimates its pack costs at more than $1,000 per kWh.



More Blogs from Captain Hybrid

12
The Tesla Model S' performance in Consumer Reports tests was a major victory for electric cars, but a bigger challenge still lies ahead.

27
Large-scale production of hydrogen cars may still be years away, but that hasn't stopped automakers from testing the feasibility of the technology.

45
A decade ago, the term "lithium-ion" meant little to consumers. Now, it's everywhere.

45
With disenchantment in lithium-ion technology on the rise, lead-acid batteries may be poised to play a bigger role in green vehicles.

31
Automakers large and small, from Detroit Electric to Fiat and Volkswagen, have unveiled pure electric cars and plug-in hybrids in the past six months.


A quick look into the merger of two powerhouse 3D printing OEMs and the new leader in rapid prototyping solutions, Stratasys. The industrial revolution is now led by 3D printing and engineers are given the opportunity to fully maximize their design capabilities, reduce their time-to-market and functionally test prototypes cheaper, faster and easier. Bruce Bradshaw, Director of Marketing in North America, will explore the large product offering and variety of materials that will help CAD designers articulate their product design with actual, physical prototypes. This broadcast will dive deep into technical information including application specific stories from real world customers and their experiences with 3D printing. 3D Printing is




Datasheets.com Parts Search
185 million searchable parts
(please enter a part number or hit search to begin)