The price (after a $7,500 federal tax credit) for the vehicles will be $49,900 for the 40kWh vehicle, $59,900 for the 60kWh vehicle, and $69,900 for the 85kWh. A performance version of the car, which accelerates from 0 to 60mph in 4.4 seconds, will be available for $79,900. Two other luxury versions will be available for $87,900 and $97,900.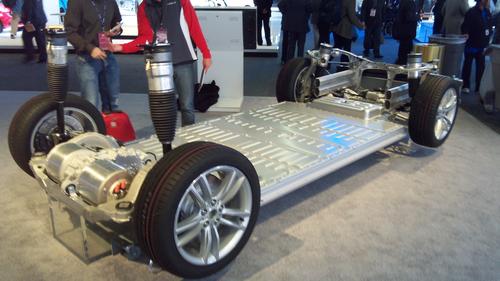 Tesla's new batteries are far bigger than those appearing on other pure electric vehicles and plug-in hybrids. The Nissan Leaf, for example, employs a 24kWh battery, while the Chevy Volt uses 16kWh. The Prius PHV plug-in hybrid incorporates a battery of just 5.2kWh capacity. That would mean the Model S's largest battery offers about 16 times more energy than the Prius PHV battery.
Tesla's $10,000 price increment between battery sizes is also significant, because its suggests that the company is building and selling battery packs for lower than the costs often quoted by experts, or is taking a financial loss on the batteries. (Tesla representatives at NAIAS would not comment on battery prices.) The 20kWh difference between the two smaller batteries, for example, represents a $500/kWh price difference. Most automakers are currently estimating prices of almost twice that for lithium-ion battery packs. Toyota said last week that it still estimates its pack costs at more than $1,000 per kWh.