The auto industry took another small step up in its long climb to a 54.5 mile-per-gallon average this week, as Honda Motor Co. officially rolled out a 50-mpg hybrid version of one of the country's best-selling cars.
The long-awaited 2014 Honda Accord Hybrid will use a gasoline-electric powertrain to reach an EPA rating of 50 mpg city, 45 highway, and 47 combined. That puts it ahead of competing midsize hybrids, such as the Ford Fusion, Toyota Camry, and Hyundai Sonata, but still behind the Toyota Prius, which gets 51 mpg in the city.
Honda reached the 50-mpg milestone with a clever combination of all-electric, hybrid, and engine-only driving modes.
Click on the photo below to check out Honda's 50-mpg hybrid.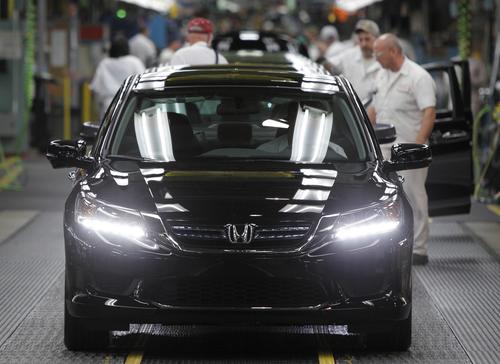 All-electric. In this mode, the Accord's 124-kW electric traction motor turns the wheels, drawing power from a 1.3-kWh lithium-ion battery for the first few miles.
Hybrid.
When the battery is quickly depleted, the Accord kicks into series hybrid mode, using its gasoline engine to power a generator, which feeds current to the electric motor to drive the wheels.
Engine-only. At approximately 40 mph, the unique aspect of the powertrain shows itself. Then, the electric motor is decoupled, and a clutch engages the crankshaft of the two-liter gasoline engine. In this "direct-drive" mode, the car uses only its engine for power.
Honda said the three modes are governed by a number of variable factors, but always with the idea of eking out extra fuel economy. "It always seeks the best possible efficiency," Honda spokesman Chris Naughton told Design News. "It will seamlessly transition between all three of the modes."
The new vehicle, scheduled to go on sale later this month, is a slightly more conventional twist on the 2014 Accord Plug-In Hybrid, announced earlier this year. Its 1.3-kWh battery is smaller than the plug-in's 6.7-kWh battery, which can take the car approximately 13 miles in all-electric mode. The plug-in also offers owners the opportunity to recharge the batteries by plugging them in at night, which the new conventional hybrid does not.
Automotive experts called Honda's approach a conservative and profitable way to electrify its fleet. "This is what you're going to see from a lot of mainstream manufacturers going forward," Thilo Koslowski, vice president and distinguished analyst for Gartner Inc., told Design News. "There isn't a way yet for volume manufacturers to offer fully electric vehicles at a price point that would guarantee them profit. With a hybrid, you don't need a breakthrough in battery technology to make it competitive."
Honda does offer a pure electric car. The Honda Fit EV, as it's known, is not targeted for big sales numbers, however, with production volumes being limited in the first three years.
"The manufacturers are starting to make their bets," Koslowski said. "And the hybrid is certainly a much safer bet for mainstream automakers than a fully electric vehicle."
Related posts: