General Motors plans to shut down the Michigan plant that builds the Chevy Volt for four weeks from mid-September to mid-October.
"We are continuing to match supply and demand of the Volt," Randy Fox, a spokesman for the automaker, told us. "But at the same time, we are gearing up for production of the 2014 Chevy Impala" at the Detroit-Hamtramck plant. Fox said the Volt and the new Impala will share the same production line, which needs to be retooled.
The shutdown will be the second for the Volt this year. The first occurred six months ago, after GM executives lowered their forecast (originally 45,000) for Volt sales for 2012.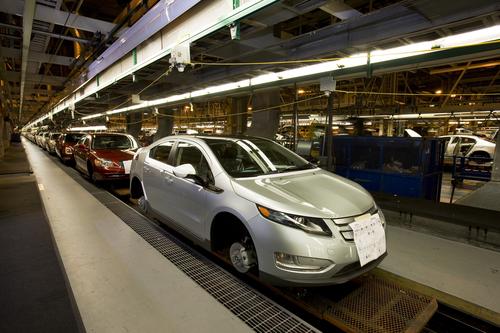 Industry experts said the latest shutdown reflects the fact that GM executives are still learning the business side of today's plug-in cars. "It is a terrific technology but the costs are too high," David Cole, chairman emeritus of the Center for Automotive Research, told us in an email this week. "They've taken about $5,000 out of the cost but still have $15,000 or so to go. They are learning about other ways to reduce cost, but it takes time."
Mike Holman, research director for Lux Research, told us the shutdown signals that "the demand for electric vehicles is not meeting the expectations that the more aggressive automakers and electric vehicle proponents have looked for."
Lux projects that global annual sales of "heavy plug-ins," such as the Volt, will reach 150,000 by 2020. By that time, sales of conventional hybrids, such as the Prius, will reach 2.7 million per year, and sales of "light plug-ins," such as the Prius PHV, will be around 600,000. In the first seven months of this year, GM sold 10,666 Volts -- an increase of more than 40 percent over the entire year of 2011, according to plugincars.com.
Sales of pure electric cars, such as the Nissan Leaf, have been weaker. Only 395 Leafs were sold in July, bringing the 2012 total to 4,806. Lux projects that sales of pure electric cars will hit only about 60,000 units per year globally by 2020. "We may have seen an initial surge of sales" of purely battery-powered cars "to people who are enthusiastic early adopters," Holman said. "But once the early adopters already have one, it's not surprising to see the demand tail off."
Related posts: