If Ford Motor Co.'s recent efforts in lightweighting are any indication, the auto industry is about to go on a diet.
On components ranging from body panels and connecting rods to radiator brackets and brake rotors, Ford is employing carbon fiber, aluminum, magnesium, and a healthy dose of high-strength steels, as well. "We're really using aerospace technology," noted Matt Zaluzec, technical leader for materials and manufacturing for Ford, during a recent event at its Silicon Valley research facility. "We're seeing more and more lightweighting that you would normally see on a commercial aircraft, or even a fighter jet, creeping into our products."
Indeed, Ford's growing interest in material science is spreading fast, into production vehicles, as well as research cars. The most notable of those is the F-150 pickup. Starting at the 2014 Detroit Auto Show, Ford said it is using aluminum alloys on the truck's cab, hood, floor, doors, fenders, tailgate, front end, pickup box, and numerous other parts. It also employs advanced high-strength steels in the frame.
Click on the image below to start the slideshow.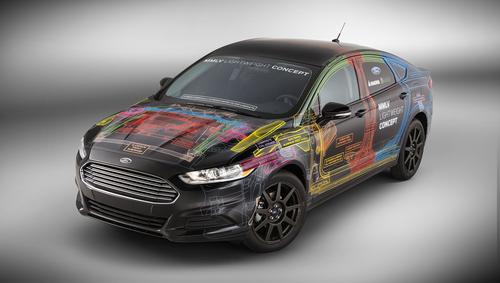 That, however, is just the beginning of the lightweighting trend. The giant automaker is now using carbon fiber composites for the body panels and inner rear deck of the forthcoming Ford GT supercar. The monolithic carbon fiber deck replaces the dozen or so individual pieces of metal used on more conventional vehicles.
"What the materials have brought to us as a design team is the flexibility to challenge the norm," noted Chris Svenson, executive design director for Ford in the Americas. "Materials like carbon fiber are great at producing light weight, but they're also great for creating new forms never seen before."
At the company's Silicon Valley facility, Ford designers recently showed how the carbon fiber body panels enabled them to create "negative space" -- that is, open spaces through the body of the car, so air can flow through it, rather than around it. The result, they said, is superior aerodynamics in the 600-HP GT.
MORE FROM DESIGN NEWS: Slideshow: Advanced Steels, Aluminum Answer the Call of Automakers
Still, those advancements pale by comparison to the material plans that Ford is hatching for the future. A concept car called the Fusion MMLV (multi-material lightweight vehicle) employs hundreds of carbon fiber and aluminum parts that would normally be steel. The list of such parts is virtually endless: carbon fiber brake rotors that cut 6 lb apiece; chemically toughened glass that cuts 30 lb; carbon fiber seat frames that slash another couple of pounds. They're also using glass-epoxy front springs, carbon fiber wheels, and even special weather stripping around the doors -- all for the purpose of cutting weight.
"We left no stone unturned as far as what to take out," said Dave Wagner, technical leader for vehicle design research and advanced engineering. "Taken together, we were able to cut out enough weight so that we could downsize the engine from 1.6 liters to 1.0 liters."
And that, too, led to weight reductions. A special version of the 1.0L EcoBoost engine used an aluminum block and connecting rods, along with a carbon fiber engine cover and oil pan. Even the transmission reaps the benefits of lighter weight. The Fusion MMLV trans employs a magnesium valve body and a steel-aluminum clutch hub.
"What's important is that you're not just seeing a weight savings," Zaluzec said. "You're seeing a reduction in rotating mass."
In most cases, the bottom line is fuel efficiency. "If you can take 10% of the weight out of a vehicle, then you can deliver a 3% to 4% fuel economy improvement," Zalzec said.
The F-150 has already exceeded that 10% figure. By transitioning to advanced steels and aluminum alloys with higher yield strengths, the F-150 4 x 4 crew cab dropped from about 5,500 lb to about 4,800 lb. Total weight reduction figures for the GT and the MMLV aren't known yet, but Ford engineers expect the techniques used in those vehicles to gain traction in other Ford models, as well. "Lightweighting is a very important element of our long term strategy," Zaluzec said.
Senior technical editor Chuck Murray has been writing about technology for 31 years. He joined Design News in 1987, and has covered electronics, automation, fluid power, and autos.
Atlantic Design & Manufacturing, the largest advanced design and manufacturing trade show serving the Northeastern US, will take place in New York, June 9-11, 2015. It's your chance to meet qualified suppliers, get hands-on with the latest technologies, and expand your network. Learn more here.