That's why more battery developers are focusing on lithium-sulfur chemistry, which offers much higher theoretical energy than lithium-ion at a lower cost. "Lithium-ion uses materials that are expensive, like cobalt and nickel," Cairns said. "But if you take out the expensive materials and replace them with something like sulfur, which is literally dirt cheap, you can reduce the cost by a third or so."
Dealing with challenges
The problem with lithium-sulfur is that it has been plagued by short cycle life. Over the past 20 years, many scientists have developed lithium-sulfur batteries with high energy content, but most of the batteries have worn out after about 50 cycles. Since automakers tend to seek more than a thousand cycles, lithium-sulfur hasn't been seriously considered by the auto industry until now. "There are applications that need low numbers of cycles, but automotive is not one of them," Kopera said. "Automakers want the batteries to cycle, not hundreds of times, but thousands of times. Some are saying they want 2,000 cycles, because they want some margin for warranty."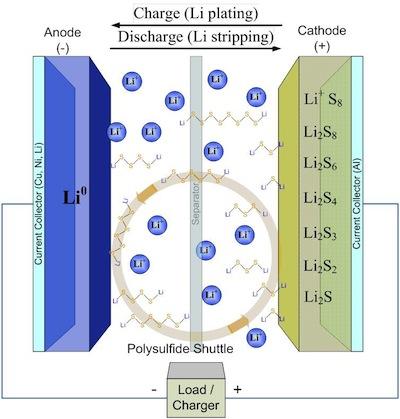 The problem is that lithium tends to react with virtually everything on the periodic table, including most of the materials inside a battery. As a result, it often produces byproducts that are detrimental to battery life.
Sion Power, which received a $5 million ARPA-e award to develop lithium-sulfur, is improving battery life by employing new materials in virtually every part of the battery. "All components are up for investigation," Kopera said. "The only materials that aren't are the lithium and the sulfur."
According to Sion engineers, the key is protecting the battery's lithium. By alloying it with the proper combination of materials, engineers can create a lithium-metal anode that doesn't react with other elements and therefore has less dendritic growth, which could otherwise cause short-circuiting, Kopera said.
Cairns, who is also developing a lithium-sulfur battery, said the chemistry could easily enable EVs to hit a 300-mile range. That should free up automakers to loosen their requirements for high cycle life.
"If you think about it, when you have a battery that goes 300 miles on a charge, you no longer need 1,000 cycles," he said. "After a thousand cycles, the car would have 300,000 miles on it, and other components on it would have already worn out." Five hundred cycles would be a more realistic number, because it translates to about 150,000 miles.
Long-range solutions
In its effort to encourage the development of alternate batteries, ARPA-e is also supporting the creation of a high-energy lithium chemistry that essentially breathes air.
Lithium-air batteries use an air cathode to draw oxygen from the atmosphere; the oxygen then reacts with the lithium to produce electricity. ARPA-e has granted $1.2 million to the Missouri University of Science and Technology and nearly $5 million to Polyplus Battery Co. to speed up development of the technology.
Experts say making lithium-air a reality won't be easy. Engineers must find a way to gain access to the oxygen in the air without allowing in any moisture, which would hurt the battery. The solution is to create a selective membrane that resides between the lithium-based negative electrode and the reaction chamber. This would let the battery breathe oxygen without allowing water or nitrogen to seep through. Polyplus says it has created a manufacturable version of such a membrane, which would "would enable an EV to travel from New York City to Raleigh, NC (500 miles) on a single charge, for less than $10 on average."