In a glitzy ceremony that featured a New Years' Eve-style countdown in three cities around the world, BMW AG unveiled its all-electric i3 this week.
The unveiling, peppered with references to sustainable power sources, marked BMW's first foray into mass production of pure electric cars. "We are at the starting blocks of a new era -- the era of sustainable mobility," BMW CEO Norbert Reithofer said in a web-based conference.
The rear-wheel-drive i3 is expected to hit the streets in the US in the second quarter of 2014. It is considered unique in its prominent use of carbon-fiber-reinforced plastics (CFRP), its optional range-extending two-cylinder engine, and in its from-the-ground-up design philosophy. BMW expects it to be priced at $41,350 before federal tax breaks.
Click on the image below for a closer look at BMW's all-electric i3.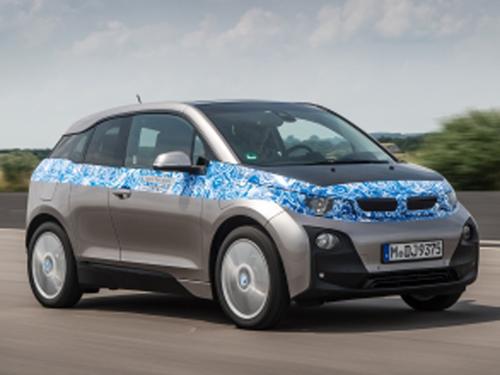 During the press conference -- held in New York, London, and Beijing -- BMW executives emphasized that the i3 would appeal to environmentally smart buyers of premium vehicles. "We can see our customers' values are really changing," said Ian Robertson, BMW's chief sales officer. "They want sheer driving pleasure, but with a clear conscience."
The i3 will serve those changing values with its use of a 22-kWh lithium-ion battery. The battery, slightly smaller than the Nissan Leaf's 24-kWh unit, will nevertheless produce an all-electric range of 81 to 99 miles, BMW said. Liberal use of CFRP helped enable that range. A CFRP-based passenger cell will sit atop an aluminum "drive module" that incorporates the suspension, the battery, the drive system, and structural components, thus minimizing vehicle mass.
"Our expertise in manufacturing with this material makes the passenger cell extremely strong and lightweight," Reithofer said. He added that the company produces carbon-fiber components using hydro-electric power. It also employs wind power to build the i3, he said.
For those who want more than 80 or 90 miles for their investment, the company also said it is offering a range extender. By mounting a 650cc two-cylinder engine adjacent to the electric motor and above the rear axle, BMW said it could boost the car's maximum range to nearly 180 miles. The optional range extender is expected to push the price tag to about $45,000.
Industry analysts estimate that BMW may have already invested more than a billion dollars in its i brand, which encompasses multiple vehicles, including the i3 and the hybrid-electric i8. That investment is proof the company is not just doing the i3 as a so-called "compliance vehicle" (to meet California-type mandates), but as a cornerstone of a larger plan. "It's one thing for a startup like Tesla to do an electric vehicle from the ground up," Thilo Koslowski, vice president and distinguished analyst for Gartner Inc., told Design News. "But for a vehicle manufacturer that sells over a million vehicles a year worldwide to do something like this, this is a big risk."
Koslowski said that the 2,600-lb i3 will probably compete most directly with the Tesla Model S, a premium electric car with a price tag that's about $30,000 higher than the i3's. He wondered, however, whether the vehicle's character will be right for traditional BMW buyers. "At the end of the day, it's still a very small vehicle," he told us. "It looks different from their other vehicles, and that could drive away some of those consumers who like BMWs."
Related posts: