After testing electric vehicles in four US cities during 2012, luxury automaker Audi AG says it's getting closer to knowing the configuration of the powertrain and battery cooling system for its new A3 e-tron plug-in hybrid, which will reach production in 2014.
"We know the details of the electric powertrain, we just haven't released them yet," Jeff Curry, e-mobility and sustainability strategy lead for Audi of America, told Design News. "The car is in final development now."
Click on the image below to check out the Audi A3 plug-in hybrid, its interior, and what's under the hood.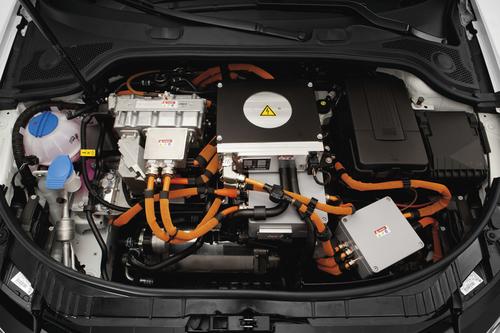 In an attempt to learn more about electric powertrain technology, Audi has tested pure electric (i.e., battery-electric) versions of its A3 on roads in Los Angeles; San Francisco; Denver; and Washington, D.C., this year. Knowledge gained from the pilot program has helped the company's engineers determine key characteristics for the hybrid, such as the size of the e-tron's lithium-ion battery pack, as well as its method of cooling.
To get a better handle on both issues, Audi engineers have employed two battery packs -- one that is liquid-cooled and another that is air-cooled -- on each pilot vehicle, Curry told us. "There are advantages to each," he said. "We found that it depends on how you package the batteries in the vehicle. Sometimes liquid cooling isn't necessary, depending on how you package it."
Questions of battery size and cooling techniques are critical for electric cars and plug-in hybrids because together they help determine the car's all-electric range and the cost of its battery pack. The Chevy Volt, for example, employs a 16kWh liquid-cooled battery and offers a range of about 37 miles, while the Prius plug-in hybrid uses a 4.4kWh air-cooled pack and offers an all-electric range of about 13 miles.
Even though Audi's new car will be a plug-in hybrid that burns gasoline, the company's engineers have tested the lithium-ion packs in e-tron all-electric pilot cars. Using a pack capacity of 26.5kWh in the pilot cars, they've reportedly found the right battery size for the upcoming hybrid. Audi has not said how that size will compare to that of other plug-ins, such as the Volt or Prius PHV, however.
Curry said the pilot program is also helping Audi learn how pure electric vehicles would fit into the company's vehicle portfolio. "When we talk to our customers about an Audi electric vehicle, we tell them that they should think of a battery-electric vehicle as being a great second car," he said. "But the plug-in hybrid is designed to be an 'only car.' If you're a young couple or a single person in the city and you have only one car, the hybrid is a great concept because it can give you zero-emission driving or it can give you range."
Audi and other luxury automakers are in a good position to build electric vehicles, Curry said, because the high cost of the electric powertrain can be more easily absorbed into the vehicle's overall price tag. Moreover, he added, the instant torque and quiet performance of electric vehicles fit well in the premium segment. "If you take the core attributes of electric powertrains and put them in an Audi wrapper, it becomes very compelling," Curry said.
Related posts: