The worldwide auto industry is taking the wrong path to environmental friendliness, Fisker Automotive co-founder Henrik Fisker told an audience at the recent Chicago Auto Show. "Every big car company is making one little electric car, mostly for satisfying its overall fleet average," Fisker explained to attendees at a luncheon sponsored by the Economic Club of Chicago. "But my prediction is we will have too many pure electric cars. Whereas, if you look at plug-in hybrids, there are a lot fewer of them and a lot more buyers."
Fisker, whose company builds the plug-in hybrid Karma and the forthcoming Atlantic, said consumers want stylish vehicles that can be easily identified as eco-friendly, but they also want the vehicles to be practical. Today's battery-electric vehicles (BEVs) don't currently fit well in either of those categories, he said. "We don't think it's wise to have a giant battery," Fisker said of BEVs. "You're carrying around this giant battery, and it costs a lot of money for your daily commute. And when you really want to go far, you can't do it anyway."
Click on the image below for a closer look at the Fisker Karma and Fisker Atlantic.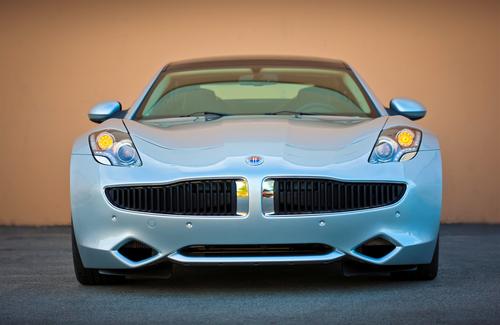 Fisker chided the automotive press for not taking care to distinguish between plug-in hybrids and pure electric cars. The result, he said, is that the low demand for pure electrics is being interpreted as a bad sign for plug-in hybrids. "A lot of people -- journalists, as well -- are putting this all in one big bowl and saying there's not a lot of demand," he told the audience. "Well, right, there's not a lot of demand for pure electric cars. But hybrids are on the rise and plug-in hybrids will be the next big step."
Fisker's comments are consistent with those of industry analysts who have said they expect plug-in hybrid sales to rise, while pure electrics will fall over the next few years. A recent study from KPMG International, for example, contended that consumer interest in plug-in hybrids jumped by 15 percentage points in 2012 alone, while pure electrics fell by five points during that period.
The inspiration for Fisker's $100,000-plus Karma came to him while watching actor Leonardo DeCaprio drive to the Academy Awards in a Prius a few years ago, Fisker said. Seeing a wealthy actor making an environmental statement by driving a Prius made him realize that there could be a market for those who want eco-friendly luxury. As a result, Fisker made it a mission to build a vehicle that would be easily recognized as a hybrid but would offer more style than a Prius. "With our car, we were very set on the idea that when you pass it by, it should not resemble a Mercedes or BMW," Fisker explained. "It should look like a completely different type of vehicle, which it does."
The Karma, which Fisker said can range from $100,000 to $125,000, accomplished that by employing solar roofs, reclaimed wood, 22-inch alloy wheels, and diamond-dust paint, in addition to the hybrid electric powertrain.
Fisker added that the company's engineers considered alternatives to a gasoline-burning engine, which is used by the Karma as a range extender and will be employed in the Atlantic. "We thought about other forms of energy, whether ethanol or diesel," he said. "But we wanted the consumer to have convenience. If they run out of electricity, there will always be a gas station. There are still more gas stations in the US than diesel (stations)."
Thus far, the biggest challenge has been the cost of starting a car company and dealing with a seemingly endless roster of regulations, he said. After investing more than a billion dollars, the company has sold only about 2,000 Karmas to date. "If you want to start a chain of 1,000 restaurants, you could start with one little restaurant and a couple hundred thousand dollars," Fisker explained. "But that just doesn't work in the car industry. You need hundreds of millions of dollars. The barrier to entry is huge."
Related posts: