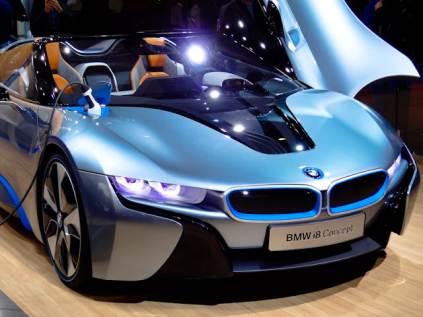 Alternate energy

Mydesign
11/1/2012 7:07:43 AM
Anne, when crude oil pricings are rising up, obliviously peoples will look for vehicles with alternate energy source. As of now EV is the only alternate source and in coming years more and more alternate energy sources may be identified. Very recently I had read an article in EE times that in some university researchers had produced petroleum from Air. Such alternative energy sources will be helpful for automobile business.


will concepts ever be reality?

NadineJ
11/1/2012 11:09:49 AM
I love looking at the concept cars. BMW always offers something to drool over. Peugeot and Infiniti did a good job too. I'd drive an Onyx!

This slide show specifically shows only the electrics but it would be nice to see what else is at the show.

Outside of the concept cars, I don't see any interesting designs. I'm the last person to wax nostalgic about the 50's or 60's but at least the cars made a statement. Designers brought (or were allowed to bring) a unique look and feel to cars.


small and underpowered

naperlou
11/1/2012 11:52:21 AM
One thing that strikes me is that most of these cars are small and underpowered. I point this out becuase we have seen the sale of elecric and hybrid vehicles slow down. This is partly becuase of the economy (EVs and hybrids require a much higher up front payment) and partly because they do not provide what people seem to want. Believe it or not, sales of SUVs and crossovers have risen in Europe. Even with their high gas prices this class of vehicle is becoming more popular. I prefer more of an aerodynamic car myself, but I am not typical, it seems.

I am most dissiapointed in BMW and Mercedes Benz. Their market is not price sensitive. Fuel economy is not important to their customers. The battery on the SLS-AMG in slide 20 is outrageous. The battery in the Tesla Roadster, with comparable performance, is 75% of the battery in this car. They are going the wrong way.

Peugot has some of the best in new technology. In slide 22 the sports car they show has some great high-tech materials and performance that might be of interest to a wider audience. The crossover in slide 24 has reasonable horsepower for once.


I agree with you, Naperlou, but we're unfortunately seeing that EVs and plug-in hybrids are a better fit for the luxury segment, largely because lithium-ion batteries are so expensive. I would hate to think how much the 60-kWh battery in the Mercedes SLS AMG costs.


Re: small and underpowered

ChriSharek
11/2/2012 9:40:38 AM
Your point is well taken, ChriSharek. Power is not the issue. Right now the issue is cost.


Re: small and underpowered

akwaman
11/2/2012 9:46:35 AM
It looks like naperlou strikes out with the statement that most of these cars are small and underpowered... and to relate that to the sale of electric and hybrid cars makes little sense. The people that read the blurbs at the bottom clearly saw the incredible speed and power of some of the vehicles. Others, that push the boundries of distance use less power and get lighter. You think a Chevy volt or the BMW and many other HEVs and Electrics would disagree vehemently that these cars are underpowered. Electric car technology is the future of car design, and this show proves it. There will be many ways to get the electricity to run the cars, but the simplicity of electric will lead to less expensive cars that just don't have the kind of breakdowns, failures and maintenance costs of ICE based autos. For now, we will continue to stick ICE engines in them to increase distance issues, until we find better ways to store the power we need, even though many Americans work within the range of available electrics.






Re: small and underpowered

GeorgeG
11/2/2012 10:06:39 AM
What about 0-60 in under 4 seconds says underpowered? The fastest IC car under $50K does 0-60 in 4.4 seconds while the fastest of all costs $2.4M. Cost for this level of performance just isn't an issue. Look for more split hybrid vehicles with independant electric direct drive at the wheels - torque at the wheels has a big advantage over torque into a transmission and independant control gives much better steerability. Also, brake fade is much lower. 0-60 doesn't tell all of the story though: vehicles with independent electric drive clean up on the serpentine. On a high performance car, it's relativley easy to add 100+ HP to each of the front wheels with a motor/brake module. While hauling around a battery isn't much joy, it does provide good distributed weight and low center of gravity for traction and stability in a way that's just not possible with a monster V8.


Cars both cool and strange

Rob Spiegel
11/1/2012 12:46:46 PM
Nice slide show, Anne. These are some of the most unusual looking cars. I particularly liked the C-Zero, the EMERGE-E, the Nissan Pivo, and the Renault Twizy. These cars look like toys.


I agree with Rob: Great slideshow, Anne. It's interesting to see how many of these EVs are concept cars. Concept cars give the automakers a chance to dip a toe in the water and enhance their images at the same time by showing off environmentally-conscious vehicle designs.


Re: Cars both cool and strange

Rob Spiegel
11/1/2012 7:46:39 PM
Chuck, with all of these new electric vehicles showing up, we may be headed toward tipping point where charging issues, battery technology, and weight begin to get mastered.


Re: Cars both cool and strange

ChriSharek
11/2/2012 9:38:06 AM
Rob, we are already there. I'd venture to guess that Europe will be leading the "charge" in this arena since their standard electricity is already 240 volt. There is no question about performance. Look at this month's Motor Trend and see how the Tesla S Faired with the Porsche, BMW M5, and Mercedes 100k cars.

Hard for me to believe anyone would mention "underpowered" as these cars are hitting 0-60 in under 4 seconds.

Whether you want to believe it or not, EVs are HERE to stay this time!


Re: Cars both cool and strange

akwaman
11/2/2012 9:48:34 AM
To add to the comment about lackluster sales of HEVs and Electrics:

I think the sales of HEVs and Electrics is purely based on desire of the company to promote it properly. The Prius has gone from a single model, to a family of models. This is because they advertise the model properly, and you can walk into a Toyota Dealer and walk out with one the same day. Americans want it here and now, and if they walk into a dealership and are told they can have it in 3 or 6 months, you will lose the sale most of the time. It is a system adopted by the American Companies, that is DESIGNED to fail, and yet... people ARE buying and waiting for them. Imagine if they were available for purchase THAT DAY!


Re: Cars both cool and strange

Rob Spiegel
11/2/2012 2:27:37 PM
ChriSharek, it seems like the strong EVs and hybrids are effectively luxury vehicles. I think we'll really hit the tipping point when the medium-priced hybrids can earn their price differential by gas savings. And, when EVs can take long trips.


Electric autos

Fritz371
11/2/2012 9:53:34 AM
When are we going to address the entire energy problem. In lieu of oil we will be burning coal, whose carcinogenic and radiation effects far exceed those of nuclear power.

P.S. 0-60 mph in under ten seconds is not the only criteria for judging speed. And let us not forget the 6 to 8 hour rest stop required after a 100 mile leg of your trip.


Re: Electric autos

ChriSharek
11/2/2012 10:13:33 AM
In my area in Florida (Florida Power and Light) we burn NO coal. 87% is natural gas and nuclear.

As a PHEV driver, I love the argument that federally regulated stationary stacks are worse than millions of mobile tailpipes burning a limited resourse, oil.


Re: Electric autos

GeorgeG
11/2/2012 10:31:46 AM
Enough with this stupid argument! The problem with EVs is that we have a dirty electric power industry? You could say the same thing about vacuum cleaners and microwave ovens! A dirty electric power industry is a problem that needs fixing regardless of what you plug into the wall. And don't minimize the impact of gasoline - it's far from just what comes out of the tailpipe: unconventional petroleum production and refining to gasoline has a very high energy cost where it takes 5 times as much energy to get it to the pump than you get when you buy it and then convert it inefficiently into kinetic energy. Even if you use dirty electricity, unless you drive a very good hybrid, the environmental footprint of your driving an IC vehicle is higher than a comparable EV. The only thing missing is a full size EV pickup truck for commuting American style.


Re: Electric autos

ChriSharek
11/2/2012 10:42:19 AM
Re: Electric autos

ChriSharek
11/2/2012 10:47:47 AM
GeorgeG, last comment, I promise. By reducing our oil consumption and even using our "dirty energy" we at least are producing the energy domesticallly. This could lead to thousands of additional jobs in power production and distribution - instead of sending $37 BILLION per MONTH to countries that hate our guts for their oil.


Unfortunately, nuclear power is one of the dirtiest power generation methods we have. Yes it generates power on a big scale, but the waste storage and the contamination of rivers are real problems. The cost of proper disposal of contaminated cooling water is so high that the EPA regulations that limit how much high-level waste is "leaked" into rivers have become a goal instead of a safety limit. We don't want to build more nuclear power plants.

Solar and wind power (not to mention current EV's) require the use of storage batteries. In most cases those batteries are not produced domestically. Why? Because of pollution. Even China is starting to crack down on pollution from battery production. Hydrogen fuel cells with solar-powered refueling is the best solution we have. The technology is here, but where are the products? Consumer interest in hydrogen isn't high enough. Until consumers have a warm and fuzzy feeling for hydrogen we're stuck with pollution one way or another.


Re: Electric autos

TommyH
11/2/2012 11:33:39 AM
I disagree with the notion that nuclear power is "dirty". If one compares the statistics for nuclear and fosile fueled power, nuclear comes out way ahead. Thousands of people die each year due to air polution from fosil fuels, while in its entire history, nuclear has caused relatively few deaths. Sure, when a nuke fails, the failures are spectacular, but the big picture tells the true story.



Tom


What about birth defects, cancer and a myriad of other health problems that result from contaminated rivers. The federal government is involved in nuclear power generation, so the statistics you see don't show the real problems. I live near a nuclear power plant (TMI) and I've moved around quite a bit before settling down. I've seen approximately 20 times more instances of birth defects and cancer around and south of where I live now than in areas where power is produced by coal, oil and natural gas. Nuclear power is very dirty.


We've had incidents at TMI where core water was leaked or the core was exposed and we heard a quick blurb about it on the national news 2 days after it happened even though an emergency alert system is in place. Each time, they claim there was no danger to the public and only workers at the plant were affected. Right. These incidents happen more often than you think. Most don't make the news.


We really have no idea how many deaths have occured due to nuclear power production. How many cases of cancer have resulted from spilled liquid high-level waste or contamination of river and ground water? Thousands I would think. The death toll from Chernobyl alone is over 985,000 according to 3 noted Russian scientists. How many have died or will die in Japan resulting from their nuclear power mishap?


How many people have to die before nuclear power becomes "dirty"?


Re: Electric autos

Fritz371
11/2/2012 12:50:34 PM
Check your facts. A pile of coal emits more radiation than does a nuclear power plant, and that doesn't include the stuff coming out of the stack. Taking it back one step further what has been the ongoing often tragic results of mining the coal. We on the left coast are now being threatened by coal as the coal industry is trying to establish coal transport stations on our pristine coast line. Washington states primary electrical energy production is by hydroelectric, arguably the cleanest method of production. Oh, yes the reason for the stations is to export coal to China.

New nuclear reactor designs reduce the amount of spent fuel and actually will use the spent fuel after reprocessing. The nuclear power industry is suffering from political cowardism.

Unfortunately we have bought the fear and hype of our media fear mongers.



Cheers


You're comparing the estimated radiation released by burning coal in an unshielded power plant compared to the radiation directly released by a nuclear plant's shielded core. I'm referring to the unmeasured high-level waste released and/or leaked into the rivers and in some cases the atmosphere. The total radiation footprint of a nuclear power plant when the high-level waste and regular "incidental" leaks are considered is far higher than a coal-burning plant. You are buying into pro-nuclear propaganda. If coal-burning plants posed a significant radiation hazard, shielding could be added. Also, most coal burning plants have scrubbers that significantly reduce harmful emissions.

Hydroelectric power reached it's pinnacle in the US a long time ago. You can't build hydroelectric plants without having a major impact on the environment, so they shouldn't be considered for future expansion.

Reprossessing nuclear waste into fuel generates high-level waste. Ultimately, most of the nuclear fuel will become high-level waste. Cooling water becomes high-level waste when it becomes too contaminated to use for cooling a reactor core. All of that must be stored/disposed of safely and for long term.


What do you propose we do with our growing stockpile of nuclear waste? Ship it to Mexico like we do with certain waste that we "recycle" that we don't actually recycle?




Re: Electric autos

Fritz371
11/2/2012 1:08:29 PM
Yes, hydrogen fuel cells are a clean and workable solution, except for one basic problem. Economics. It requires a great deal of electric energy to extract hydrogen from water, and the only method at present that can efficiently meet the demand is nuclear power. It is an irrefutable law of thermodynamics that the higher the temperature at which you produce power the more efficient is the process. I have paraphrased of course. Just compare the physical plant size of a typical 1200 megawatt nuclear plant against the size of any other 1200 megawatt facility as an illustration. Let's not even take it to the sublime, a 1200 megawatt wind farm.

And, it is an irrefutable law of economics that if it isn't cheaper to produce than current methods of production, especially those with an existing infrastructure then you will never be able to raise the capital required, unless you can convince a politician that it will put money in his pocket.

Cheers


Yes, the majority of the power required to provide hydrogen as fuel will come from the dirty power grid and likely most of the power will come from dirty nuclear plants. However, other countries are using geothermal power to generate their hydrogen. It's a shame we don't really consider doing the same.

Geothermal power is a little cheaper and far cleaner than nuclear power. It's actually our cheapest large-scale method of generating power excluding large-scale hydroelectric. Something to think about.

Wind power only makes sense in certain locations where there is significant wind most of the time. Ground-based, large-scale solar power generation doesn't really make sense. No power at night and reduced power on cloudy/rainy days.

If we power the grid using mostly geothermal plants, plus existing hydroelectric and some natural gas/bio-fuel plants and use hydrogen fuel cells for our vehicles we can create a sustainable system.


Re: Electric autos

Fritz371
11/2/2012 7:30:39 PM
I have engineered the design of equipment for geothermal, oil, coal and nuclear generating plants. We have geothermal plants in California and elsewhere in the U.S. but again they are nowhere as efficient on a cost per kW/hr basis as a nuclear power plant. Your constant use of dirty as an adjective when talking about nuclear power puts you into that group of individuals that are obstructionists and who ready to condemn without knowing the facts. Geothermal power has a whole host of problems most of which are maintenance and reliability related. Good luck with your Prius, or as I like to call them the silent killers.




Check your facts. Geothermal energy is cheaper than nuclear. How many operating nuclear power plants have you inspected, repaired or live close to? I know all I need to know about nuclear waste and spills of high-level waste. My dad talked with a guy who works for the EPA who had a few interesting stories to tell about leaky tanker trucks hauling liquid, radioactive HLW (core water) as well as train tanker cars painted bright colors with stripes on them. Several of those tanker cars have been spilled over the years. The EPA handles the spill, the railroad buys the contaminated land and what was spilled is never disclosed to the public. It's just a permanent clean-up site with a 8-foot chain link fence topped with razor wire and security guards posted. A site like that exists on what used to be farm land very near my parent's residence. Some of that contaminated land was owned by my dad. My dad died from cancer last year. The guy from the EPA wouldn't tell what was spilled, only that it was bad, very bad. Something that can't be cleaned up. Welcome to the real world of "clean" nuclear energy.

I don't own a Prius nor will I ever own one. I don't like toxic storage batteries.

Cheers.


Re: Electric autos

William K.
11/2/2012 9:34:33 PM
Geothermal power can provide us with a whole new area of pollution, if any of the underground stuff escapes. hydrogen sulfide and sulphur dioxide are two that get immediate attention, since they are both toxic and stinky. Besides that, importing heat from deep in the earth's crust will likely alter the climate as much as a lot of other things.

And please don't blather about "dirty" atomic power plants. THat tone affirms a complete lack of understanding of the plants here in the USA, which were NOT designed by the cost-cutting engineers responsible for the failed plants in Japan.

Hydrogeen is apoor fuel choice because of the logistics required. It flows right through most available seal materials, and it must either be kept very cold, or under a whole lot of pressure, both options are quite expensive.


Your arguments against geothermal also apply to natural gas, oil and coal. The amount of heat extracted, even if the whole world adopts geothermal, is still a relatively small amount.


You don't seem to grasp what I'm saying about nuclear energy. The problem is not core radiation or cooling issues, the problem is waste disposal and liquid HLW contaminating rivers, lakes and ocean water. You choose to ignore the regularly occuring small incidents at TMI for example. Are you suggesting they don't happen? Are you suggesting that my friend who worked for the DOE is making up stories about liquid HLW being intentionally dumped into rivers? What about accidental spills of HLW when transported on roadways and rail? Are you saying those things don't happen?

Hydrogen can be stored using NiMH blocks. It's cheap, safe and it works. It's also a technology that's been around for over 40 years.


I think Lithium is wasted on batteries and should be put in NiteOwl OvO's and Jerry dycus' water. Small amounts, of course...


Dycus should drink first, since he threw the first punch. Cheers!


Nite owl you are just plain wrong. Every single coal plant, read that again, produces more radioactivity than all our nukes combined. I'm not a great fan of present nukes but facts are clear they polute far less than coal or even NG. But I'm not a fa of utilities in general either as producing one's own power in many cases is cheaper. But that is another article.

Luckily coal use is dropping fast amost down 50% from 5 yrs ago.

Your rant on EV batteries is also wrong. Most EV batteries are made in Japan, Taiwan? Korea and the US. Few are made in China. And most are made from rather low polluting materials like plastic, alum, iron, copper, lithium, phosphate, water, etc.

Wind and solar have been the largest increase in US electric accounting for all the increase production this yr. Facts are we are using less each yr as we are of oil because of eff.

One can now by solar panels for $1k/kw and whole systems for under $2k/kw plus install. Ford is actually selling PV systems with their EV's. And many EV owners do solar. On 2kw/$2k of PV I can power my modest home and charge my EV's for 20-25 yrs.

Back to EV's. What we need are lower tech, lighter, more aero EV'sfor commuting that can have small battery packs and still get 100 mile range and 80 mph. That would allow then to sell for under $15k. Sadly I don't see many available in that form.

Why is they would cut production and aftermarket sales of other cars and their replacement parts which EV's have few of. And car companies make a lot of their money from the 20x's production costs of replacement parts.




Your ignorance amazes me. I know a nuclear physicist who used to work for the Dept. of Energy. He used to inspect nuclear power plants for a living. He told me all I need to know about how dirty nuclear power is. Believe what you want. Keep drinking the Koolaid.

My father-in-law is an engineer and the CEO of a company that produces batteries. His company is based in Taiwan, but no longer makes batteries there. His factories are in China. His company produces batteries sold with US, Japanese and European labels on them. He was recently forced to close one of his plants in China due to pollution standards that didn't exist when the plant was built less than 10 years ago. Due to production costs, profit margins and political pressure, many Made in Japan or Made in Taiwan products are actually made in China or Korea.

Lithium, Nickel-Cadmium, Mercury and various other materials used in rechargable batteries are highly toxic.

Geothermal energy is cheaper than nuclear. Check your facts. Solar and wind are buzzworthy and the media like them. Politicians and special interest groups push for them even though they are expensive, unreliable and inefficient. Basically, wind and solar can never challenge nuclear, so the government and big power don't care about them. They can't compete. Geothermal could replace nuclear, so there is more resistance.




Your posts and tone shows what kind of person you are.



EV batteries used here are made in Korea and the US in OEM EV's.



Your point about the Chinese plant closoing proves my point better than yours. Even cChina has started to wise up.

You do know Lithium is taken by mouth or medicene don't you? The other materials are not used in Lithium EV batteries. Ni-cads in EV sizes are recycled as are 99% of lead batteries in the US.

I don't disagree that new nuke in the US at the moment is too expensive but that is because of Gov and the companies wanting to hold onto their power, not anything about actual nuke power. I'm not a fan of present US PWR's but newer, much smaller unherently safe one coming shortly like the Hyperion will be about $2k/kw and burn up all the waste PWR's cause so getting both power and getting rid of nuke bomb material I believe is a good thing.



Geothermal isn't cheaper and extremely limited plus has a bad habit of causing eartquakes. Where they should put Geo type heat engines is between the thermal generating plants of all kind before the condensor making more power nd cutting condensor costs. And many more widespread sources of that energy.

And this is by someone who is building both wind and tidal/river generator for future production not to mention EV's. Small wind and solar on customers homes, building beat any utility enerrgy they might pay for. Most who signed up for RE are now paying the lowest cost for p[ower.

Your just another unhinged zealot your posts clearly show, deal with it.


Your ignorance is as boundless as it is intentional. Try doing your homework. Lithium is prescribed in very tiny amounts and easily becomes toxic to the patient over time or if the dosage is not continuously monitored and adjusted.

A123 went bankrupt even after receiving a big stimulus grant. EV battery manufacturing in the US is in serious trouble.

Battery recycling in the US is barely profitable today with funding from the government. Over time the value of the recovered materials is expected to decrease. That will likely shift recycling to other countries like Mexico where costs might be lower, but pollution controls lower as well.

Putting in a new coal mine causes earthquakes, but that doesn't even make the news. The final mining cuts in coal mines cause earthquakes, sink holes, subsidence and other problems, but we still mine for coal. Drilling for natural gas and oil sometimes causes earthquakes. Nuclear bomb testing below ground causes earthquakes. In parts of California, a loud fart causes earthquakes. We can expect drilling for geothermal energy to cause some earhquakes. It stands to reason that they will happen. Why should that stop geothermal energy development? If we can send a robot lander to Mars, surely we can safely tap into geothermal energy. Do your homework, geothermal energy is cheaper than nuclear. It works for Iceland and Japan is moving toward geothermal and away from nuclear.


Jerry, we're in agreement regarding your comment about the need for lower cost, lower tech, lighter EVs. If the cost is low enough, it would enable consumers to buy pure electric vehicles as second cars. Then we wouldn't have to worry about squeezing 300 miles out of the battery.




Hi Charles and All,



I just tested the rolling chassis of my new 2wh EV Streamliner which I was worried about as the CG was 60% lower than a normal MC but it handled excellently so I'm a go to complete it and it's body.



As it's light, lighter than the Kaw 750 suspension donor, and will me far more aero than any real road vehile I know of. Because of this it only needs a small battery pack and as weight equals costs it's not expensive to do and put into production.



I'll have it at Daytona Bike Week in March with another EcoMobile production aero cabin MC powered by a new BMW motor and suspension. for anyone there we will be hard to miss.


Re: Electric autos

TommyH
11/16/2012 7:53:29 AM
I'm afraid you are wrong again. Geothermal produces more radioactive polution than nukes or coal plants due to the leaching of radon and other radioactive materials from the earth. Coal always has thorium and uranium isotopes that are released into the atmosphere. Wind and hydro are the only "clean" alternatives at the moment. Nuclear isn't the monster you make it out to be. Most of the rad dose you get is from natural sources, only a small fraction is from human activities.


I'm affraid you are quite mistaken. A closed-loop or binary cycle geothermal system can be used to generate power. There is no venting of anything to the atmosphere with this type of system. As far as nuclear power is concerned, I'm only reporting the facts as reported by people who have actually been there and know what is happening. People who claim that nuclear power is clean are refusing to acknowledge the rather significant problems and only see what they want to see. Nuclear power is cheap and clean up to a point. Unfortunately, beyond that point it is neither. Dealing with the waste is expensive. Cleaning up leaks and spills is expensive and many times can never be totally cleaned up.

Nuclear power and the waste generated are not likely to go away any time soon, though. More than 70% of the spent nuclear fuel SNF and radioactive high-level waste R-HLW are produced by the US Navy and DOE. We expect to have around 104,000 tons of SNF in the US by 2035.

Cheers!


Re: Electric autos

akwaman
12/13/2012 8:38:51 AM
NiteOwl_OvO doesn't really speak about the other really big problem with nuclear: We can't figure out what to do with the radioactive waste, so we bury in giant caverns in the earth where it will remain lethal for a millenia. With a large number of nuclear plants we would be sequestering large amounts of radioactive waste underground. You want that stuff in your backyard? Or even in your country? There are far better and cleaner ways to get energy.


Re: Electric autos

ChriSharek
11/2/2012 10:15:34 AM
Fritz - forgot to respond to your second question. Tesla Motors is working on a supercharger network (which is actually free to Tesla owners) that will recharge their 300-mile ranged car to 80% of the battery within a 1/2 hour.

Again, www.teslamotors.com


Re: Electric autos

akwaman
11/2/2012 10:32:28 AM
Thanks for keeping it real, ChriSharek. It is the position of the oil-based economy and the confused to try and over state the shortcomings of electrics. I live in Florida also, but there are states that get a large amount of their power from coal, which is among the worst of the fuels we use in this country. Of course an array of solar panels will charge your EV car just fine, yes it will cost a little on the front end, but in the long run, after it is paid off, your "fuel" is really cheap, and how much do you think gasonline will cost in 10 years? Solar panels with current technology last 20 years or more.


Re: Electric autos

ChriSharek
11/2/2012 10:45:44 AM
Thx AKWAMAN. It's only a matter of time that more and more coal plants are taken off line or become cleaner through tightening regulations, more and more solar, wind, and renewable energies feed into the grid. I'm just wondering when Americans will wake up and embrace the technology that's already here.

Sure, I've used some gas in my Volt - 89 gallons, but the ODO reads 21,000 miles . . . gotta love that.


PARIS AUTO SHOW

bobjengr
6/17/2013 6:32:24 PM
Ann--Great slide presentation. I certainly wish I could have been there to witness the event in person. Looks as though just about all manufacturers have an entry in the show. I do feel alternative solutions are needed for the "post-petroleum" era. It may be 200 or 300 years off but it's coming. Again--great post.





More Blogs from Automotive News

0
General Motors is putting an off-road twist on hydrogen fuel cell technology with an imposing new pickup demonstrator called the Chevrolet Colorado ZH2.

3
The term "autopilot" is now at the heart of a growing debate between Tesla Motors Inc. and Germany's Federal Motor Transport Authority.

4
Twenty months after news leaked about Apple Inc.'s secretive automotive project, the high-tech giant has apparently decided it will not go toe-to-toe with Detroit, leaving few in the Motor City surprised.

49
From the Corvair and the Pinto to the Gremlin and the Pacer, we've collected the worst vehicles that suffered from design and engineering hiccups.

6
Electric powertrains are stealing the spotlight, as automakers showcase their best and brightest battery-powered vehicles, during the Paris Motor Show, Oct. 1-16.
Design News Webinar Series
10/27/2016 11:00 AM PDT | 2:00 PM EDT
10/4/2016 11:00 AM PDT | 2:00 PM EDT
9/29/2016 11:00 AM PDT | 2:00 PM EDT
9/27/2016 8:00 AM PDT | 11:00 AM EDT

The Continuing Education Center offers engineers an entirely new way to get the education they need to formulate next-generation solutions.


Oct 10 - 14, Embedded System Design Techniques™: Getting Started Developing Professional Embedded Software

Focus on Fundamentals consists of 45-minute on-line classes that cover a host of technologies. You learn without leaving the comfort of your desk. All classes are taught by subject-matter experts and all are archived. So if you can't attend live, attend at your convenience.
Next Course September 27-29: