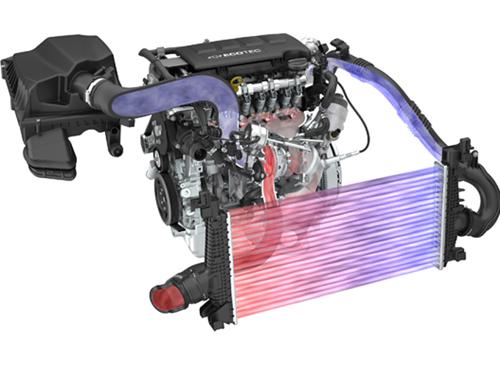 Dual platform fuel efficiency strategy

Beth Stackpole
3/26/2012 7:01:54 AM
Perfect timing, Chuck. This slide show does wonders in illustrating the progress being made in combustion engine development. With all the industry focus on EV technology, it overshadows traditional engine development and as you've written pretty extensively, EV adoption will be a slow ramp. That said, it's encouraging to see that the auto makers have a dual strategy to address performance/fuel efficiency issues.


Re: Dual platform fuel efficiency strategy

jmiller
3/31/2012 4:52:53 PM
I agree. I am a big proponent of multiple different ways of attacking the issue of getting further with a limited amount of resources.

Find ways to get more fuel.

Find ways to use less fuel.

Find other ways to make fuel.

I really believe this is the key. Multiple angles with multiple efforts that will in the end produce success.


Re: Dual platform fuel efficiency strategy

Stuart21
4/16/2012 10:54:16 AM
"Find ways to get more fuel."



No. I despair every time a new oli field or coal field is discovered. Currently man emits almost 50 times CO2 of earth - 8,500 M T P.A. vs 200 MT P.A. We are killing the planet. Steady state CO2 level for current emissions is ~ 1.2 % - 43 times pre industrial.



"Find ways to use less fuel."



Yes



"Find other ways to make fuel."





Yes





"Find other ways to not need fuel"





Yes Yes Yes.





'Let your fingers do the walking'





Telecommute.





Rideshare.





Sell your car, make do with less.




Re: Dual platform fuel efficiency strategy

OLD_CURMUDGEON
5/14/2012 2:15:31 PM
Stuart21:

MOMMY Earth has been self-inflicting wounds to her body eons before you had a nose. To rationally deduce that mankind is going to kill her, is just plain naive!!!! Long before your ancestors roamed this planet, there were massive upheavals in climate, etc. Who you gonna blame on these occurrence? .... the dinosaurs? Get real!!!!

In the 1970s, the fringe scientists were predicting a new Ice Age. When that failed to materialize, they concluded that a 0.1 degree rise in average temperature was man's fault, and we were headed for a "hell" armageddon. And, so, what's it gonna be? Wait another couple of years ... you'll see icebergs in NY harbor!!!!


Re: Dual platform fuel efficiency strategy

dhajicek
5/14/2012 2:38:35 PM
OLD, you are completely correct. The Earth will survive just fine no matter what we do. The problem is that this infestation of humans on the surface might not fare too well if we screw things up badly enough.

Then things will self correct with a lot fewer humans and other creatures around. But the Earth will be trucking along just fine.




Re: Dual platform fuel efficiency strategy

Rob Spiegel
5/14/2012 4:18:54 PM
Yes, I agree the Earth will do just fine. I'm not so sure about human comfort. We're pumping a lot of carbon into the air. If the permafrost melts, we'll see tons of methane. We don't know how this will affect human life on the planet.


Something has always bothered me. Actually alot of things bother me but I'll stick to the subject.

If the CO2 (carbon) content rises in the atmosphere and plants absorb CO2 and make O2, then wouldn't the CO2 make trees grow FASTER. And if trees grow faster they would make O2 faster.

If we tried VERY VERY hard to produce more CO2 then why wouldn't the plants take it in and produce more O2 to balance it out.

I'm not a chemist or biologist even though I can usually sound like I know what I'm talking about but would someone who IS please explain this to me.


Re: from rob to rob

rvguest
6/25/2012 9:57:37 AM
One reason: the photosynthesis cycle doesn't remove CO2 permanently. It binds carbon with hydrogen (from water) to release O2. However, there are other processes that release carbon, consuming O2. Animals are one (eat carbohydrates, eliminate CO2). Microbes do it (composting, wetlands, etc.). Fire does it.

So, just planting greenery doesn't necessarily modify the amount of carbon in play. It takes also preventing the hydrocarbon from breaking down. Otherwise, it is just a wheel turning around, figuratively speaking.


Forgive me for being so hard headed (it's genetic) but aren't plants the MAIN consumers of CO2 on the planet. Just about everything else generates it; Humans, animals, power plants, etc.

The plants are the planets conversion machinery for completing the cycle and the more CO2 that's available the faster plants grow/reproduce no matter what the source of the CO2 is.

Question- if you planted a tree in an enclosure that was sealed from the outside and made the atmosphere in the enclosure totally free of CO2, would the plants quit growing and/or die?


Re: from rob to rob

rdelaplaza
8/11/2012 12:09:59 PM
Yes plants take CO2 and produce Oxigen, the KEY here is HOW MUCH and at what SPEED, the amount they use is the same no matter how much CO2 is in the environment and the speed at which they use it is also CONSTANT (or to say in a different way; dependent within narrow limits of the amounts of sun the receive, which can't be changed).

The only way to increase HOW MUCH CO2 gets converted is to INCREASE the AMOUNT OF PLANTS, unfortunately the net balance IN PLANET EARTH is that the NET AMOUNT OF PLANTS in the planet is DECREASING, the planet is being DEFORESTED at incresing speeds as depredatory human use of plants and resources increase and HUMAN PRODUCTION of CO2 and polution is INCREASING at such rate that ANY AMOUNT OF PLANTS is actually able to take those amounts of CO2.

Get the idea?


Is like the idea of a generator driven by an electric motor to produce energy that will drive the electric motor... the numbers DON'T ADD up.


Sorry. Don't buy the analogy. The SUN is the difference compared to the generator/motor, etc comparison. The sun is contributing to the energy lost by the "motor".

On top of that if you cut down a tree it gives the rest of the trees a little more CO2 to "breathe" which apparently they like.


Ask someone who runs a grow room using CO2 to boost the air mixture inside the room. You get a higher yield, yes. Oxygen production however will not increase enough to make it safe to be in there without a respirator!


Re: Dual platform fuel efficiency strategy

OLD_CURMUDGEON
5/15/2012 8:26:57 AM
Rational science has it that Mommy Earth is roughly 2 BILLION years old, and since we recently celebrated Mother's Day, it is fitting that we owe her a debt of gratitude for spinning on her axis, lo these many years.

IF it takes a cataclysmic event, or natural attrition, or human intervention (ala global war) to "readjust" systems to where they should be, then so be it.

And, to those who claim we have only a short time before all the fossil fuel is gone, I say, BUNK!! This concept is nothing more than a political football, which some have deigned to be passed from one generation to another. So frequently we are witness to confirmed science giving us details of vast new finds of "oil". I would venture to guess that in the ceentury plus of consuming fossil fuel for power, we have not yet put a dent into the total supply, but that's just a hunch, NOT an accurate scientific pronouncement.

Good day! And, may EVERY day be a GOOD day!!


Re: Dual platform fuel efficiency strategy

JCRisn
5/23/2012 10:38:33 AM
"Rational science has it that Mommy Earth is roughly 2 BILLION years old,..."
Hmmmmm.... I wonder just how BIG the continually consumed Sun would have been 2 BILLION years ago? Big enough to toast the Earth? Big enough to have occupied the space where the Earth now orbits?
According to an article called,

The Sun Is Shrinking

by Russell Akridge, Ph.D, "The change in the size of the Sun over the past 400 years is important in the study of origins. Over 100 thousand years these changes would have accumulated so much that life of any kind on the Earth would have been very difficult, if not impossible. Thus, all life on the Earth must be less than 100 thousand years old. The Sun, 20 million years ago, would have been so large that it would have engulfed the Earth. The Earth cannot be more than 20 million years old." (Bold added)
"Rational science" has some learning to do.
Re: Dual platform fuel efficiency strategy

OLD_CURMUDGEON
5/23/2012 10:51:21 AM
I'm NOT a celestial scientist, BUT I've heard enough learned scientists discuss rationally the origins & read enough literature to know that science has dated the physical Earth at more than 2 billion years age. And, there's been plenty of dialogue even for a lay person to understand that the sun has enough "fuel" remaining to provide us with light for at least ONE million more years. And, what about fossil remains & other artifacts unearthed which have been carbon-dated well in excess of 100,000 years? I supposed they were flown in to support some esoteric theory ....

Since I'll not have to concern myself with any near term flame-out, nor will my heirs, I think it's not worth further discussion. And, one PhD in the mix, does not a quorum make!


Re: Dual platform fuel efficiency strategy

JCRisn
5/23/2012 11:23:06 AM
Diamonds and Strata Have Too Much Carbon 14



"... Natural diamonds are commonly believed to have been formed millions of years ago.

If the rate carbon 14 decays has been consistent, any carbon 14 older than 100,000 years is undetectable by current measuring techniques.

But carbon 14 has been measured within natural diamonds. Either the decay rate of carbon 14 is not uniform, the diamonds are younger than believed, or both. Carbon 14 in diamonds is evidence that the earth is thousands of years old, not millions.





Minerals Have Too Much Helium



The shiny black specks in granite are mica. Within mica are natural zircon crystals, only a few microns in size. Helium quickly diffuses out of zircon.

If the granite is millions of years old, as commonly believed, all the helium should be gone.

However, measurements indicate that much of the helium still remains. Either the diffusion rate of the helium is not uniform, the zircon crystals are younger than believed, or both. Helium in granite is evidence that the earth is thousands of years old, not millions.





The Sea Does Not Have Enough Minerals



There is not enough salt in the sea or mud on the sea floor for the seas to be billions of years old.

Every year, salt accumulates in the ocean from rivers. Given the present rate it is increasing per year, the current 3.5 percent ocean salinity is much too low if this process has been going on for a very long time.

Mud enters the seas through rivers and dust storms. This occurs at much faster rates than plate tectonic subduction can remove it. Each year, 19 billion tons of mud accumulates. If the oceans were ancient, the oceans would be choked with sediment dozens of kilometers deep.



"... While the early faint Sun paradox does not tell us that the Solar System is only thousands of years old, it does seem to rule out the age being billions of years.",

The Young Faint Sun Paradox and the Age of the Solar System

by Danny Faulkner, Ph.D.




Re: Dual platform fuel efficiency strategy

rickgtoc
7/30/2012 12:15:43 PM
Re: Dual platform fuel efficiency strategy

Crackle
6/25/2012 10:19:30 AM
Selling your car won't necessary reduce its emmissions. Scrap it or keep it and don't use it.


Internal Combustion Engines

Greg M. Jung
3/26/2012 11:31:01 AM
Great slideshow which showcases new developments in combustion engine technology. After seeing this article, I am amazed at the innovations that continue to evolve and am starting to realize how I've been taking the technology of these engines for granted.


Re: Internal Combustion Engines

naperlou
3/26/2012 12:11:54 PM
Greg, there really are a lot of innovations in internal combustion engines.

Until EVs become practical, improvements in the internal combustion engine will be key. The hybrid is really not a viable technology going forward. I say this becuase of the increased cost and comlexity for really little advantage. If you look at the Prius, for example, it is a very small car. I am not sure that if Toyota just put one of their newer high efficiency internal combustion engines in it that they wouldn't get close to the mileage the Prius gets. Of course, the Prius will do well in the city for lots of short trips, but that does not cover the majority of people I see driving them. When you look at the hybrids of existing designs, they do not get much better overall mileage than their conventional counterparts.

One of the interesting things about the slide show and the technologies that are highlighted there is that many of those technologies were originally developed for racing and high performance cars. Using hydralics and variable valve timing is key to Formula 1 engines. While living in England around the turn of the millenium, I had an Alfa Romeo that had variable valve timing (as well as two spark plugs per cylinder). It was light and got great power. I must admit, though, that I did not pay much attention to gas mileage back then.


Re: Internal Combustion Engines

cvandewater
3/26/2012 4:05:07 PM
Hi Naperlou,

EVs *are* practical and have been for a long time (over 100 years), though they have limitations and those limitations have been under the magnifying glass of the marketing depts of the people with oil-interests for a long time. Reason to focus on the limitations was the potential to take over a majority position in vehicle technology, just like a century ago. The rapid increase in Nissan Leafs also show that the times are again a'changing. I have been driving an EV since some 8 years, others have for decades. I find that it satisfies over 90% of my driving needs, so I hardly need to use an oil burner. I hear from others who have a Volt and use the car every day, still they have been to the pump no more than 3 times in a year.

I see that there are performance improvements in the shown engines, though I think there were only 2 engines that had a concept I never saw before in a commercial vehicle and which I would classify as innovation. The other 10 engine simply looked at what was already there and designed a new engine (no small feat) that reaches high output or low consumption, but no innovations were claimed, they simply used state-of-the-art technology.

Funny that a lot of these improvements come from what made "ricers" claim big power from small blocks, while the American motto was "there is no replacement for displacement". That is - until you need a highly efficient engine...

Remember the old BMW E32 750 with 5 liter V12 that was designed as if it was two separate V6, run by two sets of everything - sensors, injectors, computers. If one of the crankshaft position sensors or computers or even a dumb wire had an issue then you lost performance because it suddenly started running only on 6 cylinders. Today that would be a feature....


Re: Internal Combustion Engines

naperlou
3/27/2012 2:23:16 AM
cvandewater, I am not sure that I can agree with you that EVs are practical. This is more true of the current generation of EVs that of the first or any previous. The problem is in the battery pack. It is monstorously expensive. The Tesla roadster boasts a 900lb battery pack with a manufacturers cost of at least $25K. Replacements, if you have let it completely discharge, can run the consumer $40K. The older EV's had more conventional batteries. It was fairly easy to either recharge them or replace them. That is not the case with the Li-ion batteries.

The car's initial cost is $100K. That is not practical. The new Tesla, the S model costs less. It is still in the $50-75K range. Now, I mention the Tesla and not the Leaf, becuase at least the Tesla cars have a reasonable driving range. The Roadster is just a toy, like any other roadster (I know, I started out driving such cars). For practical cars, the electric vehicles still have a way to go. They are much too expensive and have some major limitations that gasoline vehicles do not have. Frankly I have not calculated the price of gasoline at which the cost curves cross between electric and gasoline vehicles, but it is very high. Much higher than even what we are seeing today.


Re: Internal Combustion Engines

Gman
3/27/2012 1:01:11 PM
naperlou - not sure why the specs of the never-meant-to-be-practical Tesla roadster are cited after raising the issue of practicality of electric vehicles - seems the Leaf is the the more appropriate vehicle to cite with still impractical issues. However, since when do Americans buy cars on the basis of just practicality or just cost? My neighbor just fired-up his huge diesel powered truck to drive 2 miles to McDonalds. I have never seen anything in the back his truck - he is an office worker. My wife's molecules arrive at work in her Honda Fit the same as her friend's Mercedes. Both the truck and the Mercedes cost well over the 40,000 for the Leaf yet based on usage provide no practical advantage so some people may choose to pay extra for the Leaf - love that we all have the choice!

When I lived in Ohio the specs on the Leaf and other electrics would not have worked well with cold snowy winters, hills, and distances driven. Now I live in a medium size city in California where nothing is more than 35 miles away RT and it is flat - the Leaf would handle well over 90% of our trips with a second gasoline car for long trips. When I lived in Ohio I probably would never have fully appreciated how practical an electric car would be for some parts of the country and for some users.

To your last point on operating cost - I just carefully calculated this based on our (high) electric rates and our (even higher) $4.15 CA gas prices. The Leaf would cost us 2 cents per mile compared to 13 cents for the Honda Fit. Would the wife and I ever save this back? No way, we do not drive enough miles, but hey, instead of buying the impractical Merc or the big truck we are looking at the new (impractical) electric Fords because this interests us.

Before I get rants back about subsidies - yea, agree, but get rid of the oil subsidies first - including military expenses to keep the gulf safe for our oil. companies.


Re: Internal Combustion Engines

cvandewater
3/27/2012 1:44:19 PM
Hi Naperlou,

We may need to agree to disagree. You appear to have a particular type of EV and usage in mind that does not make sense to people who operate EVs on a daily basis, but with your ideas of what you consider that an EV should be able to do then I can see that you claim that they are not practical, but I am afraid that it has more to do with your narrow requirements than with the EVs. Mind you - most EVs are built for a particular task and do that very well. You may not immediately recognise many of them as EVs but they are - from trains to elevators; golfcarts to pallet jacks and hundreds of thousands other vehicles.

I agree that we were talking about technology for freeway capable vehicles and also there EVs can be quite practical, if you accept that they have a particular purpose and perform it well.

If you talk about Tesla Roadster - yes, that is a sports car, a toy if you like. Almost every roadster is just that, so why not the Tesla? Thousands of people thought it was worth its price and millions were wishing they could afford one. Todays most popular EV seems to be the Leaf. One very well executed family sedan that brings a lot of value and luxury with it. Many thousands have voted with their wallet and I see more Leafs driving around each day.

Personally I am not so into the depreciation of a new vehicle, which is always a bad proposition whether ICE or EV, so I just recently bought an EV (Ford Ranger Pickup) with new batteries for 4 grand. If I just drive that EV for 20k miles then I have earned back the purchase price of the entire truck in just the displaced cost of gas and have even chipped in some for the approx $500 cost of electricity over those 2 years of driving.

The Ford Ranger will likely give me no more than 60 miles of range and I am perfectly fine with that. I had an EV truck before (S10) and it had about the same range, I used it to commute daily, run errands, cruise around town and haul heavy loads. So, it did what every other truck does - I just had to plan the trips I make enough in advance to utilize the available range or select a different vehicle for any long trips.

I see you make claims about the Tesla battery that died - that was a single occurrence and caused by neglect. Surely you are not judging and entire class of vehicles by such a fluke - that would make your position very suspect. Tell me which EVs that you have driven that give you the opinion that they are not practical? I often found my self in the vehicle of a friend, because they insisted that I should drive theirs so that they got to drive my EV. For me the EV is very practical. What comes to mind is claimed to be a Chinese saying: "The man saying it cannot be done should not stand in the way of the man doing it."


Re: Internal Combustion Engines

greg
3/26/2012 6:07:37 PM
currently, variable timing (and variable length inlet tracts, and a bunch of other things) are banned in f1. look elsewhere for power/efficiency gains in ICE, at least until 2014. bmw's valvetronic comes to mind.


Re: Internal Combustion Engines

kleetus
3/27/2012 9:05:37 PM
Unfortunately until I see an EV hauling more than people around, for example running an 18 wheeler down the road, or flying a plane, or even hauling a freight train down the tracks (I'm not counting the commuter trains because they are powered by the grid) EV technology still doesn't pack enough punch to get the job done.

Moving people around is one thing, but when you look at the overall aggregate of transportation, hauling goods is much more prevalent and demanding than moving people.

I did see some interesting designs done to ICE so far, some of which are coming to fruition by advanced control elctronics, and also 3D modeling and finally better manufacturing techniques. A couple of designs made me scratch my head and ask the question of maintenance and reliability, like cast in manifolds, water cooled manifolds and redundant direct/indirect fuel injectors.

You have to ask the question, what are we trying to attain? Better efficiency or lower 'emmissions' ? Funny how cars back in the 70's and even earlier with larger displacements could get the same mpg numbers if they were tuned up right, so the unless we forgot everything we've learned, it must be emmissions we're going after.

I just don't get it. All this for an congured up problem? Sooner or later this carbon thing is gonna come crashing down.


Re: Internal Combustion Engines

GlennA
3/29/2012 9:30:03 AM
EV hauling a freight train ? Does that mean you don't count the diesel-electric locomotive ? Sure, it is a hybrid.

And to other posts: I have mentioned my 2009 Chrysler Aspen 5.7 liter Hemi Two Mode Hybrid before. I wanted a hybrid, but I didn't want to give up the utility of my Jeep. No, it's not perfect. But it is an 8-passenger, all-wheel drive, and it can tow 6000 lbs. Cars are not purchased solely on ROI. For much of my driving it is over-kill, but I can't justify having a stable of cars and use a different vehicle just for its 'perfect match' application.

There is no replacement for cubic inches. To get the same power out of a tiny supercharged engine is just beating it up.


Re: Internal Combustion Engines

kleetus
3/29/2012 9:53:42 AM
No I don't consider a frieight locomotive a hybrid at all, because you don't have the option of running directly from the motor to the wheels. Heck the only battery on a locomotive is to start the engine itself.

But go the case of the jetliners... you don't see them battery or solar powered.

I do fully agree that if you want something to last, there is no replacement for displacement.


I agree, naperlou. The Chevy Cruze ECO is a perfect example of the advancement of internal combustion engine. In terms of fuel efficiency, it's competitive with the Chevy Volt, which has a series hybrid powertrain.


Re: Internal Combustion Engines

bdcst
3/27/2012 10:34:54 AM
Where's the recent advancement in ICE's? My wife drives a 2003 Honda Civic manual with ULEV engine and has consistantly gotten 42 MPG or better all these years without complex, expensive hybrid technology.

Ironically, later model year Honda's have reduced fuel economy. Something was lost along the way to the next decade!

Turbocharging does not really save fuel. Rather it improves performance so a smaller displacement engine can produce a bit more horsepower for those who insist upon burning rubber.

Forsake peeling out from stop lights and you can gain the same economy with a lower cost engine.


Re: Internal Combustion Engines

nyeng
3/27/2012 11:32:18 AM
I think you have a point on the turbo. I have read dozens of posts of people complaining that their F150 EcoBoost gets nowhere near the advertised 20 mpg. First problem is they aren't going 65 which is the rated speed. More importantly, there aren't being nice to it. The turbo engine allows good mileage from a smaller engine while out of boost. The turbo allows more power from the smaller engine with boost when needed such as towing. The problem with the EB F150 is that most of the people who drive them beat on it since it has so much power at low rpm they feel obliged to use it.


Re: Internal Combustion Engines

Jerry dycus
3/27/2012 9:32:55 PM


Boy these motors are a huge 2-5% more eff!!! Sadly they just more eff waste energy as they still only get 8-9% of the fuel's energy to actually move down the road because you only need 5-20 hp to cruise and even less coasting, idling. Yet they scream 400hp like it's a good thing!!!

Using an ICE for traction use in variable traffic just is not eff. Especially when EV drive is 65% or so, only using.making power as needed and only as much as needed at very high eff.

The only real use after about 5 yrs is to recharge batteries at a constant rate of say 5-25kw while the real eff E motor handles the real work eff.

Yet little work done on these motors to make them more eff, harder in smaller sizes, that we really need.

One good way is a simple opposed piston, crankshafts with a common combustion chamber. Long stroke, good thermal eff, 1 or no valves, inherently balanced and lightweight.

As for EV being practical is it just took me 32 hrs to build a Harley Service car size EV MC Trike. That's how simple it was, just drop the motor, batts in and wire it up. Took about 2 hrs because it's so simple. A motor rebuild takes 15 minutes.

With a cabin could do yr round commuting with 60 mile range on battery and unlimited at 100+ mpg with a generator for unlimited range. such a 75mph vehicle is little more than 2 golf carts worth of batteries, materials, labor and they sell under $5k.

I just took it on it's first 20 mile trip and at 34wthrs/mile cost me $.07 in electric at $.10kwhr of RE I pay and about the national average. It's not much as I only paid $10.12 last month for all my home, business, transport needs. Normally it's higher but I've cut most load to not much. Usually without heating or cooling it's $15-18/month, peak heating/cooling to $30-40/mo. So my EV's just don't use much.

Just found out EV charge stations have been put in all over Tampa so even without a generator one can go 100 miles/day as I have before with a 40 mile range EV. Likely go to 60 mile range soon by adding 2 more batteries.

The secret of EV's is keep them light, aero and tone down the tech and we could have nice EV's for under the price of ICE's and a running cost of 15% of ICE's. KIS

So keep on spending your money on oil and be prepared to pay $1/yr/gal higher until it hits $10/gal in about 5 yrs. Or switch to something that won't keep going up like methane, NG, or EV's.




Re: Internal Combustion Engines

BigDipper
4/24/2012 12:56:33 PM
bdcst,

It's not that something was lost but that something was gained - weight. With increasing government regulation comes added mass. Door beams, air bags, more stringent crash test standards - the list goes on - all add additional weight to the vehicle.

You are correct that turbocharging allows higher power from a smaller displacement engine (higher specific output). This can cause more spirited driving , therefore defeating the purpose, but don't forget that one of the most critical cost variables in long haul trucking is fuel economy and I don't think there's been an over the road semi built in the past three or four decades that wasn't turbocharged. Keep your right foot out of it and the smaller turbo engine will almost always be more economical than a larger displacement engine with the same power output.


Re: Internal Combustion Engines

bwilson4web
6/25/2012 5:14:28 PM
Recently we had someone at PriusChat pose the same question: can an efficient engine compete with a Prius if everything else is the same?

It turns out Toyota has done the experiment with the "Prius c" and "Yaris". Comparing the 1.5L, automatic Prius c to the 1.5L, automatic Yaris:

53 MPG :: 32 MPG - City, Prius c to Yaris

46 MPG :: 35 MPG - Hwy, Prius c to Yaris

$19,737 - $24,016 :: $14,840 - $ 17,200 - Prius c to Yaris

Since 2004 when the battery modules and transaxle were redesigned, we're not seeing failures. In fact, salvage Prius are providing parts for the 2001-03 Prius which also continue to keep on running. I've got 150,000 miles on our first Prius and we're still getting 52 MPG. Since we put over 15,000 miles/yr on that car, it has been a very good deal with low maintenace (the engine is loafing) and we still haven't replaced brake pads or shoes.

Like any new technology, the Prius isn't for everyone ... just those who prefer to bank their fuel savings. For those who don't drive much, any car will do. But if you're driving more than 15,000 miles per year, the Prius can help make a car payment every year . . . even after the car is paid off.

Bob Wilson


Re: Internal Combustion Engines

sbkenn
9/20/2012 10:54:27 AM
The efficiency of new cars over older ones is moot if, as I have read, the emmissions over the existance of the vehicle is >90% in manufacture and recycling and 10% in use. It indicates that an older car kept in service for another 5, or even 10 years, saves a lot more than scrapping a 10y/o vehicle to replace it with even a hybrid. Also, with recharging a battery or hybrid vehicle, it only moves the emissions back to the power station.


Re: Internal Combustion Engines

Amclaussen
4/22/2013 2:41:22 PM
You are right sbkenn, even if your numbers could be only approximate, your statement is correct: There is a tremendous waste in throwing away a well maintained car from the 90's up to buy a new one, even when its emissions could be slightly lower or be slightly more fuel efficient. The problem is that people believe in the automotive industry motto of "improvement" and keep them producing cars at unsustainable levels. My late father lived a few years in Europe in the 40's and 50's, and always told me that the American way of renewing their automobiles, buying a new one every year or two was plainly wasteful (and dumb); specially compared to the european practices. He was proud of his cars maintenance and conservation, and kept them for at least 8-10 years at a time. I followed his style and still have a 1991 and a 2002 that pass emissions perfectly and still work as new day to day. I had an old (1967) Ford Falcon that I was able to keep in top form for almost 40 years of DAILY use, but stopped using it when much more recent (and fast) vehycles were hard to keep the pace with in highways, and because I was unable to modernize sufficiently to keep it current. BTW, a serious study recently cited in this same site, revealed the large inefficiency paid to fabricate a Nissan Leaf, when materials and fabrication energy amount was properly included in the overall picture, It was not as green as some politicians (or phanatic owners) would like us to believe. Amclaussen.


Re: Internal Combustion Engines

Critic
9/20/2012 11:41:00 AM
@bwilson4web:

People who own hybrids or electric cars try to show by analysis that they are saving money, but usually they are not!

1. Consider the depreciation expense. A Prius depreciates at a higher rate than a Yaris. The depreciation of a Prius in the first five years is TWICE the depreciation of a Yaris, or about $6,000 more. This factor alone wipes out any savings in gasoline expense, considering 15k miles per year.

2. If you don't care about depreciation because you are going to keep your Prius forever, then you better think about how much it is going to cost to replace the batteries. "Prius batteries last forever; I will never have to replace them, and maintenance costs have been low!" Right. Sure. I believe it. NOT!

3. What about your time? Time is money, as they say. Accelerating at rates that give you 52 MPG, and driving slowly on the highway to maximize fuel efficiency will both increase the time you sit in your car. Is your time worth anything? Mine is. 2 - 3 minutes of my time every day, spent sitting in a Prius to maximize fuel efficiency is enough time to wipe out any fuel expense savings. Often when I find myself held up in traffic because of a slow driver, it is a Prius!

If you look at the total cost of ownership of a Prius compared to a Yaris, you will see that the Yaris has a lower cost, even though the gasoline expense is a little more than that of a Prius.

The Prius isn't for anyone who wants to save money. It is only for people who don't comprehend that there are expenses other than fuel.

The MSRP range you quoted for the Yaris seems accurate, but the correct range for the Prius is $24,000 - $29,805, not $19,737 - $24,016. There are stripped-down models, and there are also more expensive models.


Re: Internal Combustion Engines

bwilson4web
9/20/2012 5:50:50 PM
"1. Consider the depreciation expense."

We bought a new $14,250, Echo in 2001 instead of the Prius and sold it in 2009 for $3,000. We had just under 30,000 miles on it or about $0.33/mile depreciation.

We bought a used, Prius, $17,300 in 2005 with 49,000 miles and I just drove home in the 150,000 mile, in our perfectly fine, 52 MPG commuting car. So if it disappeared tomorrow, $0.17/mile, half the Echo rate.

BTW, our NHW11 also has a 1 kW inverter and provided emergency power when the tornados tore up the TVA power lines over four days and six hours at two gallons/day . . . no carbon monoxide risk . . . too quiet to hear outside of our property line.

Our 2010 Prius was $24,250 bought in May 2009 (we sold the Echo to help pay for it.) It works perfectly fine and even towed a small airplane 600 miles from Canton Il to Huntsville, Al. It also has a 1 kW inverter. The newer car, it has 35,000 miles or $0.66/mile, today. In another three years, it is likely to be the Echo $0.33/mile rate and descending.



"2. . . . better think about how much it is going to cost to replace the batteries."

In November 2008 I upgraded the traction battery from the original style to the newer modules from salvage Prius, $1,700. The old traction battery was working perfectly fine and the modules measured 5.0-5.5 Ahr versus the new ones at 6.5 Ahr capacity.

I kept the 38, old battery modules and am looking at replacing a 48V, lead-acid battery in our electric bicycle with the NiMH modules. This should double the 10 mile range.

"3. What about your time?"

I have always driven in the right lane, following traffic or with cruise control set to the posted speed limit. It gives me time to think and plan what I'm going to do at work or on the way home, plan dinner and shopping lists.

I am not a "Type A" driver. Often, when being tailgated in the right lane, will change so the tailgater can accelerate, pass me on the right, and get away from me. But if I'm conducting a 'study', I have no problem with reaching 100 mph and still getting 22.5 MPG. But in reality, flying meets my need for speed and isolation from the road-rage idiots.

". . . .If you look at the total cost of ownership of a Prius compared to a Yaris, "

We have owned the Echo (the original Yaris) and choose to continue to own the 2003 Prius, the Echo equivalent. We already have the 1.8L, 2010 Prius and both have tow bars used for oversized loads and the occasional rental boat. More importantly, there is no car that matches the 140 mph, 4 gal/hr, airplane. We also have an electric bicycle for trips to the grocery store.

In short, we're pretty happy and don't see any gaps in our transportation needs and desires. Our lives are as quiet as our cars and when we go out of town, we eat at upscale restaurants because we don't worry about gas burned in a frantic drive back home.

Bob Wilson


Re: Internal Combustion Engines

jkam
11/16/2012 2:29:52 PM
Comparing the depreciation of a used Prius against the depreciation of a new Echo is not apples to oranges. I have a (true) depreciation story that can beat yours:

Four years ago I bought a '98 Jetta TDI with 240k miles on it for $7000. I've put 70k more miles on it and am now selling it for $6200 with 310k miles. Repairs have been one alternator. Expenses have been fuel, oil changes and tires. The car is chipped so has about 150 hp and 300 lb ft of torque. I drive it like a complete loon and still get fuel mileage in the low 40s around town and low 50s on the highway. 70,000 miles for $800 in depreciation is 1.1 cents per mile for a great car, fun to drive, has always been 100% reliable, carries five passengers and has a tow hitch.

In a comparison of depreciation between a new car and a used car the used car will always have the advantage.

J. Kammeyer


Re: Internal Combustion Engines

benmlee
3/25/2013 12:51:32 PM
1. Consider the depreciation expense. A Prius depreciates at a higher rate than a Yaris. The depreciation of a Prius in the first five years is TWICE the depreciation of a Yaris, or about $6,000 more. This factor alone wipes out any savings in gasoline expense, considering 15k miles per year.

---> I have a Yaris. $17k when new, now with 150k probably $3k. Prius $24k new, recently looked for one, they are $10k used. Both around $14k depreciation. Prius is a bigger car, so is apples to orange comparison anyway.

2. If you don't care about depreciation because you are going to keep your Prius forever, then you better think about how much it is going to cost to replace the batteries. "Prius batteries last forever; I will never have to replace them, and maintenance costs have been low!" Right. Sure. I believe it. NOT!

---> Even taxi are using the Prius, so you know they have got to be reliable and low cost. Used battery is $1.5k-2k. Normal car will have to change the transmission about the same time. Even if is a clutch car, clutch needs replacement. After labor, is about the same. On the plus side, Prius battery rarely need replacement. You are already ahead of the game here.



3. What about your time? Time is money, as they say. Accelerating at rates that give you 52 MPG, and driving slowly on the highway to maximize fuel efficiency will both increase the time you sit in your car. Is your time worth anything? Mine is. 2 - 3 minutes of my time every day, spent sitting in a Prius to maximize fuel efficiency is enough time to wipe out any fuel expense savings. Often when I find myself held up in traffic because of a slow driver, it is a Prius!

---> Drove a rental Prius, it was just like a typical car. Adequate acceleration no different than Yaris or any other economy cars. On any car, the faster you go the more gas. That holds true no matter what. Drive a car at 80mph, and you mpg goes way down. Go slow or fast, Prius still get better mpg than a normal car.

After seeing taxi use Prius around here, and started reading about how long the battery last, I started looking for a used Prius. Soon gave up. They were not depreciating like I hoped. Is a good car, and the market has spoken. People want the Prius as a used car, so price stays high.








Re: Internal Combustion Engines

imagineer1000
4/4/2013 2:29:48 PM
Having just rented a Prius for several days, I can say that in spite driving in power mode between 75 and 80 MPH for 80% of the time in mild hilly terrain, and the rest split between ungraded/unpaved roads. I still averaged 43 MPG (42.9 - topped off tank several times over 500 miles to get a decent read). It was also the only compact I have rented that was easy to get a large heavy box of our equipment into. Overall pretty comfortable. My criticisms of the Prius - no clearance underneath - scraped going into driveways and curbs when parking, and ultimately tore up the (air dam?) on a cattle grate on a dirt road. Also, dashboard GUI is way too cluttered and non-intuitive. Otherwise thumbs up.


Regards costs, I can't see how ICE can beat an (all) electric -(not the Prius). I think people forget there are maintenance costs associated w/ ICE - oil, transmission fluid, clutches, seals, filters, belts, radiator re-coring, anti-freeze replacement, exhaust/catalytic converter, timing sensors, O2 sensors, water pump etc. on a mechanically/electronically very complex piece of machinery that simply aren't necessary on an electric. And after 10-15 years how much is ICE replacement going to cost (if it makes it that far - my Chevy only made 60k w/ $2000 maintenance/repair costs, my Jeep has 370k w/ only routine maintenance, which has added up to around $3000 sans items that would apply to an electric as well, like A/C.


Re: Internal Combustion Engines

benmlee
4/4/2013 11:03:46 PM
You may be right. Electric motor can be compared to jet engines on an airplane. Airline quickly realized jet engines are more economical to operate than piston engines because they are cheap to maintain. Only the bearings. Because they don't shake to pieces like piston engines, you save fatigue on all the parts including airframe.

In the long run, all electric is the way to go.


Great advances

Tim
3/27/2012 12:36:56 AM
The items shown in the slideshow great advances for the internal combustion engine. One great thing about improving on existing technology is that repair technicians are already trained in the workings of the internal combustion engine, so the training on repair techniques for the upgrades is not starting from scratch. Repairing an EV requires an entirely different skill set that mechanics may or may not have.


two-prong attack

ChasChas
3/27/2012 10:49:50 AM
We see that with these engines, burning less means burning cleaner to burn less.

Ev's are here as well - some with these more effiecient/cleaner engines as backup.

How can we lose with this two-prong attack? It's a breath of fresh air.


Where is SKY

nyeng
3/27/2012 11:27:54 AM
I was somewhat disappointed not to see Mazda's SKY-G and SKY-D engines on the list. They are a big advancement both in turbo diesel and naturally aspirated gasoline engines.

I agree that EV is a long way off. I'm not buying a $40,000 compact just to be "green." It's even less economical where I live since the electricity cost is so high.

Natural gas and clean diesel ICE's are where it is if you ask me. I lean more so toward the NG. Clean diesel is too complicated. The Ford 6.7 trucks and other 2010 diesel trucks will suffer due to high repair costs of dpfs, scr heaters, pumps, sensors, and all the other crap related to SCR, EGR, and DPF. The advantage to diesel was simplicity. I will drive my '97 Cummins ram with 326,000 miles for a long time to come. Why? Becaues is just runs. No engine computer, no emissions computer, no egr, etc. Wire the stop solenoid and it will run without a battery. Emissions diesels lost their reliability advantage over gasoline and actually got worse IMO.

I find the combination NG/gasoline vehicles like the up and coming Ford Super Duty conversion to be quite practical. By using gas or NG there is the cost and emission advantage of NG where it's available and no range anxiety since it will run on gasoline too. The big compromise is some cargo space, cargo capacity, and $9800. Not a huge payback at the claimed $2 per gallon advantage to NG.


Nyeng: I was disappointed that Mazda was not in the slideshow, as well. Unfortunately, Mazda did not respond to our calls.


Engines and motors

Island_Al
4/16/2012 6:10:02 PM
First off, internal combustion (IC) technology is what, 100 years old? Still I see few improvements other than pressurized oil system, overhead valves/cam, electronic controls/fuel metering, and super finish bearings.

I see little truly radical innovation.

IC is clunker technology compared to electronics, and is super inefficient.

Last time I saw anything published, it was 12% to 20%!

That's 80% converted to noise and heat.

It requires power to cool and quite them.

I recently installed a 97% efficient furnace, which reclaims the latent heat.

Seems like innovation could really be ramped up, but as long as we coddle and bail out Big Auto, they will continue to do what they are doing.
At risk of making many folks really irate, EVs are not non-polluting.

They simply move the pollution elsewhere.

Then there are the unseen consequences.
Battery
replacement and disposal loom large, as does the impact of processing the raw materials. The metrics of dangers in crashes also have to be measured.

Other than fires in home charging stations, I have read little on this.
One of the guys I work with considered buying an EV and asked about air conditioning.

The recommendation was to run the AC at home before the car goes on the road. We line near
Key West
, and the 20 mile drive without AC would be pure torture, even in the winter.
My last, and biggest problem is with lawmakers pretending to be automotive engineers.

Several points come to mind.

Lawmakers mandated so-and-so PPM of pollution. Engineers responded with "smog pumps" that mix fresh air into the exhaust stream.

Same amount (or more) pollution, mixed with more air reduces the PPM percentage.

But does nothing to reduce pollution.

Another case, in the 1970s where lawmakers mandated so-and-so PPM per cubic inch engine displacement.

Result:

My 76 Caddy sported at 500
CID
engine that got 8mpg on the highway.

Another example:

Cash for Clunkers.

Result: A shortage of used cars to the even older high polluters are still on the road.

My solution is no to let engineers be lawmakers, but rather let us do what we do best unhampered by the Invisible Foot of government.

If nothing else put out a $10M or $100M X-Prize for a new type of high efficiency car motor, say better than 90%.

Money talks and BS walks!
If we want to see a great example of central planning in action and in transportation visit
Cuba
!
Re: Engines and motors

jmiller
4/23/2012 8:15:27 PM
I had often wondered about A/C on the EVs. I guess now I know. And these vehicles are really only good for specifica climates where A/C isn't a neccesity.


http://www.youtube.com/watch?v=J8r-mwfQ70o

It was $10 million and the X-Prize committee tried real hard to make this a real-world competition by requiring that the car entries demonstrated manufacturing cabability to qualify, not just show off what a one-off laboratory experiment is capable of.

In fact, if I remember right this was the very first X-Prize competition that was designed to avoid the previous results where the prize winner never actually puts their technology onto the market.


Internal combustion engines.

William K.
4/23/2012 6:37:10 PM
The fact that nobody has come up with a fundamentally different system in a hundred years is quite a testimony to the suitability of these engines to the task. There certainly have been a whole lot of important improvements that have made them work much better. My point being that the lack of a better solution is not from a lack of trying!

A thermal fuel cell that would convert petroleum directly into electricity to drive electric motors would be a nice alternative, except that the physics don't quite seem to work that way.

The real problem is that it takes some source of energy to move a car, and the means to convert some form of chemical energy into thermal energy to drive our engines is the best found, so far. Of course, people have been searching for those alternatives also. Of course, aside from the pesky laws of physics that do limit things, we also have all kinds of safety and emissions regulations that also restrict drive options. And on top of that, we have to assure that when a car is damaged in a collision that there are no serious secondary hazards created.

So actually, given all of the constraints, the current ICE is pretty good.


I seldom get it right but this is how I see it: Anywhere between 20 and 40% of an ICE engines cooling comes from the incoming fuel mixture - thus excess fuel is needed to keep the engine from self-destructing. Remember the ceramic engine toted a few years ago as the next-big-thing? Once the fuel mixture is leaned out to optimize economy, the combustion temperature soars, causing excessive NOx. Vehicles using ICEs need enough acceleration to satisfy the market-place, but need to run efficiently at constant speed crusing. ICEs have very poor torque at low speed so they must be overly large to meet the acceleration requirements - thus the apparent benefit of electrics, torque is maximum at stall. So it would appear the perfect vehicle for today's market is a hybrid diesel/electric. The engine would run at constant RPM, torque would be provided by an electric motor with supercapacitors for low end acceleration with the diesel engine running at max efficiency when at cruising speed. It seems the compromises needed to meet the somewhat arbitrary requirements of Congress and the even more fickle needs of the buying public, mixed with the current state-of-the-art in ICEs have created our current slate of 5,000 pound pick-up trucks that carry nothing but can go zero to sixty in 8 seconds mixed with 40 MPG economy vehicles that can go from zero to sixty eventually.


Re: Internal Combustion Engines

Island_Al
5/1/2012 5:45:37 PM
Important points Bob. I keep thinking about all this energy wasted by converting it to heat, then using energy to run the cooling system, pump, fan(s), etc. Then there is the loss due to noise that must be muffled. I work at an airfield with F5 and F15s, and thinking while they are launching "if all that noise could only be converted into useful thrust they would have a super fighter". I have been told that the F35s are twice as loud, yet not twice the performance.

And as you point out, the best combustion is at a perfect air/fuel mix, but I know this will at least burn the valves and melt the pistons. As I recall California was worried about hydrocarbons from rich mixes so they mandated a lean mix. The result was the nitrogen byproducts.

Maybe a perfecting the "muscle metal" heat engine? It's easy for me to throw stones as I'm an electronics guy, not a ME, so I probably should say sorry in advance.


Re: Internal Combustion Engines

Amclaussen
4/22/2013 3:36:47 PM
While your numbers are not exactly correct, there is a lot of truth in the case of turbocharged/supercharged engines where mixture cooling is strongly needed to avoid detonation. I have a friend that was working for several years at a famous piston ring factory ("P.Circle"), that took his father's car, an old 1966 dDodge Coronet with a modified for very high compression 318 C.I. V-8 engine that required WATER injection for above moderate throttle, but achieved tremendous fuel economy when driven moderately. It used a 50-50% blend of regular and premium gas at our very high altitude (7350 ft ASL). As water injection requires regular replacement, it is not considered practical by many, but for my friend it quite is. On the other side, many Turbocharged engines really swallow an excessively rich mixture at Wide Open Throttle in order to keep pistons from developing holes in them.





More Blogs from Captain Hybrid

20
The Tesla Model S' performance in Consumer Reports tests was a major victory for electric cars, but a bigger challenge still lies ahead.

28
Large-scale production of hydrogen cars may still be years away, but that hasn't stopped automakers from testing the feasibility of the technology.

45
A decade ago, the term "lithium-ion" meant little to consumers. Now, it's everywhere.

45
With disenchantment in lithium-ion technology on the rise, lead-acid batteries may be poised to play a bigger role in green vehicles.

31
Automakers large and small, from Detroit Electric to Fiat and Volkswagen, have unveiled pure electric cars and plug-in hybrids in the past six months.
Design News Webinar Series
5/22/2013 9:00 a.m. California / 12:00 p.m. New York / 5:00 p.m. London
5/15/2013 11:00 a.m. California / 2:00 p.m. New York / 7:00 p.m. London
5/29/2013 11:00 a.m. California / 2:00 p.m. New York / 7:00 p.m. London
5/30/2013 11:00 a.m. California / 2:00 p.m. New York / 7:00 p.m. London

The Continuing Education Center offers engineers an entirely new way to get the education they need to formulate next-generation solutions.


May 20 - 24, Automation Technologies & Trends for Smarter Homes & Buildings


A quick look into the merger of two powerhouse 3D printing OEMs and the new leader in rapid prototyping solutions, Stratasys. The industrial revolution is now led by 3D printing and engineers are given the opportunity to fully maximize their design capabilities, reduce their time-to-market and functionally test prototypes cheaper, faster and easier. Bruce Bradshaw, Director of Marketing in North America, will explore the large product offering and variety of materials that will help CAD designers articulate their product design with actual, physical prototypes. This broadcast will dive deep into technical information including application specific stories from real world customers and their experiences with 3D printing. 3D Printing is




Sponsored Content
Datasheets.com Parts Search
185 million searchable parts
(please enter a part number or hit search to begin)