Known as MirrorLink, the standard ensures that users will be able to link their phones to the dashboard in all of their vehicles, so they don't need to buy separate handsets for separate vehicles. MirrorLink will also help deliver infotainment to entry-level vehicles in the United States, as well as to low-cost cars in China, India, Russia, Eastern Europe, and Latin America.
For developers, MirrorLink is a powerful step forward. Now they need only create their app once, instead of writing different strains of software for different manufacturers. Moreover, they needn't worry that certified apps will create a driving hazard.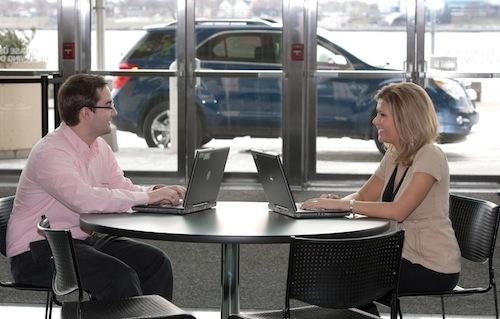 "There's a mechanism that allows the automaker to control the content that's seen on the [center stack] screen," says Alfred Tom, investment analyst for General Motors Ventures. "The developer needs to create an interface that's different than the one that is seen on the phone."
"Certain responsibilities belong to the players," says Floris van de Klashorst, head of Nokia's automotive mobile solutions. "The OEM gets to filter out the applications that aren't certified."
In essence, MirrorLink enables the car's head unit to mirror what's seen on the smartphone display. That means that a smartphone's car navigation software gets channeled into the vehicle's head unit. It also means that a wealth of Internet-based information -- such as restaurant sites, movie data, or even newspaper articles -- could find their way on to the car's center console stack if the phone app is tested and certified. (CCC members say a MirrorLink Google app hasn't been built or certified.)
"The idea is to use the driver's smartphone as an affordable way to connect to the cloud while a person is in the car," Tom says.
In-car routers

The Internet-in-the-car phenomenon doesn't end with smartphones. Autonet Mobile has taken the concept a step further, enabling vehicles to incorporate Internet protocol-based routers. The routers provide an opportunity for nearby users to log on, whether they're sitting in a passenger seat, a nearby office, or even a local café.
In August, Chevy announced that it would offer the router as an option in its Silverado truck. The device, which slides into a mounting bracket under the dashboard, enables kids in the back seat to connect to YouTube or Facebook. More importantly, it plays an important role for contractors and others who need an Internet connection at job sites.
"If you're a contractor, and you want to write an estimate, you can pull into a driveway, take out your laptop, and check on parts availability and prices," says Dan Tigges, fullsize truck product manager for Chevy. "Anything you can do on the Internet can now be done on the road with this system." Also, multiple workers can link up to the unit from as far away as 150 feet.