A Silicon Valley company has made the biggest splash yet in the high-performance end of the electric car market by announcing a new EV that zips from 0 to 60 mph in 3.4 seconds and costs $529,000.
With its new 500-HP Coupe, Renovo Motors plans to target an elite group of consumers who may even be more upscale than those buying Teslas. "This is a great fit for EVs as we know them today," Cosmin Laslau, research analyst for Lux Research, told us. "Designing a high-performance, high-cost product from a clean sheet has worked wonders for Tesla."
Click the Renovo Motors' 500-HP Coupe below to start a slideshow on the new vehicle.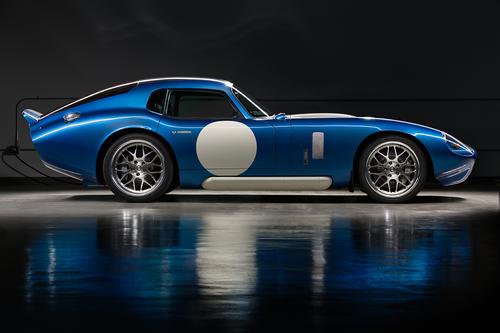 From early appearances, the new coupe seems to be a classic case of no-holds-barred EV engineering. Two permanent magnet DC motors and three separate lithium-ion battery enclosures deliver instantaneous torque of 1,000 lb-ft. The car uses a classic high-tech, high-cost CSX9000 Shelby American Inc. chassis with updated body, frame, suspension, and cabin.
"Our goal is not to replace gas-powered cars, but to offer our customers choice and to champion a very different point of view of what a performance car can be," Renovo co-founder and CEO Chris Heiser said in an email.
Renovo will not discuss the lithium-ion chemistry that it is employing, except to say that it is a patent-pending design, and that the car's three battery modules will offer a total capacity of 30 kWh, giving the car a 100-mile range. The modules can be charged in about 30 minutes using so-called fast-charge technology, or five hours using a 240V level 2 charger.
Many experts say Renovo's high-end market approach is a solid one, given the current cost of electric car technology. "Today's EVs have very expensive battery packs," Laslau said. "You're kind of shooting yourself in the foot if you skimp. You end up with a compromised product."
Other automakers and startups have discussed similar high-end approaches to the electric powertrain. Tesla Motors rolled out its $100,000-plus Roadster six years ago and is now said to be planning a new version of the car with a 400-mile all-electric range and Detroit Electric is still planning a high-performance electric car. Another startup, Bloodshed Motors, has announced plans to roll out vintage muscle cars from the 1960s and 1970s with 750-HP electric powertrains and sub-three-second 0-60-mph times, at a cost of more than $200,000 apiece.
"We think Renovo is looking more toward the Tesla Roadster customer -- the guy who wants a sexy-looking, sporty electric car," Mitch Medford, CEO of Bloodshed Motors, told us last week. "Only they're using more sophisticated technology."
Renovo plans to deliver about 100 of the Coupes late next year. "The question is, if they sell 100 of these cars, will it be enough to break even?" Laslau said. "Maybe in a couple of years they could move down-market and expand their customer base."
Renovo told Design News that it welcomes market challengers. "We'd be very excited to see competition in our segment," Heiser said. "It would further validate the market, and as the gas supercar market shows, there is a huge opportunity for different points of view."
Bloodshed Motors does see Renovo as a competitor, if not in the marketplace, at least on the drag strip. "When we get our battery pack fabricated, we will so issue a challenge to these guys," Medford said.
Related posts: