Toyota Motor Corp. made its case for a hydrogen-powered future last week by revealing the exterior of a fuel cell sedan that will go on sale in 2015.
Known for now as the FCV, the new vehicle will offer a range of about 420 miles, will recharge in about three minutes, and will cost about 7 million yen ($69,000). Sales are scheduled to begin before April 2015 in Japan, followed by the US and Europe in June.
Toyota unveiled the vehicle at a press conference last week in which it traced the history of the automobile and made the case for hydrogen's role in a "new period of diversity" in transportation. The company contended that hydrogen compares favorably to other fuel sources (including batteries, biofuels, and natural gas) in all areas except dedicated infrastructure.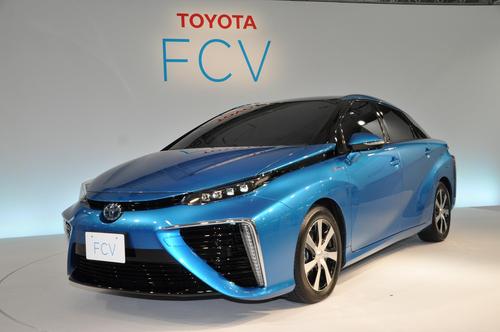 During the hour-long introduction, Toyota made a special effort to cite the shortcomings of battery-electric vehicles, especially with regard to driving range and refueling time. "Toyota considers that the EV is a vehicle that is best suited for particular purposes, such as short-range traveling and fleet use," executive vice president Mitsuhisa Kato told the audience.
Toyota offers the battery-powered RAV4 EV, but only in very limited numbers. The company has repeatedly contended that plug-in hybrid vehicles make more sense than pure EVs for a broad swath of consumers.
Because last week's introduction was meant only as a peek at the new vehicle's exterior, few technical details were offered. Kato did say that Toyota has made numerous improvements in the technology over the past few years, including a 20% boost in hydrogen tank storage density. Also, the number of onboard storage tanks has been cut from four to two.
Toyota's announcement followed on the heels of the lease of Hyundai's first hydrogen-powered car, the Tucson Fuel Cell, a few weeks ago. Hyundai leases the Tucson for $499 a month and plans to build about 1,000 of them by the end of 2015. Similarly, Honda has said it is hatching plans to launch a hydrogen-powered production car in 2015.
Industry analysts say that much work remains before fuel cells can compete with battery-electric cars, let alone gasoline-burning ones. Refueling stations are virtually nonexistent in most parts of the country, making it almost impossible for automakers to sell the vehicles in many locales. Also, the vehicles and hydrogen fuel still too much for most consumers.
"The vehicles need to get to a price point of about $30,000," Cosmin Laslau of Lux Research told us recently. For the average consumer, fuel cell vehicles are still not a viable option in the near term, he said.
Related posts: