Taking aim at a market long believed to be well suited for electric powertrains, Nissan Motor Co. has rolled out a battery-powered cargo van that it plans to sell in Europe and Japan.
Known as the e-NV200, the new van is the company's first new all-electric vehicle since it launched production of the Nissan Leaf in 2010. Nissan believes it will be a good fit in delivery-type applications in urban areas where driving distances tend to be shorter.
"It makes sense," Thilo Koslowski, vice president and Distinguished Analyst for Gartner Inc., told Design News. "If you have a fleet where the delivery van is only going to be used in a small radius, this is feasible."
Click on the Nissan e-NV200 below to start the slideshow.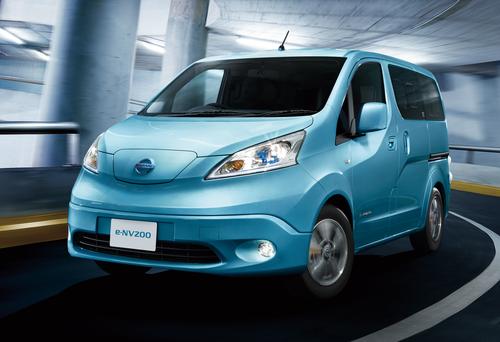 Nissan said the new small cargo van will employ the same powertrain as the Leaf, right down to its 24-kWh lithium-ion battery. All-electric range is estimated at 185 km to 190 km (118 miles), but that figure is based on Japan's JC08 test cycle. Using the US EPA test cycle, its range estimate will be considerably lower than the 118-mile figure (the US EPA cycle is used here only for purposes of comparison, since there currently are no plans for the e-NV200 to be sold in the US).
"We would anticipate from a range standpoint that it would be a bit less than what the Leaf would be, just because this is a little bit bigger vehicle," Nissan spokesman Brian Brockman told us. The Leaf, which weighs about 100 lb less than the e-NV200, offers an all-electric range of 84 miles on the US EPA cycle, he said.
In a press release, Nissan said the e-NV200's market sales target in Japan is about 500 units per month. The automaker introduced the vehicle in Europe and Japan, in part because big cities in those regions tend to be more consolidated than in the US.
Although the e-NV200 is not for sale here, Nissan said it is currently testing a few of the vans with FedEx Express (a subsidiary of FedEx Corp.) in Washington D.C., as well as with Portland General Electric in Portland, Ore. The automaker hopes the tests will provide a better indication of the viability of deploying electric cargo vans in US markets. "We want to make sure it fits," Brockman told us. "Driving cycles tend to be a little longer in the US because there is more area to cover."
Auto industry analysts have long contended that electric powertrains are a good fit for delivery trucks. In delivery trucks, driving routes are short and predictable, making the limited range of EVs less of an issue. Also, fleet customers like the fact that operating costs of EVs are lower than those of gas-burning vehicles.
"The appeal of an electric van is definitely in larger cities," Koslowski told us. "A lot of city governments don't want internal combustion engines on their streets anymore."
Related posts: