An Israel-based battery company has demonstrated an aluminum-air chemistry that it claims can deliver as much as 1,000 miles per charge to electric cars.
Clean technology company Phinergy, teaming with Alcoa, demonstrated the new electric car battery on a racetrack in Montreal this week in association with the Canadian International Aluminum Conference. At the demonstration, the two companies suggested the new technology would be used as an electric car range extender, in conjunction with a small conventional lithium-ion battery.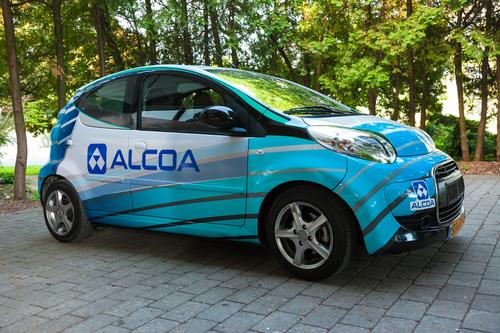 "One of the downsides of any electric vehicle today is that there is range anxiety associated with it," Ray Kilmer, chief technology officer of Alcoa, tells Design News. "This breaks that paradigm. It gives you the best combination of lithium-ion for normal usage and on-demand aluminum-air for greater range when you need it."
Aluminum-air chemistry has been available for decades and has seen use in military applications. It works by combining aluminum with ambient air and water, and is known for potentially offering high energy density. The video below shows a vehicle fitted with Phinergy's battery being charged with water, and then driving 330 km on a single charge.
Aviv Tzidon, founder and CEO of Phinergy, tells Design News that the company's current aluminum-air battery checks in at 300 Wh/kg at the pack level. He adds, however, that the company is ultimately targeting a specific energy of 1,000 Wh/kg, along with a pack-level cost of less than $100/kWh.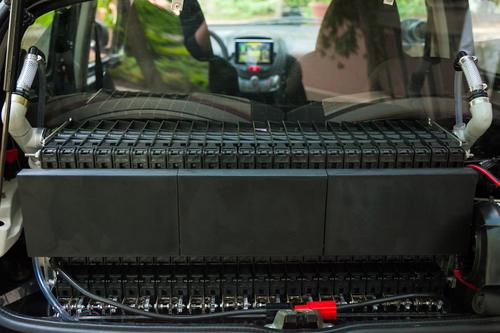 If those numbers can ever be reached, they would be a big improvement over those of today's lithium-ion batteries. Current lithium-ion batteries are typically rated from 150 to 240 Wh/kg at the cell level, and far less at the pack level. Cost is estimated at figures ranging from $300 Wh/kg to $450 Wh/kg by various analysts.
Aluminum-air also differs from lithium-ion in that it is not rechargeable. That's why the company is suggesting that its batteries be used in a hybrid arrangement, in which drivers would employ lithium-ion on a daily commuting basis, while aluminum-air would serve only on those days when greater range is needed. In such an arrangement, the aluminum-air system would last about a year before needing to be "refurbished" at an unknown cost.
"We say, don't buy more lithium-ion to create more energy," he tells us. "Buy aluminum for energy. We can give you very nice range."
Phinergy faces challenges before it can be accepted by the automotive market, however. In the past, metal-air batteries have been known to have CO2-related problems, as well as issues with anode corrosion. Tzidon tells us that Phinergy's design inherently eliminates the CO2 problems. He also says the company continues to work on the anode corrosion issues. "We've developed an alloy that is not only cheaper to do, but also allows us to do it in mass production."
The ability to overcome those issues may be the key to aluminum-air's success. In 2013, Lux Research analyst Kevin See advised clients to "view this announcement with caution until real concrete evidence is in hand that Phinergy has overcome the major obstacles other developers have faced." He added that "it's a technology worth following for its long-term impact, for companies looking far out into the future at longer time frames."
Three other battery experts contacted by Design News declined to comment on the technology.
Related posts: