If recent sales numbers are any indication, Tesla Motors' goal of 50,000 battery packs a year could be a long way off.
A new study by Lux Research Inc. shows that the entire industry's sales of batteries for plug-in hybrids reached about 1.4 GWh per quarter in 2013, just a small fraction of what Tesla Motors plans to produce by itself at its Gigafactory, which is expected to launch in 2017.
"This shows how hugely ambitious Tesla's plans are," Cosmin Laslau, research analyst for Lux Research, told Design News. "Tesla is essentially hoping they can sell 10 times more (electric) cars than what we are seeing now."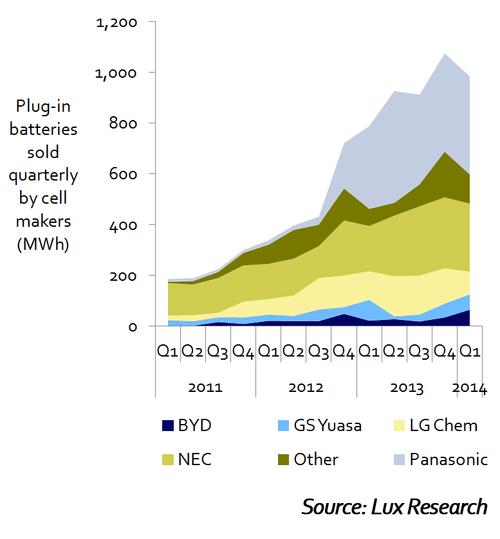 In the study, Lux Research's Automotive Battery Tracker showed that battery sales in the automotive market tripled over the past three years. During that period, Panasonic's sales climbed sharply, enabling the company to take the top spot in the plug-in vehicle market with 39% of sales, compared to 25% for NEC, and 9% for LG Chem. Panasonic's sudden rise was significant, Laslau said, because it was done almost exclusively through sales to Tesla.
"A year or two ago, Panasonic was nowhere and now they've taken over the market," Laslau told us. "It really shows the importance of having a strong automotive partnership."
Tesla's Gigafactory represents the next big step for electric cars. The factory, which is still in the concept stage, would consume about 15 times as much land as today's biggest battery plants. If successful, it potentially could drive battery costs down to a point that would transform electric cars into products for mainstream buyers. Tesla will annually build 35 GWh worth of battery packs, using their own cells. Then they will build an additional 15 GWh worth of packs using cells they buy from other manufacturers. It's seen as a huge risk, however, because it relies on a massive increase in sales of pure electric cars, which haven't sold well up to now.
While the Gigafactory plans are ambitious, however, Tesla has shown through recent performance that it's capable of transforming the market. The company's huge 85-kWh battery pack has vaulted Panasonic into the production lead almost singlehandedly, Laslau said. "This is a stunning shift in market share," he told us.
Related posts: