When it comes to designing for reliability, electric cars are proving that simpler is better, a recent Consumer Reports owner survey has concluded. "In general, electric cars have been stellar," Jake Fisher, director of auto testing for Consumer's Union, tells Design News. "The fact that they don't have to carry around a gas engine or conventional transmission tends to make them pretty reliable."
In its annual reliability survey of 1.1 million vehicles, Consumer Reports gave high marks to the all-electric Nissan Leaf, writing that consumers should expect "reliability of new models to be 60% above average." It was the third year in a row that the Leaf earned near-perfect scores in the survey.
Click on the Chevy Volt below to start the slideshow.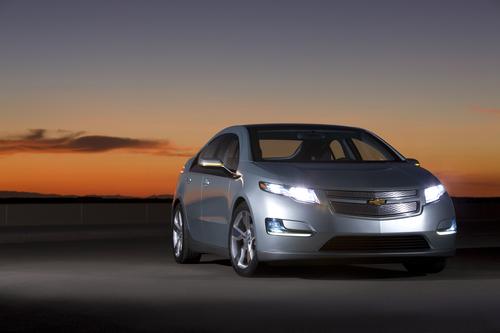 Tesla's all-electric Model S also fared well, with some minor exceptions. Its drive system, electrical system, suspension, brakes, paint, and trim all received good scores, but it did exhibit some problems with squeaks, rattles, and body hardware, Fisher says. "Among 600 Teslas, we didn't see a single problem related to the battery, electric motor, or the electronics," he tells us. "The funny thing was that problems were mechanical. They have these little electric door handles that pop out. They don't always work."
A year ago, Consumer Reports declared that the Model S "blew away" gasoline-burning competitors on its 327-acre test facility, but that victory was in no way connected to the recent owner survey. "The fantastic rating we gave it last year was all about performance," Fisher says. "This is about reliability."
Consumer Reports' survey revealed mixed reviews for hybrids, however. As usual, the Toyota Prius received good feedback from owners, particularly in the areas of engines and transmissions. Its few imperfections were for engine cooling and water pumps, as well as the "regular" 12V battery. The plug-in (Prius PHV) version of that car, however, did not fare as well. It received a below-average overall rating for 2013.
Plug-in hybrids clearly did not perform on the same level as pure electrics, the survey concluded. The plug-in hybrid Chevy Volt received middling grades, with Consumer Reports declaring that it was 7% above the industry average. Over three model years (2011, 2012, and 2013), Volt owners reported numerous electrical problems and a handful of engine cooling issues. Another plug-in hybrid, Ford's C-Max, was so plagued by electrical problems that it had the "worst rating in the entire survey," Fisher says.
"When you get a vehicle that is electric and also has a gasoline engine, then you've got all the associated maintenance and you end up losing the advantages of the pure electric powertrain," he explains.
To be sure, feedback on pure electrics is still sparse, with the Ford Focus EV, Chevy Spark EV, Honda Fit EV, Mitsubishi i-MiEV, and Toyota RAV4 EV failing to appear in the survey because of insufficient data. Early indications, however, point to pure EVs having a reliability advantage over hybrids and conventional vehicles, at least for now. "The electric vehicle looks good from a maintenance and reliability standpoint," he tells us. "There's just less to worry about."
Related posts: