With automakers scaling up for a sales boom in start-stop vehicles, Freescale Semiconductor has rolled out a low-power, low-cost sensor meant to monitor the batteries used on those so-called micro-hybrid cars.
The MM9Z1J638 sensor, which mounts on a battery lead, will track the battery's health and enable the vehicle to know if it has enough juice to stop and restart the engine at a traffic light. The technology is considered especially important for start-stop vehicles, whose starters draw more current and must be engaged about 10 times more frequently than conventional starters.
"When you pull up at a traffic light, this sensor will measure the state of the battery, so when the light turns green and you hit the gas pedal, you know you can restart the engine," James Bates, senior vice president and general manager of Freescale's analog and sensors group, told us at the recent Freescale Technology Forum.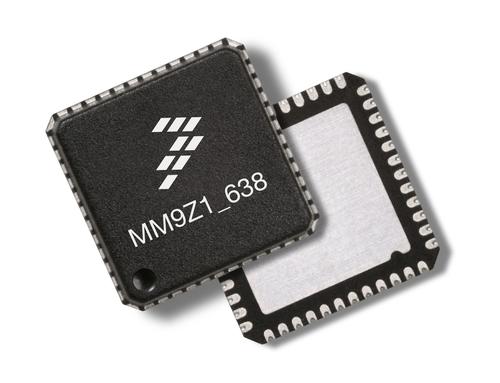 This isn't the first battery sensor to offer such capabilities, but Freescale says it is about 50% smaller than its predecessors, draws about 20% less power, and costs 30-40% less. The product, which the company calls the first to integrate a microcontroller, A/D converter, and CAN protocol chip into a single package, measures about 7 mm x 7 mm. It is scheduled to reach mass production at the end of this year.
Tier 1 suppliers and automakers are gearing up for broader emergence of start-stop technology, which is expected to be employed by 52 million vehicles globally by 2020. It calls on a vehicle to shut down and restart its engine in a variety of situations, most prominently at traffic lights and stop signs. In Europe, approximately 50% of the cars produced this year will be start-stop vehicles, and that figure is rising.
The new sensor will be targeted at 12V lead-acid batteries, as well as emerging applications, such as 14V stacked lithium-ion, and 24V truck batteries. The device senses the remaining capacity and the state of health, actually tracking the internal resistance every time the battery charges or discharges.
Bates said the new sensor fills a critical need for both OEMs and consumers. "If you're doing in-town driving on a hot summer day and your battery's not getting charged very well, you may not want your car to turn off at a traffic light."
The MM9Z1J638 is expected to be followed by a product targeted at full hybrids and electric vehicles. That sensor would enable charge balancing in each of the cells of a large, multi-cell lithium-ion battery. No release date has been announced for that sensor.
Related posts: